Discussion Starter
·
#1
·
Hi all,
When I first discovered this wonderful forum I was trying to sort out a mysterious earth leak on my '97 748.The current leak was actually a secondary problem which I'd wanted to sort out once and for all and several members chimed in with advice and assistance which I thank them for once again.
The primary stoppage of fun was in fact yet another blown regulator rectifier. This particular unit was an after market one which I'd installed about a year
ago, replacing the original Ducati unit. At that time I'd done all the reading and learned about the unregulated voltage test across the battery and the A.C. voltage test at the stator wires etc. It was at this time I discovered the common problem, being the burnt out connector plug between the two wires from the stator and the two from the regulator rectifier. This second burnout was due to a second connector further along the line which I hadn't seen the first time. Don't know why it was there, something the previous owner had done?.
There are some great posts here about the fallibility of stock regulator rectifier units which is primarily caused by poor air flow (for cooling) over the
unit in it's original mounting position (on the right hand side of the bike below the battery holder) coupled with inadequate gauge wiring. Shazaam has
posted some excellent information which explains all of this in detail and recommendations on how to fix the problem. I highly recommend you read his post which is here:
http://www.ducati-upnorth.com/tech/chargingfailure.php
For what it's worth I was told that if you do a quick fix and a jump start a bike then extra output from the alternator to recharge the battery could
contribute to burning out a regulator rectifier but as I understand it you'd need to be riding pretty hard for that to occur.
Now, to the purpose of this post
.... After reading what Shazaam and others had to say about certain Ducati regulator rectifier (RR) problems I discovered
something which I think should be shared here with Ducati friends.
Another FIX fix for that problem regulator rectifier !!!
You could incorporate this with Shazaam's recommendations or not, it's up to you.
What I discovered is a replacement or rather an upgrade for the stock or aftermarket RR units. I've done quite a lot of research and even put the question to an electronics forum to be even more reassured this was safe to do. Below I've provided links to posts and pages of interest along with where to source the necessary bits.
Basically it's like this: Most regulator rectifiers, including Ducati's, are SCR type units. SCR stands for Silicon Controlled Rectifiers, i.e. the type
(composition) of the rectifier components incorporated into the unit's circuit board. While SCR's do the job, some time ago the electronics genies
discovered/developed what is called "mosfet" transistors (Metal-Oxide-Semiconductor Field-Effect Transistor). I became aware of them through their use in audio and power amp circuits. These little marvels are increasingly being used in all sorts of circuitry as they are more efficient, have less resistance, when they shut down they do so completely not holding residual charge etc. Simply put they're more robust so when I discovered that a Japanese manufacturer had developed a mosfet reg/rec unit I investigated further. And as you will see if you check some of the links below people have been upgrading several different brands of bikes with mosfet units and getting good results.
The two biggest benefits provided by mosfet RR's is that they provide improved output and do not get as hot.
From the info I read one issue still concerned me. These units are made for three phase alternators whereas my bike is a single phase system. I queried this compatibility concern at an electronics forum and it seems from their replies that their is no real problem utilizing a three phase RR with a single phase alternator. Anyway mine has been operating for several weeks now and several hundred klms.
That query is here:
http://www.electro-tech-online.com/...ulator-rectifier-single-phase-alternator.html
I think it was in 1999 that Ducati went to three phase. I'm not sure of the specs on these later models. I expect that these units, or perhaps one of the
others may be a suitable replacement you'd need to check out the specs necessary.
These mosfet units are manufactured by Shindengen of Japan. They make both mosfet and SCR units. Mosfets are identified by the "F" or"FH" prefix - probably just the "F" as mosfets are commonly referred to as "fets".
The unit I'm using is the FH012AA. This is marked on the side of the unit (useful to know if you're asking someone at a wreckers who doesn't know what he's looking for). It is rated at 50amps whereas the stock Ducati one is rated at 30amps. So for those stretching the capacity of a stock unit by running add on electrical loads this upgrade will be even more appealing.
FH012AA units were/are installed on the following Yamaha models:
YZF R1 -- 2007 to 2010
FJR -- 2006 - 2009
The Yamaha service manual identifies no: fh012aa and it's Yamaha Part no: 1d7-81960-00
I've been told Recommended Retail in Australia is $318 or $349.45 ..who knows?
Alternately you may be able to pick one up from a wreckers to save some money. They also come up at ebay.
Apparently these have been installed in certain jet skis tho. I couldn't tell you which ones.
Shindengen also make the FH010BA (used on late-model Kawasakis i.e. ZZX10 /14) and FH008EB, FH010, FH014. Again I can't tell you what they come on or all the various other suitable applications etc. but you can research further via the links below.
Shindengen's website, which provides some specs and a downloadable pdf is here:
http://www.shindengen.com
Now the next thing to know is that the RR units have specific connector plugs. These are made by FURUKAWA.
For those of you in the States, good news there's a distributor (Eastern Beaver) who can supply all the connectors and wiring here:
http://www.easternbeaver.com/Main/Elec__Products/Connectors/R_R_Connectors/r_r_connectors.html
For the Aussies, I couldn't find a distributor here. I emailed Furukawa enquiring after distributor but received no response. Checked with Yamaha Australia and they don't sell them separately. Good luck with a wrecker. My project was going along swimmingly up to this stage and I was too impatient to order a set from the states so I made other arrangements re the connectors. Perhaps I'll remedy that someday and get the right ones.
Here you will find further info on installation but more importantly they can supply the reg/rec unit itself plus the other bits n' pieces (wiring etc.)
$115.00 plus $9.00 S&H. There is also a handy wiring diagram.
http://lightningcam.com/Shindengen FH012AA Regulator upgrade kit.htm
So to upgrade the regulator rectifier on 748' from 1995–1998 you'll need:
Shindengen FH012AA
Replacement wiring (see Shazaam's post for recommendations) :
Furukawa connectors x 2
Heat shrink
30amp blade fuse
Suitable blade fuse holder (preferably good quality and water proof) frequently recommended is the Metri-Pack Fuse holder
The FH012AA looks like this: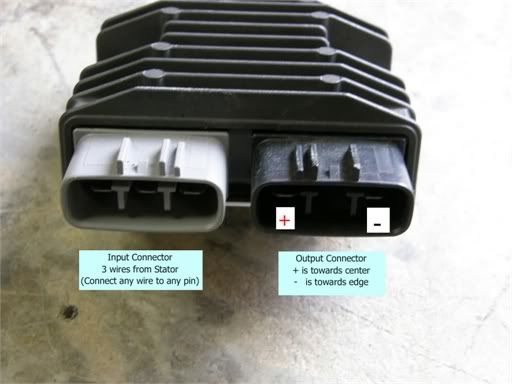 I don't recall where I got this picture from but thanks to them..... oops, sorry!
The Furukawa connectors x 2: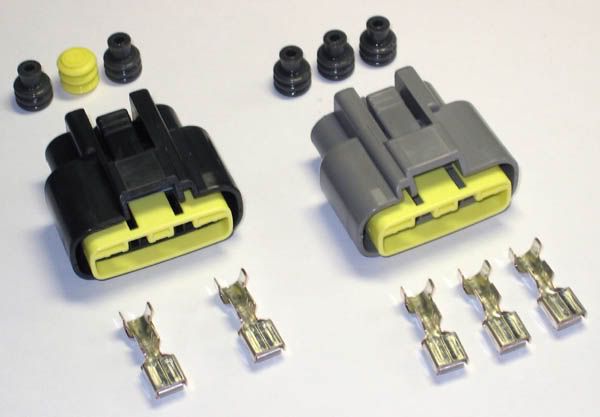 Fuse Holder:
As with my bike, being single phase there are two wires from the stator. Connect these two wires to any two of the three terminals of the gray connector on the left. Don't worry about the left over terminal, just leave it or if you like slip a piece of heat shrink over it if you don't have the proper connector.
The black connector on the right is for your battery connections. The innermost terminal is positive. Run your new wiring from here to positive on your battery. If you like, and probably recommended, put your 30amp fuse set up between the RR and your battery + terminal. The outermost terminal is for your negative battery wire.
If you're more the visual type:
wires from stator REGULATOR RECTIFIER UNIT
------------------------>
to one of the three terminals grey connector
------------------------>
to one of the three terminals grey connector
+
battery
->
fuse
-->
inner + black terminal
-
battery
--------------->
outer- black terminal
After two failures I decided that Shazaam's recommendation to replace the original wiring was well worth taking so I purchased some good quality silicone coated wire. Given the decreased heat factor I chose to leave the RR in it's original location however I did have to make a new mounting bracket which was pretty simple, just a decent piece of aluminum plate cut to an appropriate size and drilled for mounting to the bracket below the battery and to mount the rectifier. I went all out and drilled a couple of extra holes and inserted rubber grommets to pass the wires through safely.
There are other options for replacement wiring (see link above) but if you'd like to use silicone coated it can be difficult to source. Try a place which
repairs electric stoves, they use it all the time due to it's excellent heat resistant properties. In Sydney you can buy it by the meter from The Stove
Connection 1/71A Rhodes St Hillsdale. Ph: 96611088.
www.stoveconnection.com.au
I also removed the stator and soldered in the new silicone wire to completely eliminate the inadequate stock wiring. This took some mucking around as the new wire was too thick for the original rubber sleeve. I wanted to protect the wiring along it's entire length so I sourced some suitably sized three core wire
from a scrap metal recyclers and removed the three inner wires leaving only the rubber outer. I then passed the new wiring through the rubber hose sealing the stator end with oil resistant silicone. Some sealant was also necessary at the wire's exit hole in the crank case cover.
FURTHER READING:
INFO ON CHARGING PROBLEMS, DESIGN AND WIRE GUAGE SPECS:
http://www.ducati-upnorth.com/tech/chargingfailure.php
TRIUMPH FORUM EXTOLLING THE VIRTUES OF:
http://www.triumphrat.net/speed-tri...-diagnostics-rectifier-regulator-upgrade.html
GV650 Voltage Regulator Upgrade
http://www.alternativecruisers.com/index.php?action=printpage;topic=12227.0
MORE DISCUSSION PAGES:
http://www.advrider.com/forums/showthread.php?t=496199
http://eviltwinsbk.com/forumz/index.php?topic=276.0
http://www.apriliaforum.com/forums/showthread.php?t=207174&mode=linear
http://www.scribd.com/doc/32290153/Shindegen-Regulator-Rectifier-Install
VIDEO OF AN INSTALL:
http://www.blip.tv/file/2375590?utm_source=aolvideo&utm_medium=aolvideo