85 HD, 87 Paso 750, 94 Bimota DB2, 94 GSXR750, 96 GSXR1100, 98 ST2, 00 R1, 01 M900, 02 748, 03 999
Discussion Starter
·
#1
·
Warning: These seat cowls
ONLY
fit OEM, Ducati ST seats from '97-'03. They do
NOT
fit '04-'07 or Corbin or Sargent seats.
This topic comes around every once in and while, and now that I have one seat cowl from each manufacturer, I figured I'd show the differences.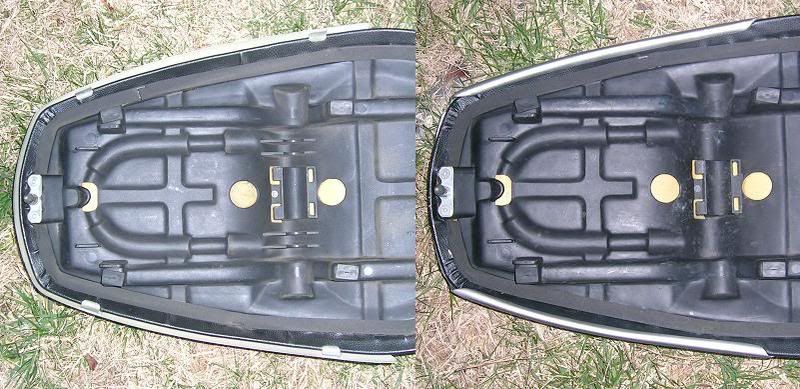 European Cycle Specialties = Left........Ducati performance = Right
European Cycle Specialties
- First ones to manufacture these seat cowls from around '01-'05. They were hand-made, originally in carbon fiber with the option of being painted, and then eventually fiberglass as a cost alternative. The cover has a fairly flat top, a little lip just behind the rider, and attach by sliding over the rear of the seat and held on by four small hooks. It is easy to install and remove. The only drawback I've run across is that when riding fairly hard and moving around on the seat, I can get the front left hook will pop out from under the seat, but I can easily put it back without removing the cowling. ECS is now out of business.
Ducati Performance
- Offered a few years after the ECS version and costs about $50-$100 more. This cover appears to be made of a thicker and studier plastic. The top is more contoured and rounded and does not come down as far on the side of the seat. This cowling slides onto the seat the same way as the ECS cowling, but instead of four hooks, the DP cowling has two curled rails that are nearly full-length. The cowling is much tighter and more difficult to install on the seat, and it doesn't budge. To my knowledge, I believe this seat cowl may still available through Ducati, for around $250.
Both seat cowlings are fairly rare and don't come up for sale very often. Personally, I like the ECS cowling better than the DP cowling, but my wife likes the DP cowling better. It's all a matter of personal taste......and whichever one you can find, if you want one.