Spark Streetfighter High Mount Slip-ons Carbon Fiber
Price: $1,699.99
Sale: $1,359.99
Spark Streetfighter High Mount Slip-ons Dark
Price: $1,699.99
Sale: $1,359.99
Spark Streetfighter High Mount Slip-ons Titanium
Price: $1,699.99
Sale: $1,359.99
2 Silencers - round - high mounting - left / right + pipes WITHOUT catalysts.
The system is available in Titanium, Carbon Fiber, Natural brushed Stainless or Black canister.
Includes high mount manifold, number plate holder and heat protection.
"The best performing high pipe we have tested on the Streetfighter. Great low and mid range punch. It also has a nice top end that seems to keep pulling as you add throttle".
- Motowheels Streetfighter Project bike:

[URL="http://i42.photobucket.com/albums/e344/Motowheelscom/motowheels%20streetfighter/DSCN1003.jpg"]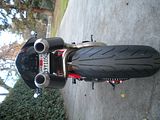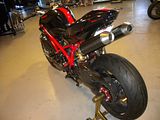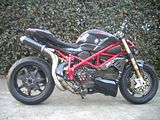 [/URL]
Tuning Option:
MW Tuning/Rexxer ECU Remap
$249.99