Discussion Starter
·
#1
·
Hello everyone,
I just got back into riding last year after a 10 year layoff (last bike was a '98 748 that I sold in '01). Before that time, I've always owned at least one bike since I was 8 years old. I lost track but I think I had over 25 bikes in that time frame.
I know this is the section where new members introduce themselves. Most say "hi" and move on. Well, I have an interesting story as to how I got back into the Ducati scene.
I was originally in the market for another Ducati and had my hands on a very well-kept 900 Monster. I made arrangements with the owner to have him transport it up to my location back in February of 2011 (Southern Indiana to Chicago). Unfortunately, the owner slipped on some black ice and flipped his pickup truck with the bike in back.
Luckily, he was ok but the bike and truck were both totaled. The sad thing was he had sold the truck too and was delivering it to the new owner the next day. It all worked out for him though...Insurance gave him more for the bike and truck than what he was selling them for.
That put me back to searching for another bike. I had my heart set on a Ducati because of their unique qualities and V-Twin motors. Well, a friend asked me if I would consider a Buell. Oddly enough, I did like them back when they 1st came out...again because of their unique qualities. I was a bit hesitant mainly because they stopped production in '09 AND they had a Harley motor. As I did some research on them, I found that they were very easy to work on, parts are readily available AND they were CHEAP! I ended up buying 2 of them...'99 M2 Cyclone and '00 Millenium edition X1.
I rode both through last year and for the most part of 2012. I ended up selling the X1 for basically what I paid for it. I happened to be browsing through Craigslist (as I normally do) and found a great deal on a yellow '00 748. The bike had some plastic damage and was in rough shape (for my standards anyways). I ended up getting the bike for a great deal and once again became a proud Duc owner (which is where I wanted to be in the 1st place - ha).
Here's what is in the stable:
The 748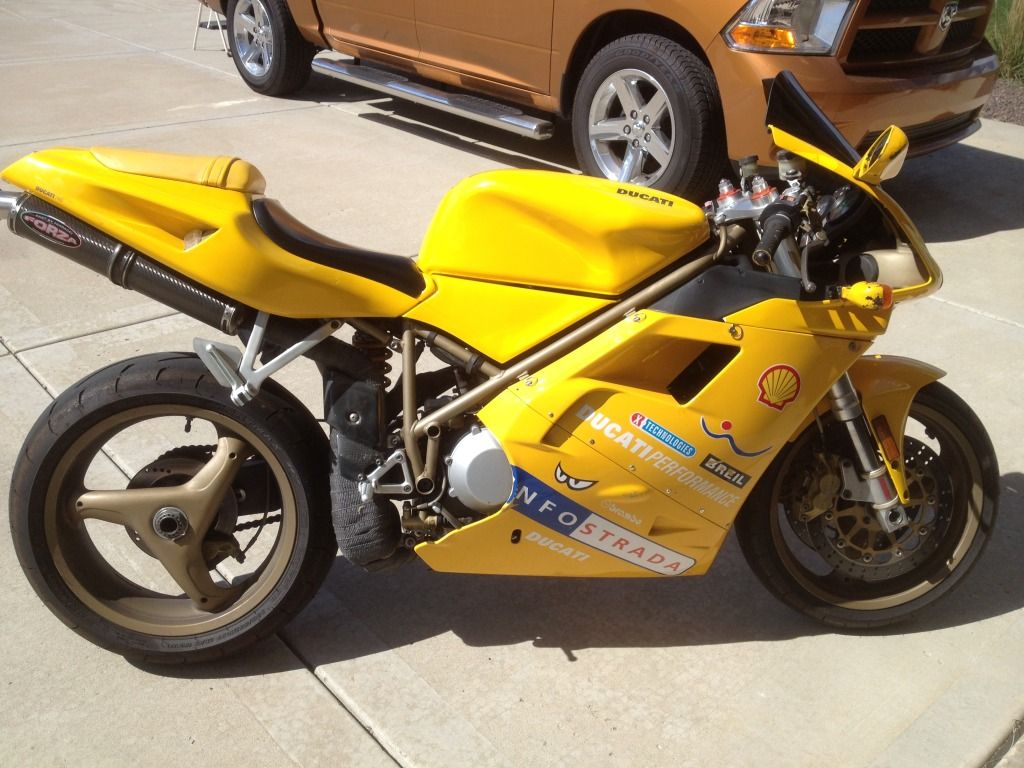 The '99 M2
The '00 X1 (sold)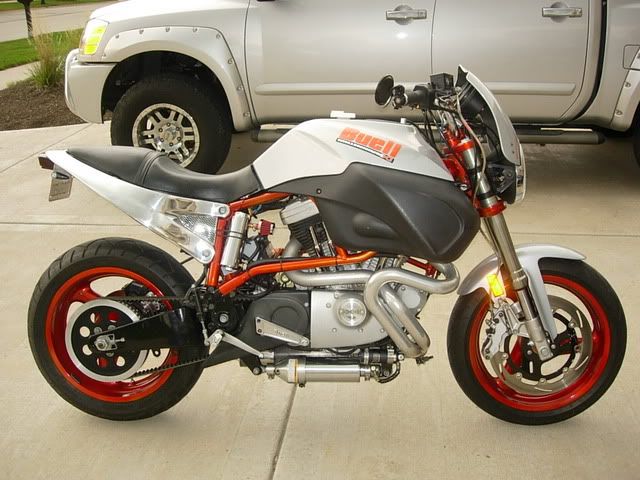 The M2 is a great all-around bike. A ton of torque and very comfortable to ride. I love the 748 but it isn't the best bike for a commuter. I ride ~8-10k miles a year and most of them are to/from work. The one thing that the Duc has over the M2 (and most other bikes IMHO) is the looks! I can't tell you how many times I sit in the garage and just stare at it.
Anyways, that's my intro and I hope to contribute here on the site.
Cheers,
John aka 'baldie