I've been active on Ducati.ms forums for quite a few years, mostly on Sport Classics, Chit Chat and the like, but am none the less new to the Supersport forum so I thought I'd introduce myself and my bike here.
New to the Supersport forum doesn't mean new to Supersports. I've owned my `93 SS, "La Bella Rossa," since she was new way back in, well, 1993. Here she is: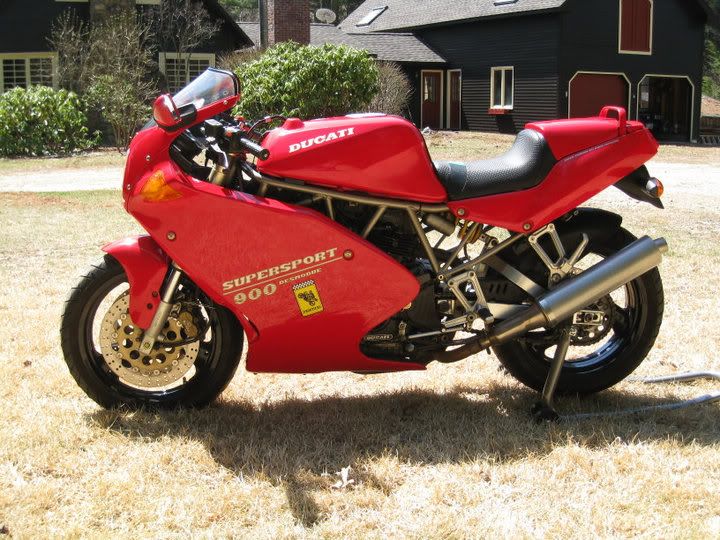 ​
La Bella Rossa has about 45,000 miles on her. For the last several years she has sat unridden next to my daily rider -- a 2007 GT1000 -- which I am currently selling.
The reason La Bella Rossa has been largely unridden is that as comfortable as that era's SSs were, her peg position was putting painful stress on my aging hips (They're as old as the rest of me dammit! -- nearly 66). But that was mostly on longer, all-day, rides - something I rarely do these days living as I now do in the heart of the Monadnocks (NH) where fun, 2 lane, winding roads are everywhere.
La Bella Rosa is far from stock. I owned her during my active period as editor of Ducatis Unlimited Connection and I willingly used her as a "test mule" (Sorry La Bella!) for all the freebee goodies the site received to be reviewed. Thus she has many of the more popular mods of the period -- Fast By Farracci high compression pistons, lightened flywheel, Nichol's motor mounts etc., blah blah blah. Has some other less common ones too such as "The Sucher Sachel" - a moniker Sargent Saddles put on a saddle design idea I created for her that they at one time sold...
​
And Vitaloni Mirror Extensions, made for the "Baby Turbo" mirrors that Ducati bought from their catalog and put on the SS...
​
In any case, with my GT1000 about to leave my garage the SS is about to become again my 'daily ride.' But only after she gets some work done, likely over this coming winter season.
So I'll be hanging around here, gathering and sharing ideas and enthusiasm.
See ya 'round!
-don