Discussion Starter
·
#1
·
Hi everybody...so I've been doing a lot of research (on this site and elsewhere) concerning light weight batteries and finally decided on the turn-tech 5.0AH, a 2 pound replacement for the stock yuasa which weigh in at around 9 pounds. At the same time I was also doing some research on quarter turn throttles. Here's the write up:
First, the quarter turn throttle: It seemed like there were three categories: The top of the line Ducati Performance set up, which involved a modified throttle twistgrip as well as a modified cable assembly. The second was the evoluzione kit, which was essentially a modified throttle twistgrip (with a design that sought to modulate throttle response by slowing it down initially and speeding it up the further the throttle was turned by using an oblong cam shape). Finally there is the Electraeon made piece, which simply replaced the stock throttle cam on the throttle body allowing one to keep the stock throttle twistgrip.
DP was about 5-600$. There is already a pretty informative post on this so I won't go into it, do a search.
Evoluzione cost 90$ check out
http://www.evoluzione.net/evo-cycle-ducati.htm
Electraeon cost 45$ check out
http://www.electraeon.com/throttlecam.html
The down side here is that it seems to only work for the 916-998 models.
I went with the Electraeon because I'm cheap and I liked the design simplicity of its approach to the issue as well the fact that it looked easy to install and would not require new grips.
Here is the new and old throttle cam together: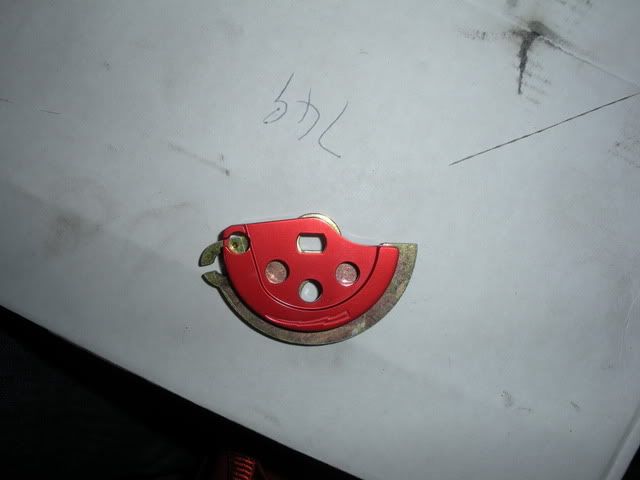 I was right about the installation, it was cake. I used a tool to lock the old throttle cam (see pic.) so it wouldn't turn when I unscrewed the retaining nut.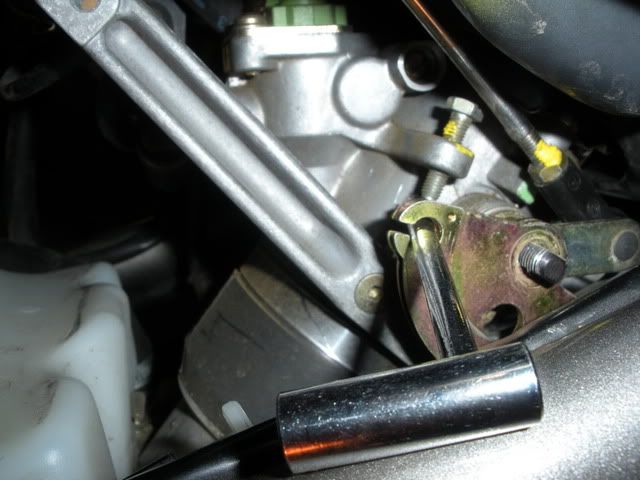 I had to adjust the throttle cable free play (tighten it) as the new cam has a smaller circumference. I also had to adjust idle speed as I found out that day at the track. That's an easy fix and can be done with the bike turned on (which helps because you can see/ hear the RPM's change) In the picture you can see a short semi-vertical bolt with a yellow dot of paint on it(there are two yellow dotted bolts in the picture, here i'm referring to the small one on the left. This adjusts idle speed, or at least that's what I use it for... Depending on which direction you turn it (clockwise/ counter-clockwise), it will change idle speed. Please note, i !DO NOT! mean that long bolt with a yellow dot on it, to the right, the one that disappears into the top of the picture. Don't touch this!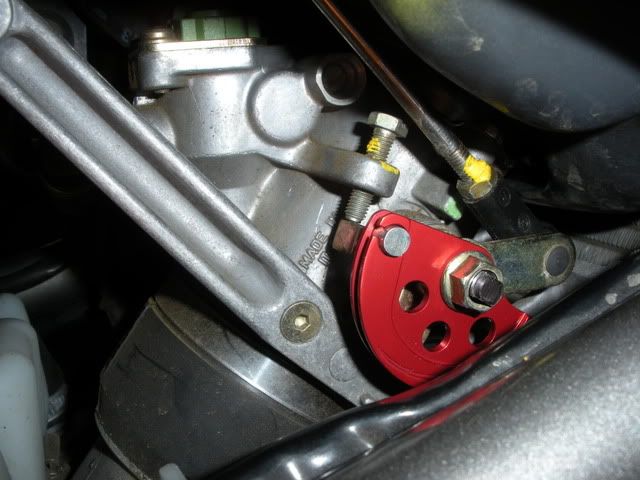 On the track the new throttle was great. With the limited horsepower of the 748, more often than not, you want to be pinning the throttle. Before, at full lean, esp. coming out of left hand turns, it was difficult to get to wide open throttle on the exists because my wrist was denied a full range of motion due to hanging off the bike. This is no longer a problem. Also, a lot of the time when I think I have it wide open, I actually don't. With the new throttle its very easy to get to wide open and you know when you're there.
I wasn't worried about trouble with a touchy power delivery because of the 748 limited power, but I was worried about blipping the throttle when breaking in to corners. This is something I have a lot of trouble with in the best of times and because of my low skills I cant really offer a valuable critique on this point. That said, I don't think the new throttle is that much of a hindrance. I did my best lap times to date on this track day!
The turn-tech battery: Very cute. Cost was 157$ with shipping (very speedy). It weights 2 pounds as opposed to the Speedcell which is 1.6 lbs and cost 250$. On the down side, this battery is designed for dirtbikes while the speed cell advertises itself as a superbike battery. Here it is difficult for the layman like myself to know what is just advertising and market targeting and what is really true about performance characteristics. As per usual, I took a leap of penny pinching faith and went for the turn-tech.
A size comparison:
Didn't have much trouble fitting it in. The wires are a little bit tighter now but nothing is in danger of breaking and no changes needed to be made to the battery box and wires to fit it. I did drill a hole in the battery box so I could run a zip tie through to hold the turn-tech in place. I also cut four very thin rings (about 1/8 inch) from an old coolant hose that I had replaced after my last crash and used them as cushions: two under the battery and two behind it. I zip tied it in place and prayed that it would continue to start my bike all day at the track, which it did.
I must have started it about 15-20 times (7 track sessions, I think, plus a few short trips around the pit for gas, registration, suspension etc.) The engine never had trouble turning over. It started right up every time. I had brought the old yuasa, fully trickleated, just in case the little turn tech pooped out on me…
The weight saving was actually quite noticeable. I pulled off the radiator fan as well since I figured I wasn't using it that much and now I'm beginning to think I need a better steering dampener as my front end is wobbling all over the place coming over turns 5 and 9 at Thunderhill. Yee-haw…
Next stop…lightweight flywheel, to confirm my suspicions that it really is the poor man's slipper clutch…