Discussion Starter
·
#1
·
Waking up early Friday morning, I began my ride to Monterrey at 4:30am from Sacramento. I had located a Craigslist package deal for all three days for $100 (tickets and paddock). I met the guy at 'Starbucks' of course, in Santa Clara and hit the 101 to get straight to Peninsula Ducati in Seaside. The plan was to get there before the Ducati Island passes were gone, and I arrived at 8:48am. The 900 Supersport owner next to me had notified me of the time, and said it was a sign for him to buy a new 848. He rode off without making any purchase.
I gathered my lucky and free parking pass, which is acquired simply by showing registration and insurance for my Ducati, and proceeded to make my way to the track. Most of my ride time had taken place in the dark, so the plan was to spend a little time at the track and then head for the hills later in the day. I pulled onto Ducati Island and parked my bike right near the Ducati truck display, but was asked to move to another location. Danny, who runs the show there, was about to tell me where to park, when I whined: "Hey, you're not gonna make me and my short legs park in the back of all those bikes are you?" He said "No, you and your short legs can park right over there" and pointed me to the Ducati Island entrance marked by a big air filled gateway.
I checked in my gear at the Ducati Owners free hospitality gear check tent, which was run by a gang of volunteers who were all quite helpful and friendly. I immediately ran into some friends I met at Laguna over the last few years, 2 of which had their bikes in the Ducati Concorso last year. We shared our latest upgrades and talked about the usual stuff. I even got to meet Alonzo Bodden, a comedian from Last Comic Standing, who also happens to be a Ducati owner. You can see his Multi in the first picture, with a for sale sign on it. Very cool guy with a great demeanor, I kept running into him all weekend and he was very cordial each and every time.
I wandered around the Island each morning, and when my knee felt good enough, I would explore the rest of the track. I was scheduled to have knee surgery on Monday, immediately following the trip to Laguna, so I made sure I wore a strong brace and didn't do anything to create more damage. More on that later.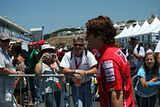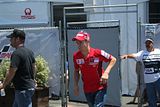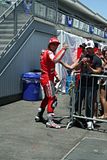 I took a look at all the Track had to offer, and enjoyed my time on the Island and with numerous friends throughout the entire weekend. My evenings were spent exploring the many great roads Northern California has to offer, particularly the roads near and around Santa Cruz and heading to San Jose (where I spent each night). Highway 9 being my favorite in the morning ride to the track with virtually no traffic and only a handful of cyclists to watch out for. Take note of the photo at the gas pump, I had almost grabbed it and filled up, but changed my mind when I saw the price. This pump was in Saratoga at the North East end of Hwy 9.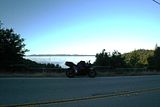 I did make a trip to Cannery row on Friday after leaving the track, but after burning my clutch pretty bad in stop and stop traffic, I decided to stay away from there the rest of the weekend. On Saturday, the qualifying race was pretty exciting to watch as I made my way around the track starting from Turn 2 and working towards the corkscrew. I didn't have a zoom lens for my Canon, so the photos I took were for my own sake, so they are on the flickr stream at the end of this post.
You all have probably noticed by now that there are no photos of models or other females, and that is entirely out of my respect for my wife and her ability to kill me in my sleep while I am hobbled. Thankfully, Scott and Largerthan9 took care of the hottie duties for you guys, so thanks for that guys.
I made the same walk around the track for the race on Sunday, and it was equally as exciting to watch from all angles. Normally, I'm able to keep pace with the action and be in advantageous positions for each lap as the race progresses, but lil' hobblit wasn't making any impressive strides this time out with the bum knee, but it was still a very cool experience to see the action live and in your face.
As many of the guys here have already said, whether it's your first time at the track or your 7th, the sound and the feeling of the bikes flying by you is truly incredible, and something that everyone should experience at least once. Then, when you get your hearing back, you can call your friends and say: "Did you f-in hear that, that was friggin awesome???!!!"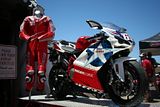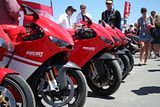 The Ducati Island Showdown took the place of the Ducati Concorso, whereas before you would apply for entry to the contest. With the new set-up, you brought your bike to the Island, and your bike was selected by mystery judges to compete in five categories. Superbike, Monster, Vintage, Wildcard, and Modified. There was an interesting variety of bikes chosen, and the winning theme was overwhelmingly Vintage and rarer models of the earlier Superbikes. There was a Monster who took the Wildcard award for racking up 230,000 miles on a basically stock bike with a well worn carbon front fender. No kidding, this bike looked like absolute shit, but the owner had proudly ridden this bike into and out of the bowels of hell, and it was still running strong enough to make it to Laguna Seca and be rewarded for his loyalty to the Ducati name.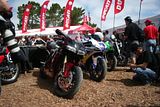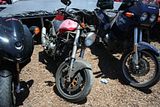 Overall, it was another great experience. I went the entire weekend without a single look from a LEO, except for 2 thumbs up at stoplights, which is pretty cool considering I had covered at least 1500 miles in trips from beginning to end, and maybe 2 or 3 of those miles being at a more aggressive pace?! I look forward to the next one, which I hope to run into yet even more Ducatisti from this forum and everywhere else!
Dan Tapia
DT996
http://www.flickr.com/photos/

[email protected]

/