Discussion Starter
•
#1
•
I've been looking longingly at Ducatis for several years now and have had every intention of going the normal route and purchasing one in top condition once I moved to a larger place and had the money saved up. Well that search came to a rapid close in March and heres the how and why:
I was getting ready to take a red eye to Cape Canaveral for work on a saturday evening when a coworker and chopper enthusiast shot me an email to check out an obviously fake eBay classified ad "just in case." I checked the ad for a 2001 996 which had been posted less than 10 minutes earlier and even though it was clearly a ludicrous posting, I was surprised to find a phone number which I immediately called. The owner picked up and I started asking a few questions to figure out what was missing from the ad or being covered up. He seemed honest over the phone and was adamant that the bike was just as advertised. He also noted that I was the first to contact him. I practically screamed for him not to move from his seat and to give me his address. I was in my truck looking for an ATM 30 seconds later - had the cash I needed 10 minutes after that. I called the number again and told the owner I was on the way and he responded that 6 other people had called since my first contact and they were all heading his way. Even though I had the holeshot, I also had 28 miles of LA highway to cover in a 1988 Jeep Comanche. I called my other coworker who has a 748 and told him I would pay any speeding tickets/damages/bail acquired but I needed him to get to this address NOW.
24 minutes later I left my truck running in the middle of the street outside the address and called the poster again - He came outside and told me the bike was still here- I was the first to make it. We went around back and there under the carport, under a tightly wrapped nylon tarp was my first Ducati. He pulled off the wrapping paper and I tried to keep my eyes in my head as I blurted out SOLD. Right when we were heading inside to make things final the second set of obviously panicked potential buyers showed up. They could see the deal was done but they started begging for a bidding war. The owner, a mid 50s gentleman who obviously lived comfortably, quietly apologized to them and stated that there would be no bidding, the ad clearly said first come first served and the bike was now sold. I was FLOORED.
My buddy on the 748 showed up right then and he went around back and stood watch over the 996 while I went inside to sign the paperwork. 5 minutes later I had the clean, clear California title in my hand, along with the license plate and any maintainence records "Dave" could dig up. When we came outside 3 more trucks were parked in the street and about 7 people were crowded around the 748 that was parked out front. Perfect decoy.
We loaded the 2 nearly identical bikes into my truck and shook hands. The greatest deal in my life had just been done.
I was now the owner of an all original (except for the full Fast-by-Feracci and PC), one-owner, never dropped, 9,250 mile, 2001 Ducati 996. For $450. Here are some screenshots of the ad and pics of her the night she came home...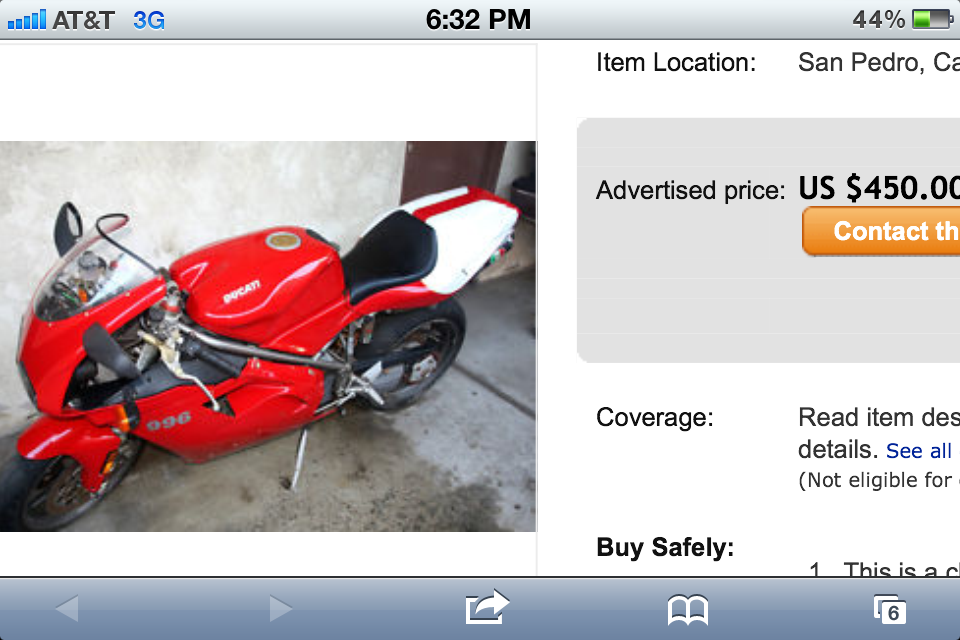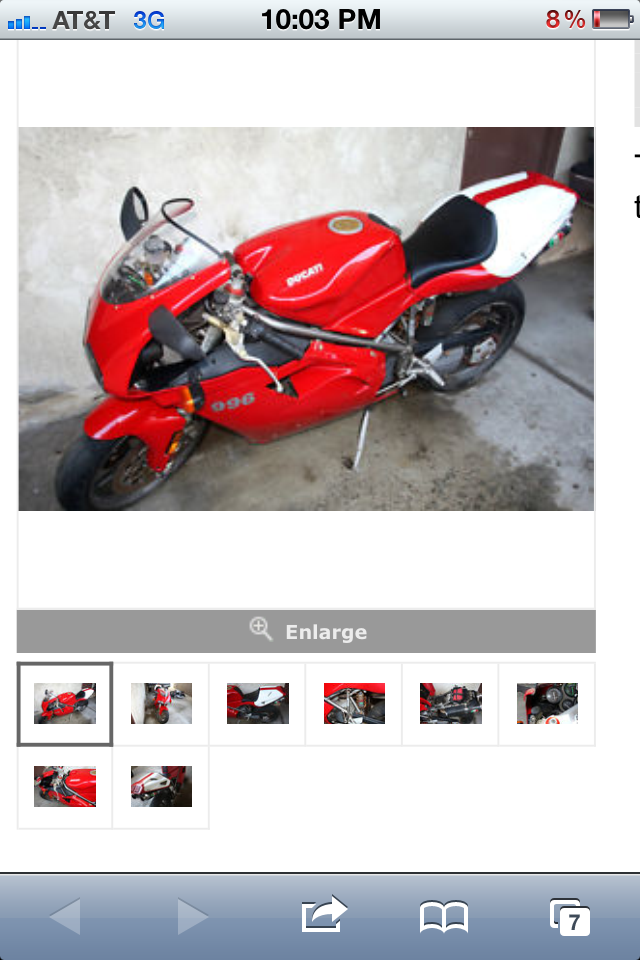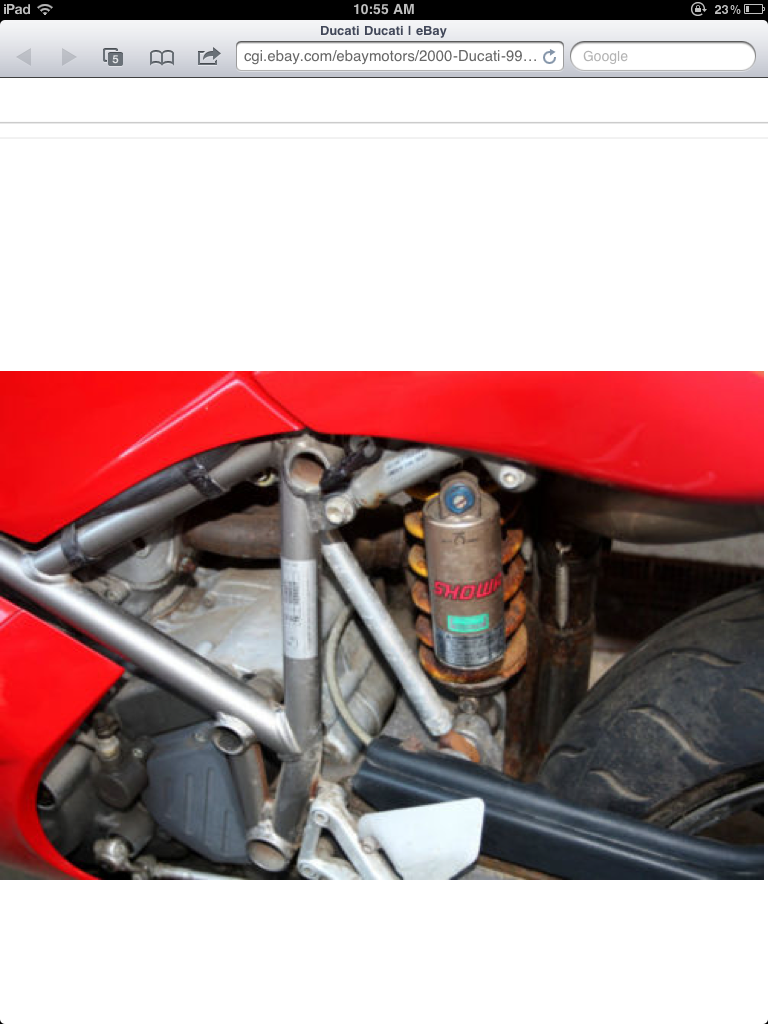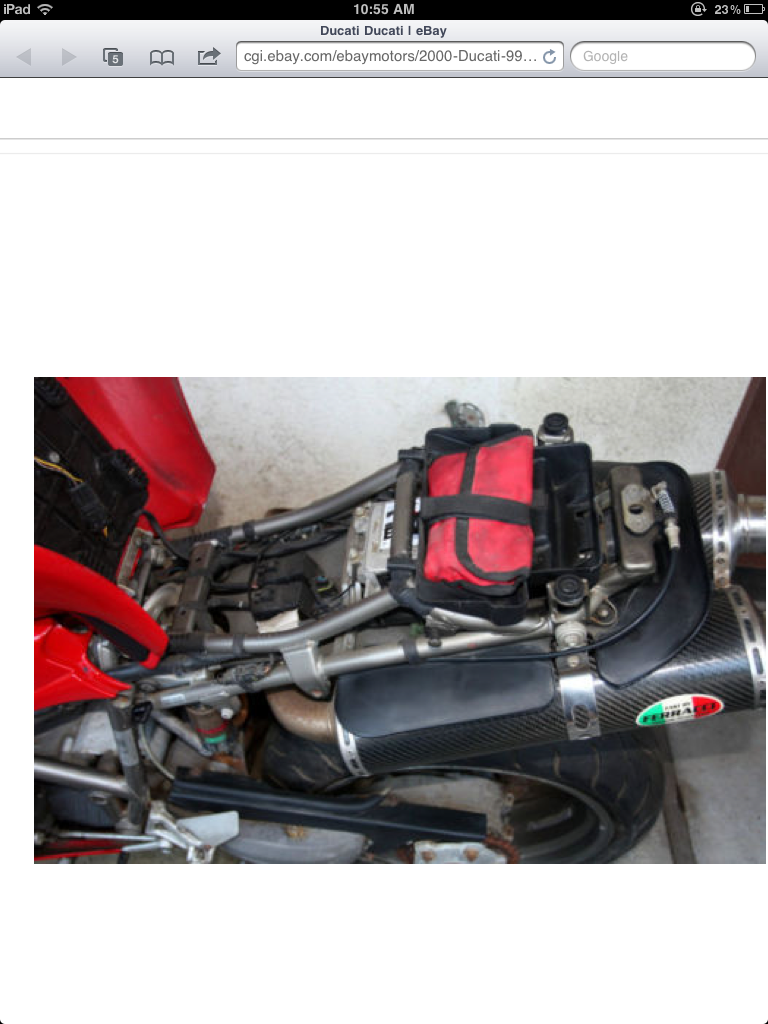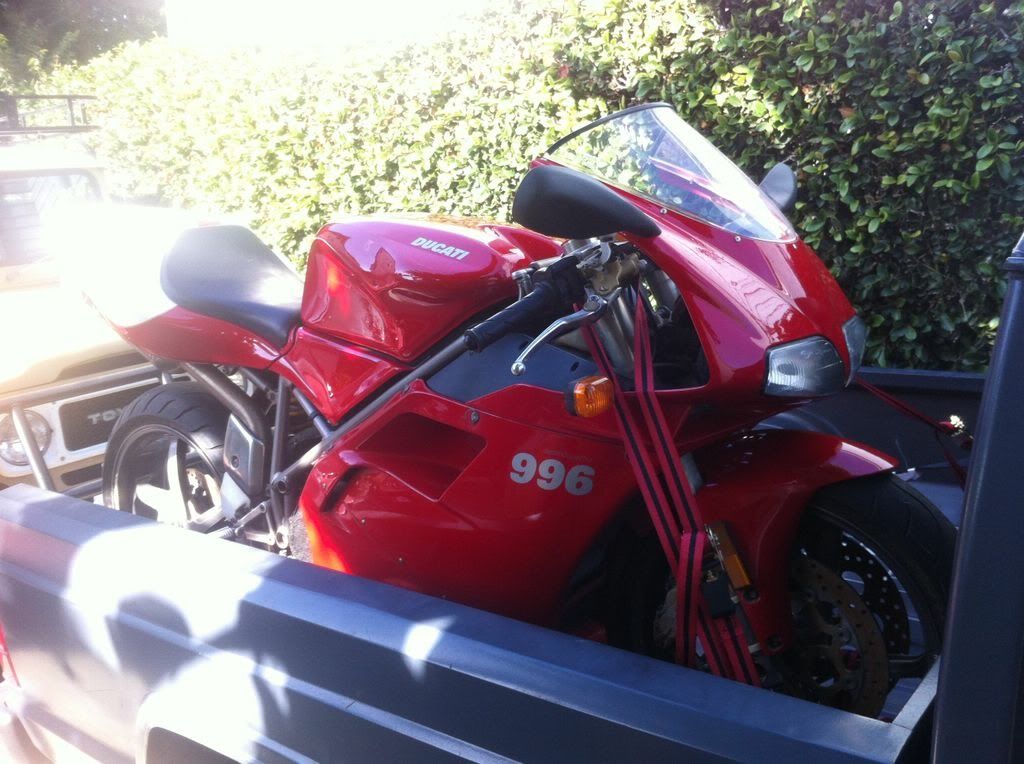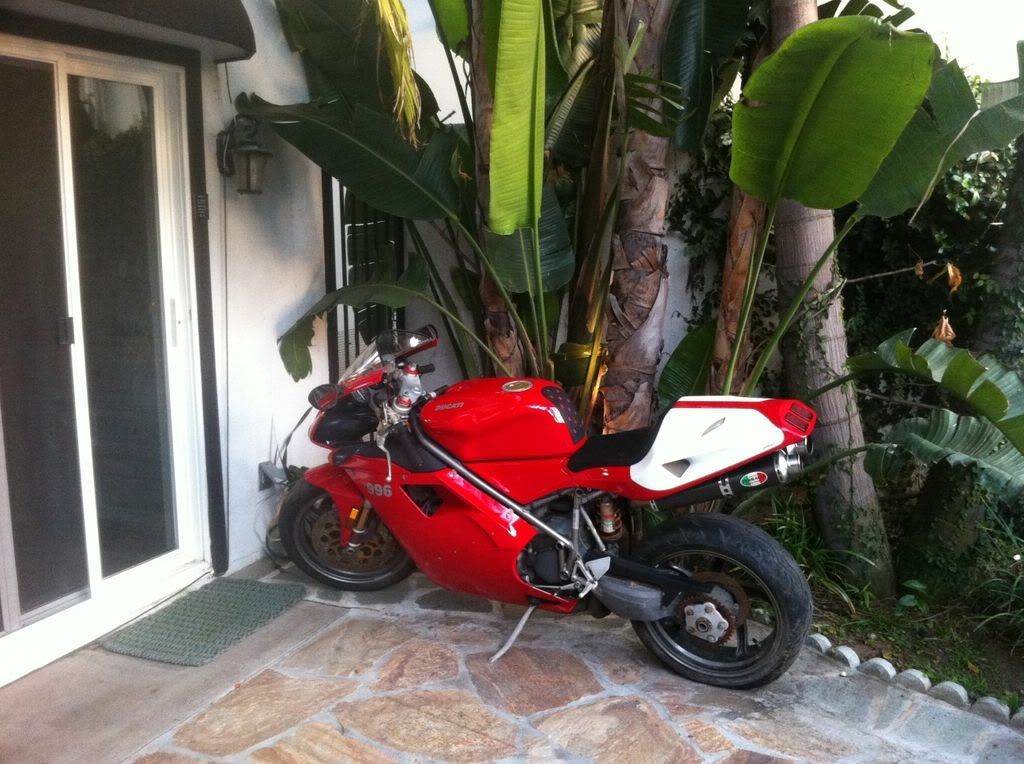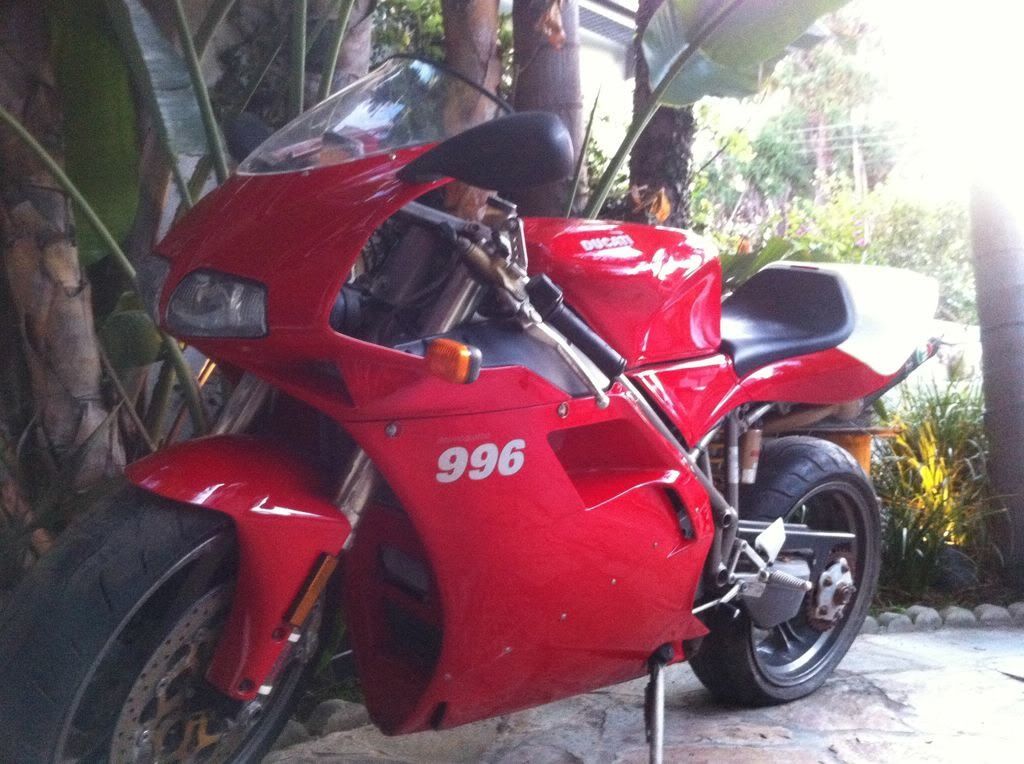 Apparently "Dave" had purchased the bike for himself on his 40th birthday and had ridden it strictly for pleasure in the LA area. Work got serious and he parked it. He meant to get back on it but after sitting for almost 6 years on and off the bike had started to show some heavy corrosion on the suspension and drive train so he decided it was time to part with it. His reasoning for the price is still beyond me but I was too timid to ask...
I plan to bring this beauty back to life starting with a full teardown and assessment of the corrosion - which is worst on the forks and shock. Frame strip and powdercoat, new bearings and seals, hardware etc... Before I try to get the engine running, I plan to replace the belts and check the valves and possibly even rockers for flaking...
Im traveling alot myself until the end of April but I plan to be riding this summer... Stay tuned.