Discussion Starter
•
#1
•
Hi all,
I'd like to introduce our new product.
Greatest Road is an iPhone/iPad/iPod touch app for motorcyclists. It's rather like a restaurant review app, but for motorcycle roads. It helps bikers find good places to ride based on routes added and rated by others who own the app.
You move around the built-in map to an interesting area, then look for interesting routes sorted by length, rating, or other factors.
See how other riders have rated a stretch overall and in terms of fun, twistiness, scenery and road surface. Look at a view of the stretch and see its length and surface type. Tap the map to zoom in on the stretch full screen.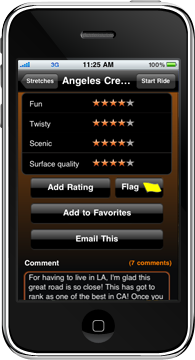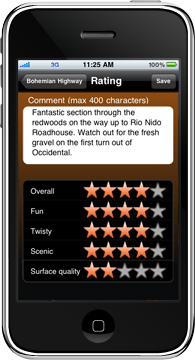 There are loads of other features, including:
Export any stretch to a gpx file for easy transfer to a bike GPS
See any stretch in Google Maps on a PC or Mac
Post any ride to your Facebook wall
Quickly and easily add your own routes
Use the app in English, German, Italian, or French
Check it out in the iTunes App Store:

​
If you have any questions at all, please feel free to post here or get in touch with us on our support pages.
You can also follow our Twitter feed (@greatestroad).
We look forward to hearing from you!
Daniel Pifko
Founder & CEO
Greatest Road Software