Discussion Starter
·
#1
·
Some time ago I was asked by Martin Smith (Sinex) if I would like to join him and a few others to tour on the Hypermotard around the Pyrenees. The trip was to join the European Multistrada Owners Club at their annual meeting. He had done this trip a number of times and had said the roads would be great for the Hypers style of riding. I cleared things with my good lady and signed up to the tour.
We arranged to meet at his on the Tuesday evening so having finished work I loaded up the Naughtybike with all its DP Hyper luggage strapped on the backpack and set off for the 80 mile run to Silverstone village and Martins house. I got lost around Northampton's road system due to my Satnav system not having all the relevant details. (Ok it was a very brief scribbled route on the back of a torn up envelope that I did before setting off. I like to go old school when it comes to this new fangled technology.)
Met up with Martin(Hypermotard) and Miles(Multistroodle) who would be my roomy for the week and enjoyed a leisurely evening talking about the run down and past meets with the Multistroodle boys and girls.
Woke up the next morning at 4.30am, due to pure excitement at getting underway. Went down to the garden for a smoke and to wake the neighbouring cockerel up to do its job so that I didn't have to get the other two out of their beds. Had a quick coffee a chat with the boys about the route for that morning and then it was on our way.
Portsmouth docks and we met up with the rest of the English boys and girls who were riding with us. Peter(Multistroodle) who would be sharing the ferry cabin with us, Paul(Hyabusa) and his son Mark (Suzuki GSX)and John(1089) and the wonderful Caroline(Fireblade) who at the time looked as though she had a lovely rear (ahem).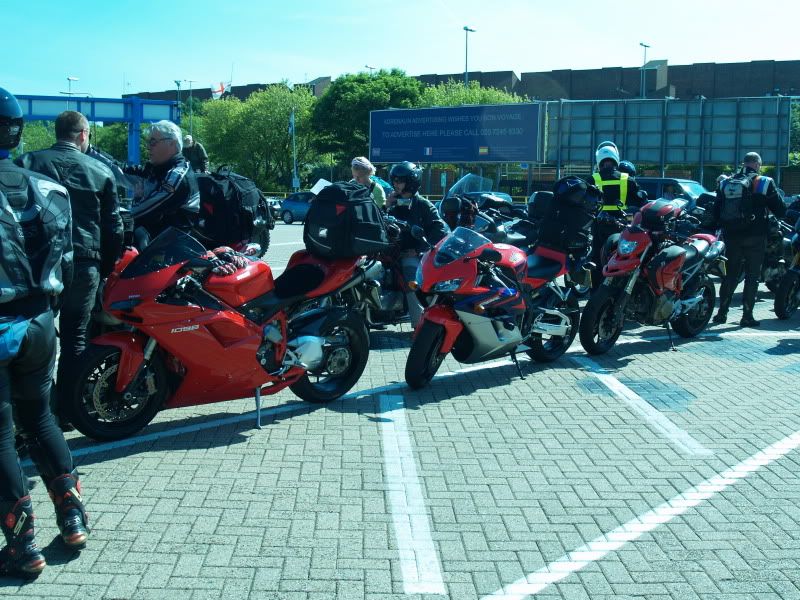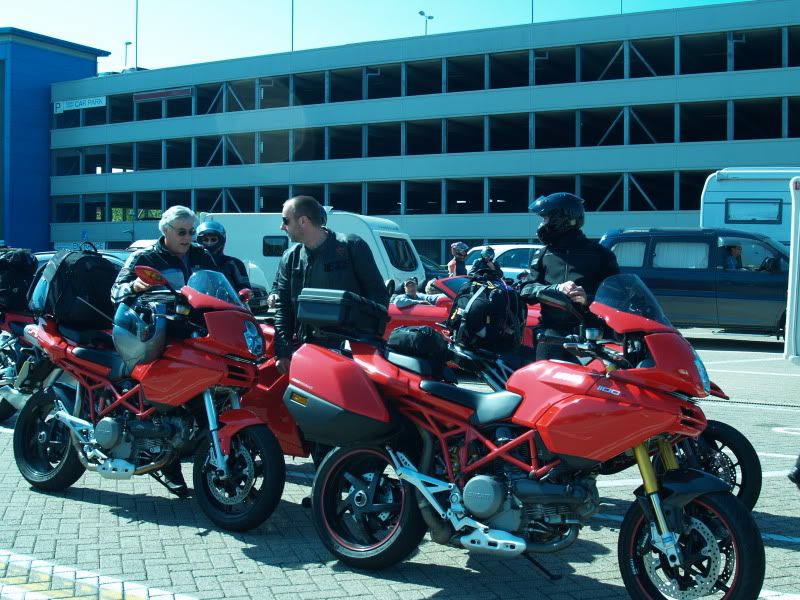 After the usual faff around getting on the ferry we settled in for the 24 hour crossing to Santander. M&M poker, a film (which I can't remember seeing much of so it couldn't have been that good but someone mentioned the soundtrack had a lot of growling/grumbling noises in it. Didn't hear it myself....) a few drinks and a bit of a sleep and we arrived at Spain.
Ahead of us was 400 miles of mixed roads. Motorways duel carriageways and little roads through the Spanish countryside and mountains. My Satnav hadn't been prepared for this (couldn't find a big enough envelope) but I had managed to get a couple of maps of Spain on the boat so I stuck a few X's on the maps so I would know where to head to if I got lost
.
Nine hours later we arrived at the village where the first hotel was. It had been a slog but at 10.30pm and having been travelling all day it was a welcome site. Tiredness was setting in and as we rode down the main street we were stopped in our track by an almighty wolf whistle. Seriously, dogs across Northern Spain all stuck their heads up it was so loud. Michel(Multistroodle and Co-organiser) had seen/heard us coming and gently caught our attention as we rode by the bar they had commandeered. A bit of a u-turn and it happened. The engine stalled (a combination of knackered body and a ton of luggage) and the Naughtybike went down.
The luggage, however, almost bounced it straight back up again and saved the bike from any real damage. From out of no-where an army of Spanish blokes rushed over picked me and the bike up and with cheers had me back up the road to find the bar. This was to be the only mishap I was to have on the tour. Martin unfortunately had picked up a nail on route which was found by the guys at the hotel so his first morning was going to be used in getting it sorted out.