Finally my 999R rims came home, thanks to JC that found these rims in he's friend's garage. And you were right JC, they are in mint condition, almost like new.
Uhh working out ? No just god damn happy.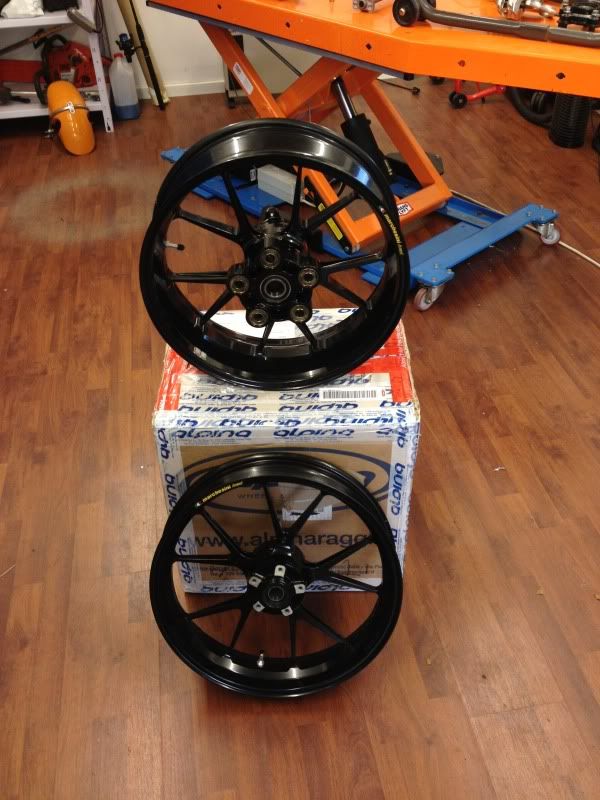 A weight comparance.
Without tyres, discs, sprocket carrier and without bushings on both sets. The Sport 1000 stock rims are tough weighed WITH tubes, as it dosnt run without them.
Sport 1000 with tube:
Front rim 6 kilo - 13.2 lbs
Rear rim 9 kilo - 19.8 lbs
999R:
Front rim 3.2 kilo - 7 lbs
Rear rim 5.5 kilo - 12.1 lbs
A total reduction at 6.3 kilo - 13.9 lbs.
Can't wait to try these babies on.
A quick mockup. The 999 caliper and bracket just came home. Found it on eBay.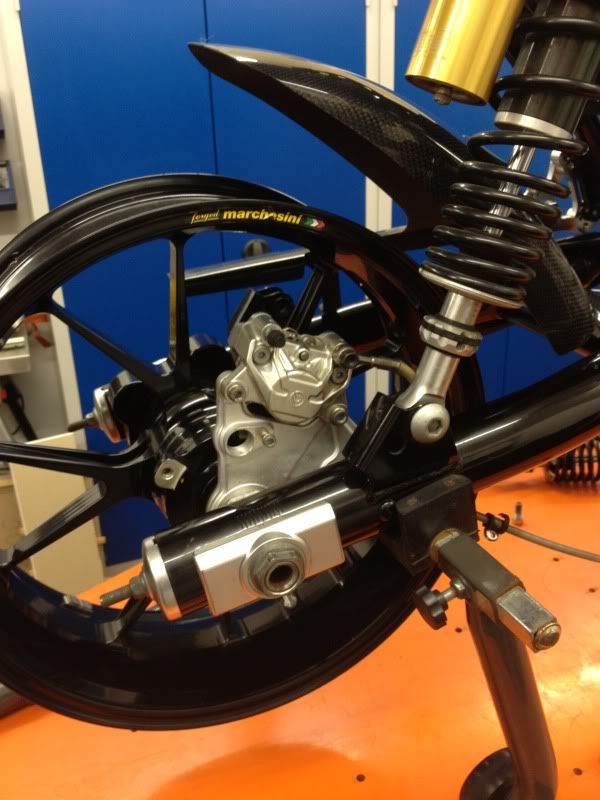 The Sato rearsets from JC, why the h£ll haven't i got those before now.
They are stunning, but even those had to have a minor "adding" I have filled the extra holes up with stainless pivot bolts. grinded the tip of the bolts of and secured them with PTFE Tape.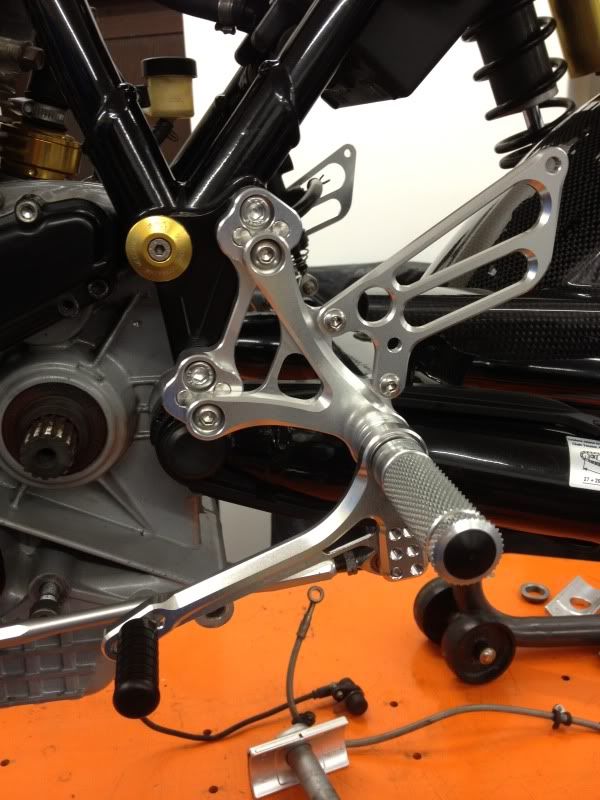 But now for some serious bits. And I'll guess I'm already dead, when you guys reading this +
The next couple weeks more sweet things will appear at my... (wifes) doorsteep
My recipe for my Dream-Duc 2012 is following>>>
From NCR Italy:
>Triple Clamp.
>Oil cooler.
>Titanium Gas cap. (yes in real billet titanium)
>Ti bolts.
From dealer here in Denmark:
>Ohlins FGRT815 53/56
From eBay:
>999 Rear caliber, bracket and sprocket carrier. Got that !
From JC pakbikes:
>Sato rearsets type II. Got that !
>Gauge lowering mounts. Got that !
>999R rims via JC. Got that !
From Bikehps UK
>Talon alu gold sprocket 42T
From Omnia Racing Italy:
>Braking Wave disc rear.
>Brembo discs front.
>Brembo calibers CNC P4.30/34 line (the billet ones)
>Radial brake master 19RCS.
>Radial clutch master 16RCS.
>D.I.D 520 Race chain.
>Front sprocket 15T
From ??? Maybe Germany:
ABM Multiclip.
From performance Parts Germany:
Spacer kit for the 999 rear wheel.
Tyres will be. Michelin Power ONE
TOTAL: $13322 That's why i'm afraid my wife is killing :think:
But if I'll survive, I will update this thread in the following weeks