Discussion Starter
•
#1
•
Hi everyone,
I'd like to announce a few items today:
1. Greatest Road version 2.0 is now available in the iTunes App Store.
We've built Notifications into the app so you can keep track of stretches you like. You'll get something like the screen below when someone comments on a stretch you've marked to your Favorites, added yourself, or commented on previously. We have a few other ways in mind of using Notifications now that the app is "wired up" for it. There are also several bug fixes and, of course, the accumulated features from the last few releases.
2. For a limited time, Greatest Road is **free**
That's less than a tank of gas, by about a tank's worth. Go tell your friends, and add a zillion rides, in 50+ countries.
Get the app by clicking here:
3. The company is now called SocialNav, Inc
.
On a different note, we've changed the name of the company to SocialNav. The whole idea behind this app and the others in the pipeline is bringing people together in the context of the activities they love. It's a social network for activities. In any case, we thought the name should reflect this view.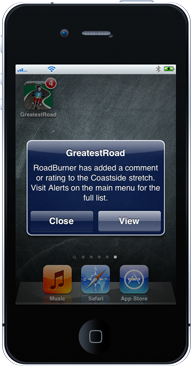 4. Android
Finally, for you Android fans, help is on the way. We're tantalizingly close to an Android version of the app. I'll post here when it's done.
Thanks for your continued support. We really appreciate it.
Good riding,
Daniel