Discussion Starter
·
#1
·
Sorry for yet another topic on this subject but (I think) I've got a problem with the float height on my '97 900SS. And I can't find the answer anywhere.
I would like to check the actual fuel level inside the carbs (with the carbs mounted on the bike) with the clear-tube-to-drain-pipe method but I can't find what the height is I'm looking for when using this method...
I already know that you have to measure the level to one of the marks on the float bowl but I don't know which mark to use and how many mm I should be above or belong this mark.
I'm talking about the marks in the attached photos. Photos came from
this website
. Talking about the red and blue arrow. Lots of info about Yamaha there, nothing on Ducati...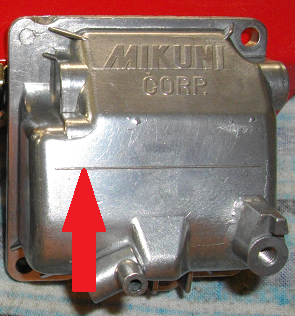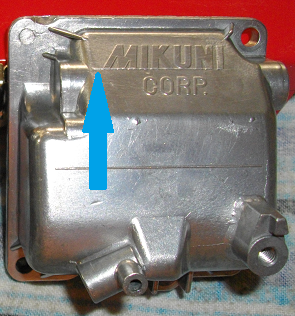 Cleaned the carbs, checked everything for leaks and/or wear, set the float heights to 14mm and after re-assembling the vertical cylinder keeps running lean, even with the air-fuel screw 5 turns out. Horizontal is oké @3,5 turns out.
I suspect a problem with the float height on the vertical cylinder carb.
Before pulling the carbs again I would like to check the actual fuel height in the carbs. When I reassembled the carbs everything was checked and all seemed allright. So I think pulling the carbs again won't reveal anything new.
So, does anyone know what line I should be looking at and how many mm the level should be above or below this line?
Thanks!!!