BREMBO WSBK Rear Brake Kit
$1,881.62
FREE shipping
When you demand nothing but the best performance this kit will answer.
Kit contains:
1 Brembo Billet 4 Piston Caliper (titanium pistons and hardware) - 64MM mount
1 Brembo Narrowband 200MM rear rotor
1 Corse Dynamics hard anodized carrier
1 Set of Ferodo FDB2170P Brake Pads
1 Titanium Hardware Mount Kit
This is everything you need to install your WSBK brake system onto your bike.
Pictures installed on our 996R project bike, as you can see it is a very light rotor with a substantial loss in rotational weight over stock: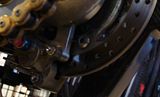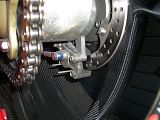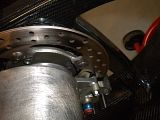 http://i42.photobucket.com/albums/e344/Motowheelscom/996R/DSCN0350.jpg
* FREE shipping on orders over $100
* Register on the Motowheels website for Free forum passwords to access discounts on most non sale items. Look for
memberships
and choose the membership type that fits you the best.