Discussion Starter
·
#1
·
I figured there wasn't a definitive thread on how to to a cat delete so here it is. Now, I'm using the Leo Vince mid pipe but I'm sure its pretty much the same thing for the MIVV sans the part about modifying the exhaust flapper valve actuator. So enjoy...
I didn't take any picture of how uninstalled the header shields since its pretty straight forward but once all the covers are off, this is what you should be looking at…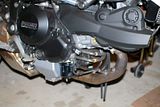 I'm not going to cover muffler removal either but its pretty straight forward. Just loosen the exhaust clamp behind the muffler, take off the mid muffler guard and slowly work the muffler out. Once the muffler is off this is what you should be looking at… The red arrows are what you'll be removing in a few…
Front header is held in place by 3 X 10mm nuts. We will remove these as well to simplify the install. These come off very easily and don't require much torque to reinstall.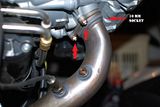 Notice the bracket on the left side of the bike connected to the cat. When you fold the left rearset up you will find a hidden bolt. The other one is in plain sight. Both are 5mm hex.
At this point, once the cable is disconnected, the only things holding the cat in place is the headers and the springs along with the two brackets which will be removed using a 5mm hex (next three pics).