Discussion Starter
•
#1
•
MW Custom LED headlight 7 inch, fits most 7 inch headlamp buckets. Also fits the MW headlight kit and Corse Dynamics headlight kit.
MW Custom LED headlight 7 inch
Price: $399.00
Sale: $299.00
FREE Shipping
When properly mounted, exceeds FMVSS-108 and CMVSS-108 DOT requirements for low beam and high beam performance.
Excellent option for your motorcycle.
Metalized reflector optics provide a lighting experience that's smooth and clean across the driving surface.
Provides a brighter, crisper and whiter light output, closer to the color temperature of daylight, dramatically improving light projection distance and overall visibility
Durability and dependability of LED lighting provides a solid-state, bulb-free headlamp design that impervious to damage from shock and vibration.
Military grade, die-cast aluminum housing and non-yellowing, polycarbonate lens offer optimum protection against damage from impact, roadside debris and other hazards.
Electronics are sealed in epoxy to resist from damage caused by corrosion or moisture.
Advanced circuitry protects against voltage spikes up to 600v.
Uses standard, H4, 3-blade wiring connector
Includes a 3-Year Limited Warranty
MONSTER OR SPORT CLASSIC will require the
MOTOWHEELS Headlight Conversion Kit RING ONLY
. Fits only Monsters and Sport Classic with metal or carbon fiber headlight buckets.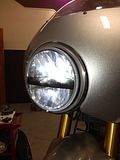 *
Register on the Motowheels website for Free forum passwords to access discounts on most non sale items or upgrade to lifetime VIP passwords for the deepest discounts on ALL products.

Look for memberships and choose the membership type that fits you the best
* FREE continental USA shipping on orders over $100.


* Outside continental USA, use shipping coupon codes:
GLOBAL250 gets 25% off shipping on orders over $250
GLOBAL500 gets 50% off shipping on orders over $500
GLOBAL750 gets 75% off shipping on orders over $750