Discussion Starter
·
#1
·
"So, you did a 900 mile ride over the past two-and-a-half days. How was it?"
"I got rained on quite a bit. It was mostly really cold, with lots of wet roads. Even got snowed on a little bit!"
"Sounds like it wasn't much fun."
"No way! It was completely AWESOME!"
And so it was. FANTASTIC! Huh? Even with rain, cold and snow? Absolutely. I love this bike. I love these roads.
Now that October is upon us, for those of us in regions that have four seasons, that means riding season is drawing to a close. Always a bummer. Knowing this, I definitely wanted to try to find a few days where I could go for another ride on the Multistrada before the weather starts to get too cold. I thought it would be great if I could see some nice fall colors along the way, too, which always makes for beautiful scenery and compelling photos.
As the weekend approached, and I thought my work schedule might allow me to get away for half a day on Friday, I considered various routes that would have decent weather, be reasonably close to home, and preferably something I hadn't already done this season. I settled on a loop that would take me on about 900 miles of favorites, much of which I hadn't yet done this year.
I was able to sneak out around 1 PM from work on Friday, which enabled me to ride the 250 miles or so from my home near Boise, out through Lowman, Stanley, Challis, and on to Salmon, Idaho, near the Montana border.
They call this spot between Lowman and Stanley "Grandview." Easy to see why.
Last time I was in Stanley was six weeks or so ago, on the ill-fated flat tire trip on the Aprilia. It was so smoky from all the forest fires, that I didn't really take any photos of the scenery, which is usually spectacular. Fortunately, this time was more typical. In fact, there was already even some snow on the Sawtooth Mountains. As I approached Stanley, I just had to stop to take a few photos.
I continued along the incredible road (Hwy 75) between Stanley and Challis, along the Salmon River. One of my favorites in Idaho, it's super twisty and fun. Just don't let your concentration falter – a mistake would mean you and the bike would be swimming.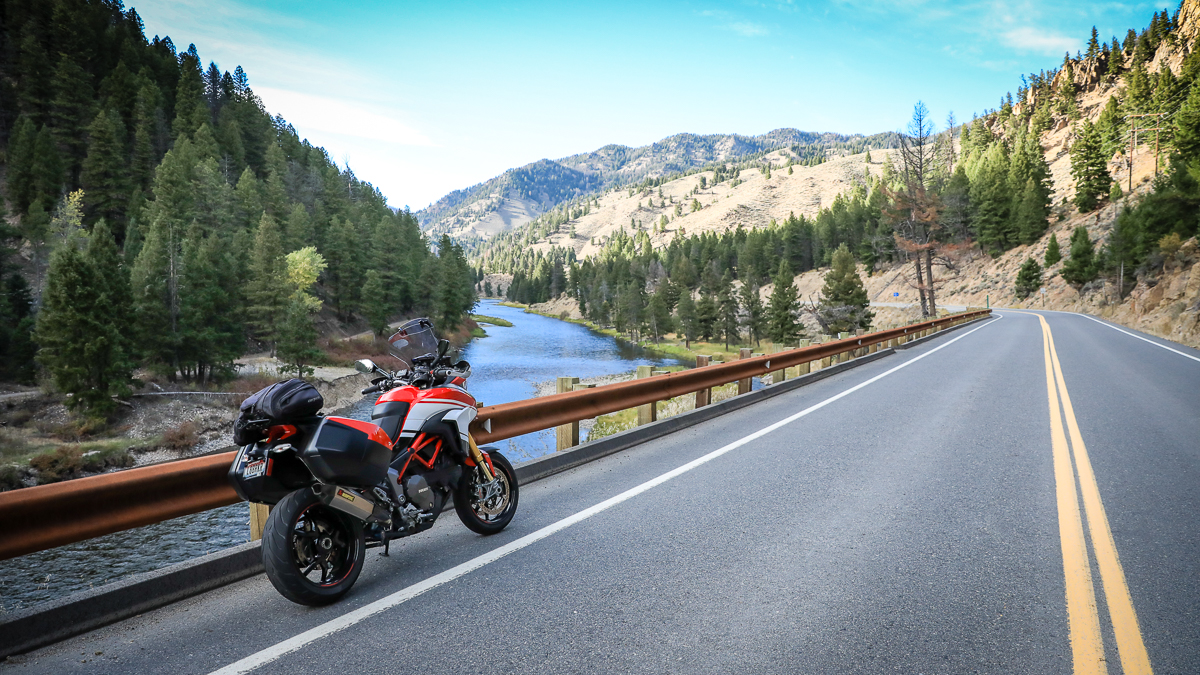 As Hwy 75 comes into the Challis area, and meets up with Hwy 93, there is a particularly gorgeous section of rocks along the road, with big signs warning drivers (and riders) to watch out for Bighorn Sheep on the road. I've never seen any, though it would sure be cool to see them.