Valentino Rossi hasn't exactly kept his frustrations with his ride at Ducati a secret in interviews, especially towards the beginning of this season when his comments led to rumors that he would not be finishing the 2012 season with Italian bike manufacturer. Rossi did put these rumors to rest shortly after, but he had made it clear that he was unhappy with the performance of the bike. This frustration visually represented even earlier however. He wore one of his traditional one-off helmets for the second Italian round of the 2012 MotoGP season and it was obvious what he was thinking.
The Aldo Drudi design features cartoon thought bubbles with expletives, storm clouds, bones, bombs and guns, which Rossi explained as being playful representations of the kind of angry thoughts that go through his head when things are not going well. His mechanic, Alex Briggs, also took to Twitter to further clarify the meaning of the design for English speaking fans. He said, "The basic translation in English would be WTF!" While we hate to see the man struggle, it did lead to this cool looking lid that we are now able to offer to you in limited quantities!
We have been getting a lot of requests for this helmet since Rossi debuted it at Misano last season so don't miss your chance to grab this limited edition! Be sure to call Nathan at 866.931.6644 ext. 809 or send him a PM through the forum. You can also feel free to send a message to FORUM at RIDERSDISCOUNT.COM with Rossi WTF in the subject line and we'll get back to you right away!
The AGV GP-Tech Rossi WTF helmet is shown here with an optional dark smoke shield. These helmets come with a clear shield as standard.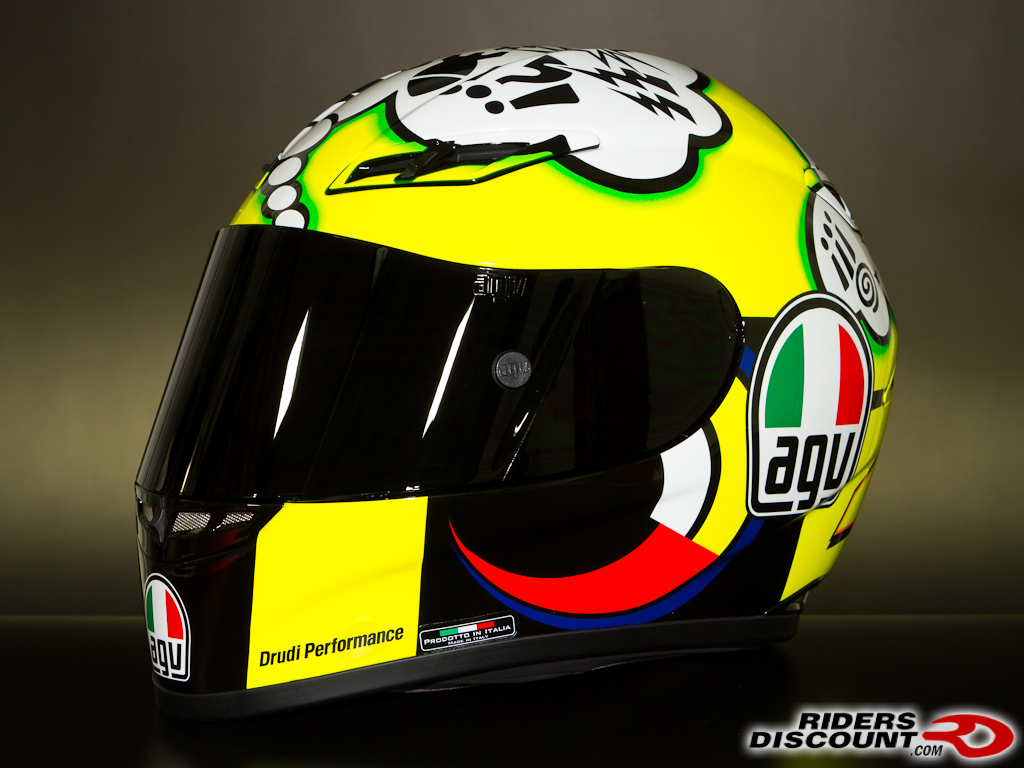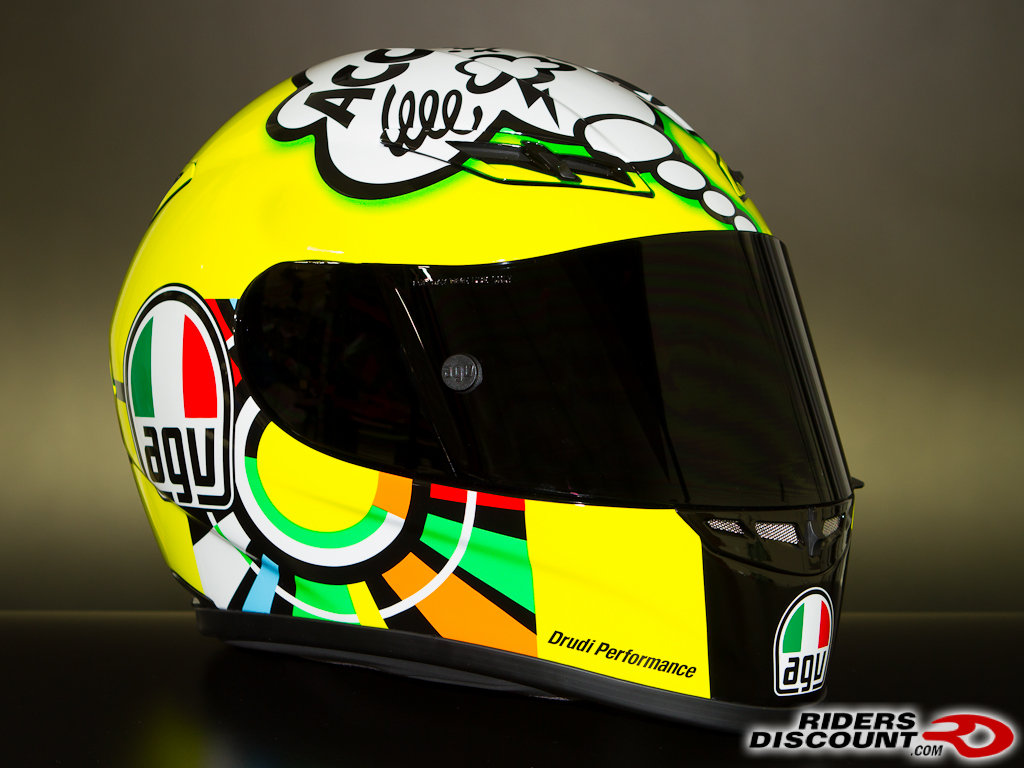 When asked about the design, The Doctor said:
"It's what I think when I ride. It is just for make a laugh. When you read the comics and one is very angry you have all the bad things like the bomb or the gun like this, it's try to understand without say exactly what you think, try to explain without saying exactly the word because a helmet with the word 'F***' is not very polite!"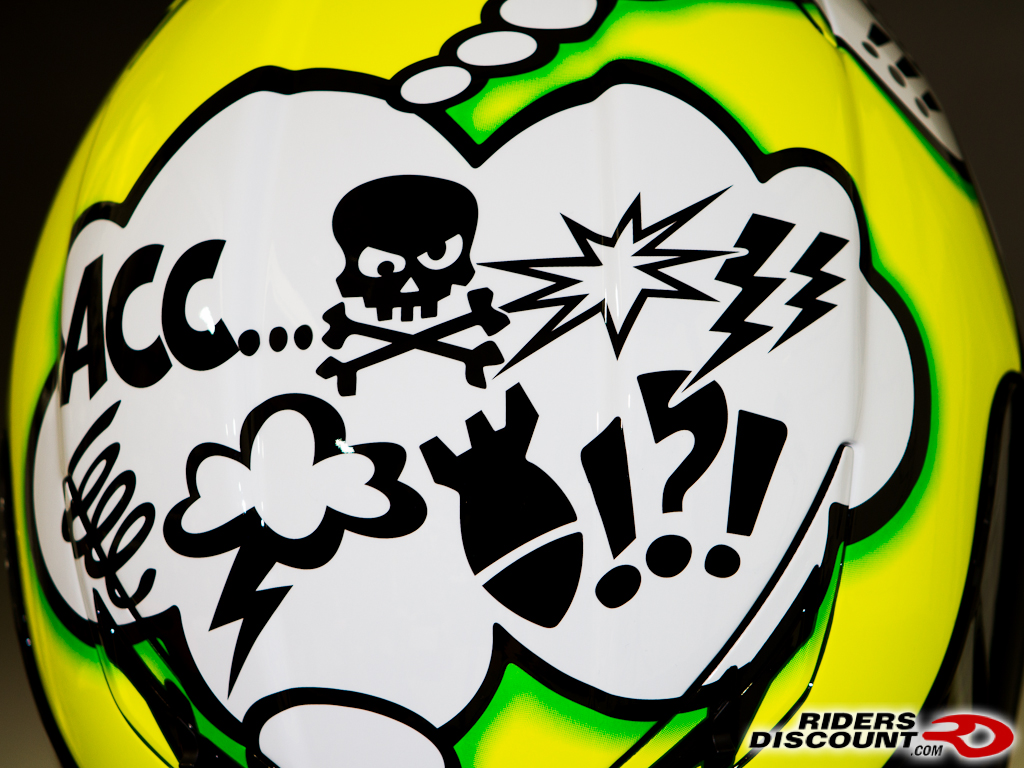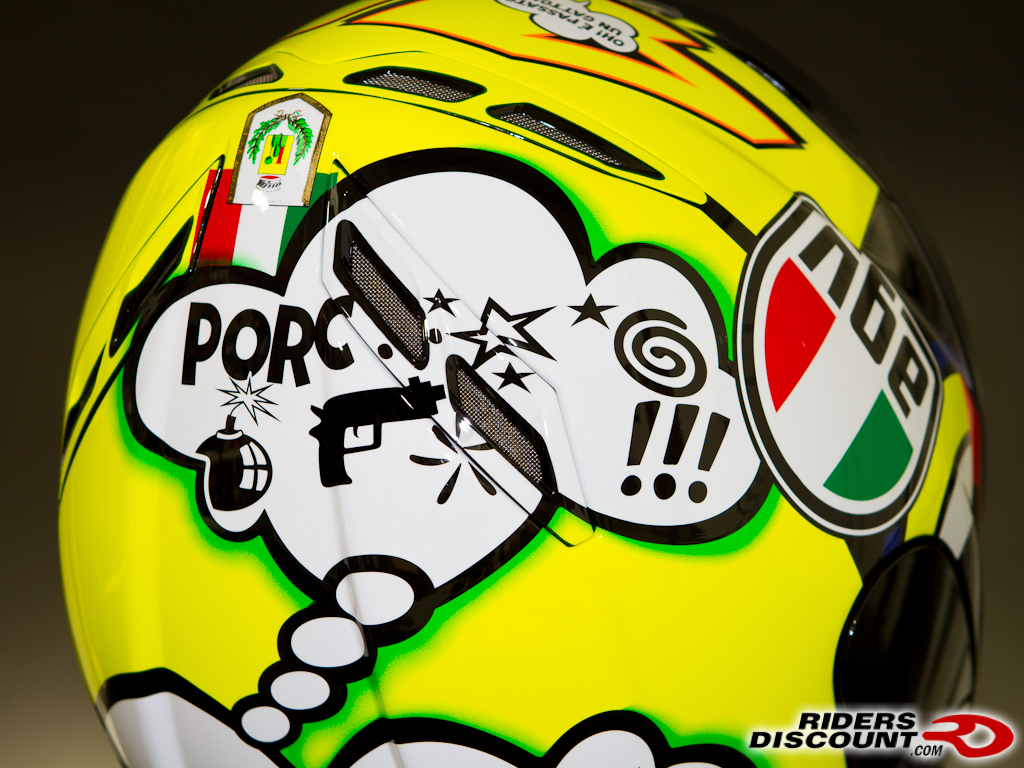 The back of the helmet features Rossi's ever-present bulldogs Cesare and Cecilia.