Discussion Starter
•
#1
•
Hey all. fairly longtime member with only a handful of posts here. Been busy.. Settle in, though, this is gonna be a long post. Gotta make up for all those years here with no contributions. Skip down to pic 5 if you wanna get right to the actual build, otherwise, I hope you enjoy my ramblings. You're warned regardless.
I've owed this thread to Chris over at California Cycle Works for a while now as he was kind enough to sponsor me. I'm very happy with his track day Monster tank, more on that in due time.
I've had a lot of Ducs since my first 900 CR back in '95, mostly 2 valves, with a couple of 4 valves sprinkled in. Again, though, mostly the air cooled bikes; I currently have 4 of them, all race bikes, although one is going back on the street at some point. I also just tonight bought a frame and motor to build a supersport legal race bike, but that one will merit it's own thread. I will say it's a Monster 600. Go figure.
Anyway, here's the subject of this thread, my '96 Monster 900.
This is the first bike I ever rode on the racetrack, initially at track days, for 3 years. I've also tracked a 996, a Daytona 675, and an S2R1000, among others, but this was my first and always favorite bike. I race CCS Lightweight in the midwest region, and this bike is the reason I chose those classes.
At this point, in this pic, the bike still had the stock front end(resprung with cartridge emulators), an Ohlins shock (came on the bike), a DP 944 big bore kit, 39mm racked Kiehins with the stock manifolds and a K&N filter, a lightweight flywheel and clutch basket/plates, a 2 into 1 Sil Moto exhaust, Marchesini mag 3 spokes, Motowheels rear sets, Woodcraft clip ons, and Braketech cast iron rotors with 996 master cylinders. It still had the stock wiring harness and a lead acid battery, and probably weighed around 365 or so here. I have no idea what kind of power it had; my shop never had a dyno, only a lot of set up experience, but it worked, and allowed me to progress from beginner to advanced in both STT and NESBA bitd. It was a good bike, and gave a lot of guys on bigger and more powerful bikes fits. As a wise person once told me, "It's not the bike that bends, it's the rider. There is no spoon." Always liked that one, still use it often in the proper context. Still need a good bike with proper geo and suspension, though, and these old M's, based on the 851's, have good bones.
I also want to mention that this bike had 7000 miles on it when I bought it, and I've still never been into the bottom end, even though this motor has been to Daytona twice, Road America countless times, and I don't know how many other tracks in between, for literally thousands of track miles, for not only track days but sprint and endurance races (with numerous podiums and wins) as well, with not one issue. If it ain't broke, don't fix it. The key is frequent oil changes (every weekend) and not overreving. This motor doesn't make power above 8k, so there's no point to doing it anyway. Use the torque. I'm currently putting this motor back into the aforementioned bike that's going back on the street, still with the stock bottom end. Enough said, 2v bikes are extremely durable when cared for properly.
As I said, I did track days with this bike, and some of the others, for 3 years. A lot of people told me I should try racing, but I resisted for some time as I knew how competitive I am and didn't want to take that step. I went to the CCS Midwest last race event at Blackhawk Farms in '07, though, and watched a guy I ran circles around at track days wrap up 4 amateur championships, and the hook was finally set.
The 3 spoke rear pictured above had developed a crack at some point that year, so I bought a set of Marchesini forged mag 10 spokes, fitted 996 adjustable Showa forks with the Cyclecat top triple piece, and had 4&6 Racing set the bike up even better in preparation for racing. At this point, the bike likely weighed around 360 without gas, I only weighed it once when it had some gas in it. At my first event in '08, down at Heartland Park Topeka, I podiumed several races throughout the weekend, including a few 2nds, right up until I crashed out of the first race on Sunday as I had lain awake in bed from 4am trying to figure out how I was going to beat the guy who'd won every race the prior two days. That's how racing is. Even if everything is going well (and I screwed the pooch, to be sure), you're going fast, and then, you aren't. So, I came back from my first ever race event with a bunch of wood (good) and a broken hand, torn up shoulder, and severely sprained ankle (not so good.) Steep learning curve indeed, way more to racing than just going fast. I ended up getting back on the track that summer, though, and soon won my first ever race at Black Hawk Farms. Sorry, I know this is a long thread in need of more pictures..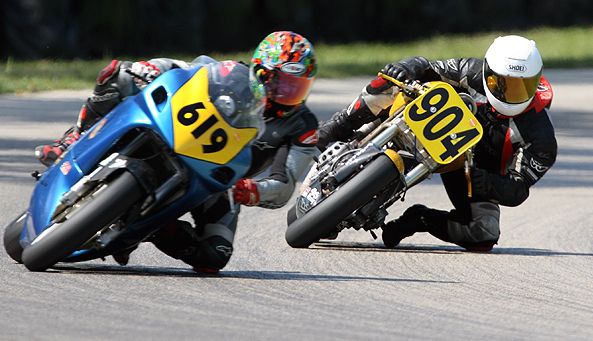 619 is still one of my best friends, and I kinda feel bad for beating him as this was one of my biggest rushes and fondest memories ever. Kinda. I beat him a lot more after this. Sorry, Hernan.
'09 was my year, at least as an amateur. Never finished off the podium, won all my classes in my region, and won 5 national championships, 1 at Mid Ohio, 4 at Daytona. Please don't take that as bragging, rather, I put that out there for anyone here who's ever asked if these Monsters make good race bikes. Well, actually, let me clarify. Between seasons, I bought an '08 S2R brand new and built it into a race bike as well. Racing can be done cheaply if you want, but I'm a Duc guy, so there's that, but if you're chasing championships, 2 bikes are a huge advantage if you can swing it. Crash a bike, experience a failure, whatever, hop on your B bike. Always nice to have a bike sitting with rain tires if the weather looks bad, too.
But here's the S2R, in it's final trim. This was 2014, long after I was expert. I have a pic somewhere of when the 2 bikes were both matching yellow like the first pic, but I always liked this look the best.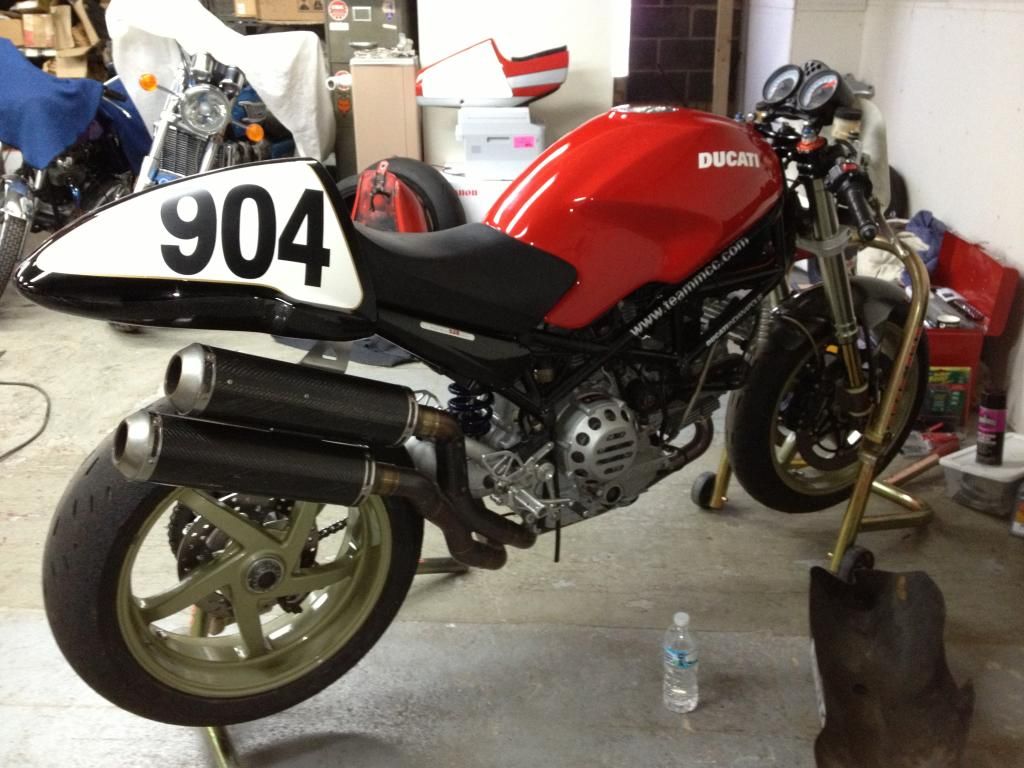 Anyway, the clarification is this. The old M, based as it is on the 851/888 is a very good bike, with a good chassis and weight distribution. The S2R, which is based on the next-gen Monster and ST-series frames, is not so good, with an even more distinct than usual rearward weight bias and a tendency to flex the swing arm when you go fast enough. Bike was heavy, too, somewhere around 385-390. That DS motor, though. This bike's motor was lightly built, with, again, the stock bottom end, light flywheel and clutch, Pistal 11.25:1 pistons, Hypermotard racing cams and 2 mm over intakes, and an Arrow full exhaust, and made 95 RWHP and 67 ft/lbs on the Safety First dyno with the stock ECU and a Power Commander, all on 93 octane pump gas, with ethanol, even. Not too shabby. It was fast, but it wasn't the best handling thing. No matter, though, I didn't know any better, and it was my A bike that year. I managed the 1 win at Mid Ohio, but that track in particular really gave the bike fits; I was happy to back off after that first race, thrilled to manage podiums in the rest, and ecstatic not to land on my head. This was also the bike I won on at Daytona (Naked even!) I did, however, ride the old M exclusively in the beginning of the season (didn't get the S2R fully finished until the 3rd event or so) and often throughout the regular season.
So, that was '09. I only raced once in '10, now as an expert, up at RA, on the S2R. I was both broke and burned out after the prior year; 5 classes at 9 events, some of which were twin sprint weekends (9 races total), with all the practice days, bookended with 2 trips to Daytona. I figure that adds up to at least 80 or so individual races, probably more. Man, I see guys competing in twice that many classes year in and out. I don't know how they do it, but I sure as hell respect them. I respect almost every racer I meet, guys and girls from all walks of life, even though we're all a bunch of idiots going in circles for countless miles but never actually getting anywhere..
I was ready to get back on track in '11, though, and had a plan, which was to ride the old M exclusively as it was the better chassis and I wanted to further improve my skills as a rider. As such, I figured it was time to freshen up the top end, and sourced some Pistals for the bike. At some point, too, we had installed MBP valve collets; I mention this because this is an important mod if you're going to track any Ducati, it'll save you a lot of maintenance and headaches. All my bikes get them from the get-go now. As for the Pistals, though? The bike didn't need them. The pistons we took out, the DP ones that had been in there for 6 years, were barely worn - further testament to frequent oil changes (Spectro full syn 15w50, expensive, yes, but worth it) and keeping the revs below 8k. We had the Pistals, though, so we put 'em in anyway as they also bumped compression from 10.5 to 11.25.