Discussion Starter
·
#1
·
I wanted to put together a list of all the adjustable aftermarket rearsets . I'd like you guys to add to the list of I missed adjustable rearsets(not foot peg or lever replacements like Lightech and Bonamici , actual adjustable rearsets). This list would have made my life so much easier so I'm hoping it will help others going forward.
SPIDER REARSETS- £588/$645
SPIDER Rearsets DUCATI Hypermotard 796 | 821 | 1100 - FREE UK DELIVERY - MotorcycleRaceParts - Official Spider UK Distributor Spider Racing Rearsets are 100% CNC machined from high grade 7075 alloy billet providing maximum strength
www.motorcycleraceparts.co.uk
AEM "ADVENTURE" ADJUSTABLE REARSET- £590/$647 driver and additional £290/$318 to add passengers to it. Most links advertise them as "£290" till you select drivers.
Gecko Racing- price ranges depending on options. They have the most choices for color combinations, pegs and lever tips than anyone else. A big plus to these is that they are all flat and and anyone with a saw/cut off wheel can make a replacement piece easily if anything happens. €229/$247 drivers. €394/$427 every option including passengers addition and folding tips on the brake n shifter. These have bushing pivots for levers.
Rearsets Adjustable Ducati Hypermotard 821, 939
geckoracing.it
Woodcraft- $779.99 drivers only. Doesn't look like they have a passenger add on but I could be wrong. These have bushing lever pivots
Buy Complete Rearset from our store for only $699.99
www.woodcraft-cfm.com
CNC Racing- €917/$994 drivers. Add on €173/$191 for passanger. These have ball bearing pivots for the levers
Rear sets formed entirely of aluminium AL 7075 T6 machined using a CNC machine from light alloy billet and then given an anodized surface finish. TECHINCAL...
www.cncracing.com
Ducabike- $699.95 drivers. I'm not sure but I believe you can add on passanger for additional $. Bushing lever pivots.
Ducabike Adjustable Rearsets for the Ducati Hypermotard 821/939

www.bellissimoto.com
RSV Racing- TBH 7,500/$232+ shipping from Thailand total $327 (drivers and passanger )to my door. I just ordered these . They are CNC machined and made to order. Bearing pivots. The Thai people see to love them and rave about quality. I will share many many pics once they arrive.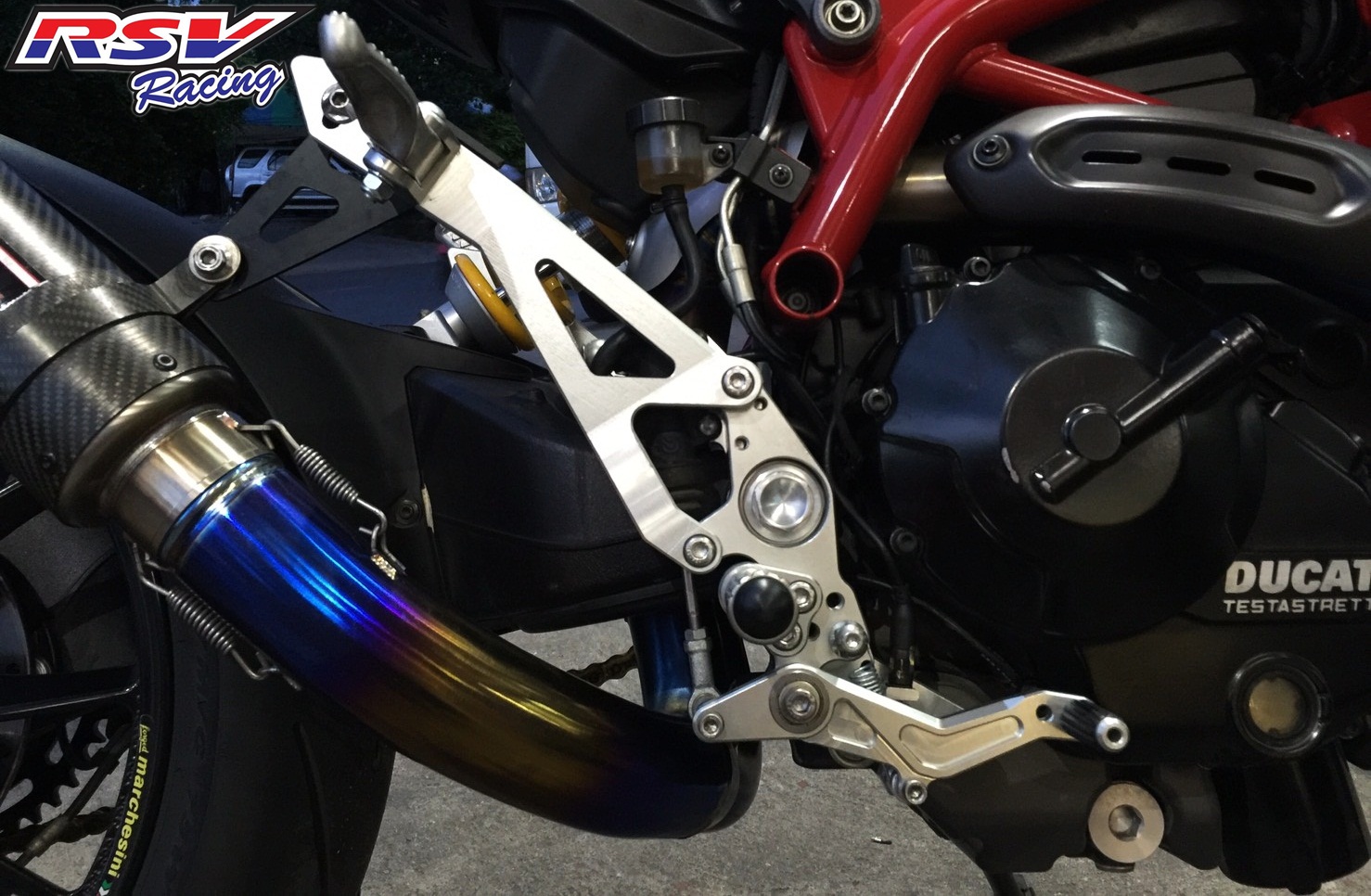 Our rearsets are made form great billet by CNC machined. We use stainless ball bearings for the shift and also the cleated foot pegs are designed for better long term grip. There are many colors that can choose black,gold,silver,red,gray,blue,titanium anodized finish.

www.rsvracing.com