BST 7 Spoke Front Wheel: 1199 Panigale
Price: $1,845.00
Sale: $1,752.75
BST 7 Spoke Rear Wheel: 1199 Panigale
Price: $1,995
Sale: $1,895.25
BST wheel set saves about 4 lbs over the very light OEM Ducati "chicken feet" Marchesini forged rear wheel.
Weighing between 40 and 60 percent less than OEM wheels, BST wheels bestow sportbikes with sharper corner-carving abilities, faster acceleration, and quicker braking by weighing less than their production-bike counterparts. Lighter wheels are also easier for suspension systems to control over bumps and irregular surfaces, yielding more traction and unimpeded acceleration. Less rotating mass also equals less rider fatigue.
A lighter rear wheel is easier for the shock to control properly, which leads to superior power application and much higher trap speeds in competition and track days
Using high-tech processes pioneered in the aerospace industry, BST wheels are manufactured in a single molding operation. This technique produces a wheel that is far superior in strength and much lighter than any aluminum or magnesium wheel, and one that is light and strong enough for racing and street use.
Maximizing the molecular and structural properties of carbon fiber, BST has reduced spoke and rim weight without compromising their strength. Mass is therefore concentrated in the hub, reducing rotational inertia. This results in quicker acceleration and braking, allowing faster corner entry and exit speeds.
* Available at Motowheels in matte or gloss finish for the 1199*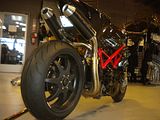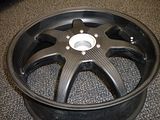 * FREE shipping on orders over $100
* Register on the Motowheels website for Free forum passwords to access discounts on most non sale items. Look for
memberships
and choose the membership type that fits you the best.