2011 Hypermotard 1100 Evo w/ approx. 2750 miles, but still riding it so it will go up slightly.
Mods Include:
-Full Termi carbon 2-1 system with DP ecu, airbox lid, carbon trim, etc.
-GPR damper, upper triple, etc.
-DP race seat
-Sargent seat (standard height)
-carbon rear hugger
-Will likely put oem mirrors/guards back on, presently has Acerbis guards/signals with CRG Ls hindsight mirrors.
-1 tooth smaller countershaft sprocket, never installed
-Fabbri fly screen
-Nearly new Power Pure tires
Oil changed at 550, then again around 1700, then after winter storage recently. Ridden pretty conservatively, I'm a MSF rider coach and don't really have the time to ride as much, especially with a 4yr old at home
Price - $11,000 with everything.
remove $200 if you don't want one of the seats (or 400 for no extra seats)
remove $1,500 if you don't want complete Termi setup (ecu, air lid, trim, pipe,etc)
Can deliver within 1.5hours of Buffalo, NY in an enclosed trailer.
Location is Orchard Park, NY (just south of Buffalo)
a little dirty, I was in WV with some friends: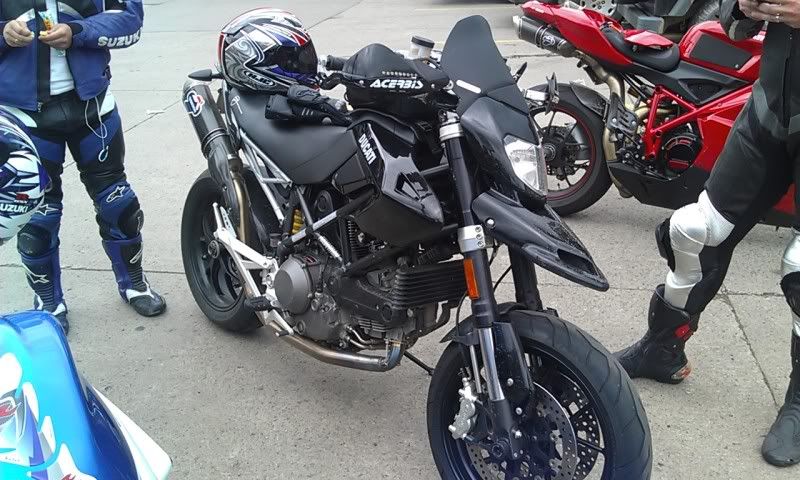 Just took these. Oem handguards and mirrors will go on for sale. I should probably put the race seat on, it's a bit easier on the eyes ;-)