Member
Join Date: Jul 2008
Location: Spokane, Wa, USA
Posts: 69
AZ Riders?
---
Looking for some AZ riders. I just moved here from Spokane. Living up off Rio Verde in Scottsdale.. Who else is out here.. I stopped by the Duc shop off Hayden today to say hi, and look into some shop time. Anyways, lets get togerther, show me the area.
Welcome!
I go riding with a few other from the FZ1 group often. They ride more than I do and also do some track days, so I can get you together with them and you can ride all the time. Here is a link to where we post up for rides. They are good guys and good riders too.
http://www.yamahafz1oa.com/forum/sho...=4729&page=465
I got my bike in pieces for various routine mainteance, but once I get it back together I will let you know.
If you want a short but nice little ride right next to your hood, you can take the run out to Bartlett Lake. Make sure to take the route to the north past Rattlesnake Cove just before you get to the main lake boat ramp. Watch out for the Gostopo and the drunks coming off the lake (mostly in the summer). Before you take the lake turn off from Tom Darlington Drive, you can also head north for a quick little jaunt in some tight twisties. This is a fun little section, but it will surprise you so take it easy. Also watch out for sand and gravel on these roads, especially after a good rain (yeah we get it).
The two best rides in the state are the Yarnell Hill/White Spars run between Prescott and Wickenburg and US 191 between Alpine and Safford. Gotta do the latter in the summer unless you can handle riding in snow and ice (yeah we get that too). Both have nice pavement and lots of twisties. The latter being remote with few cars, but you might be dogding some wildlife (bear, elk, bighorn, coons, squirrels, turkeys, deer, javelina, coatamundi). Well worth it for 95 miles of damn near non-stop twisties, with an occasional leisurely section. Pack some fuel on that one, unless you got the larger tank or buddies with an FZ1 tanker and siphon hose.
The other good one over there is the New Mexico 180 from Alpine to Clifton. Also, the boys like to run Tortilla Flats. I don't cause I am closer to the Spars and like it better. There are a few others too..........get 'er done.
Out!
---
2008 Ducati Hypermotard
---
Last edited by AXE; Jan 8th, 2010 at

8:42 pm

.
By the way, that Ducati Dealer has a couple of really good mechanics and one of the sweetest dyno rooms I have seen. The guy that owns GoDaddy.com bought the dealership last year, so I can't say for sure what direction it is going, but they are in a nice new building.

Out!
---
2008 Ducati Hypermotard
Senior Member
Join Date: Mar 2006
Location: Phoenix, AZ, USA
Posts: 2,450
There's a small group of Phoenix area Ducati riders and enthusiasts that oragnize on the local Arizona section (AZDRA) of ducatimonsterforum.org, here:
http://ducatimonsterforum.org/index.php?board=34.0
We post up rides, events, and pretty much anything moto related that we think people might enjoy. We've also been getting together for a bike night every week for several months now. Usually meet up for a bit to eat then a short ride through town to a coffee shop or bar. Lately the group is fluctuating between 6 and 12 or more. Group rides almost every weekend usually bring the same number of bikes.
All are welcome!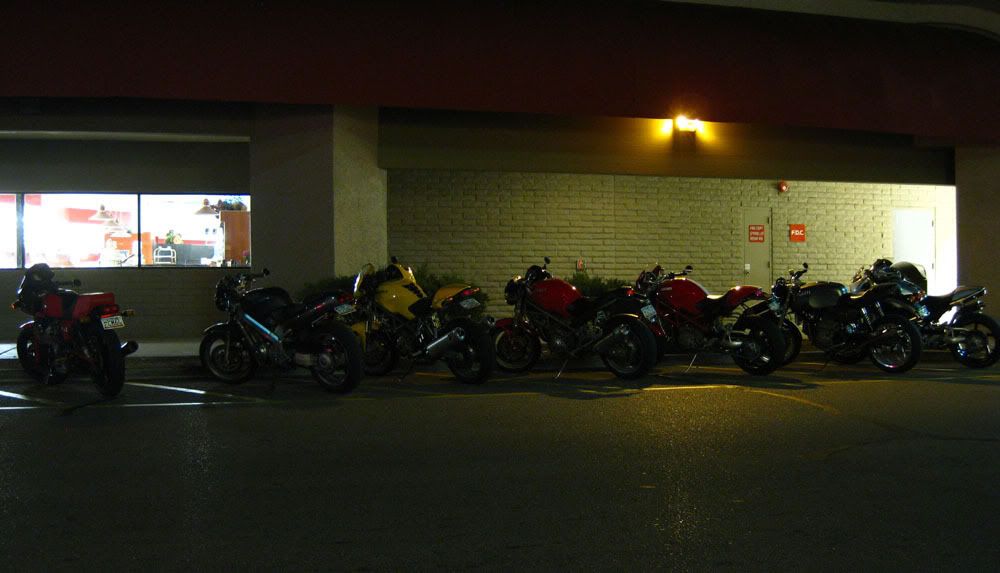 Senior Member
Join Date: Aug 2008
Location: phoenix, az, usa
Posts: 1,283
welcome to az nemisis im pretty close to ya...im in the east valley chandler area bout 20 min from ya..going dirt bike ridn tomorrow in north scottsdale might do some ridin at tortilla flats on sunday pm me if ur interested i also have a hyper s and 1098 s.again welcome!