Junior Member
Join Date: May 2008
Posts: 16
Here's Mine. Bought this year. Japanese import now in New Zealand. #097 (non US model). Just put it back together after painting the frame and wheels...... Because gold is for chics
and doesn't go well with the FE colour scheme.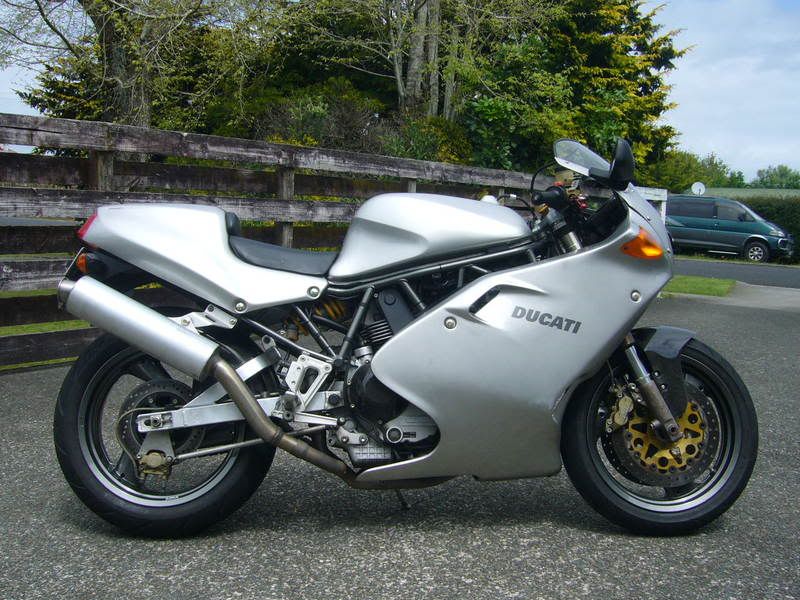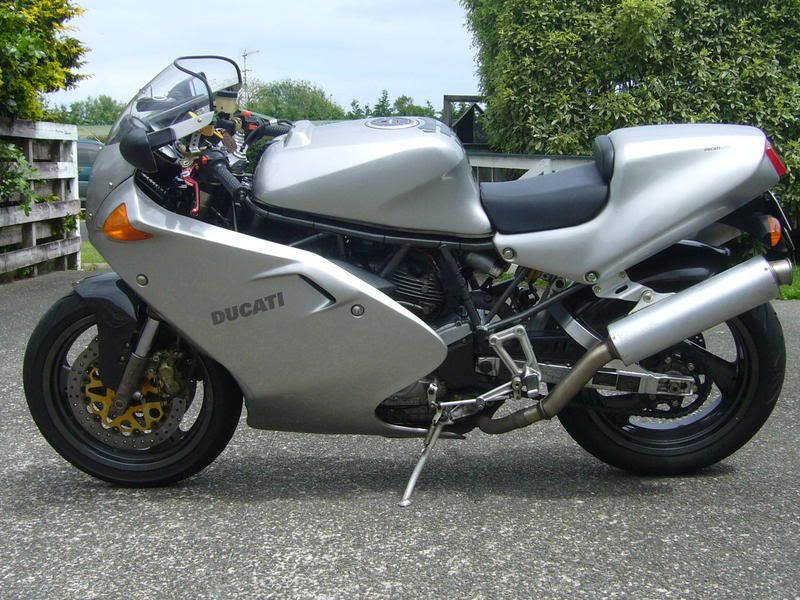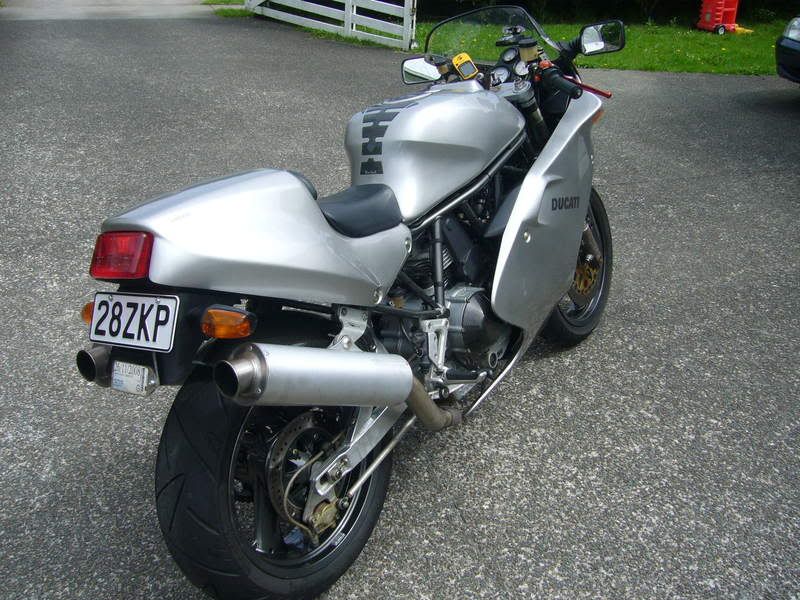 And how it was 3 weeks ago......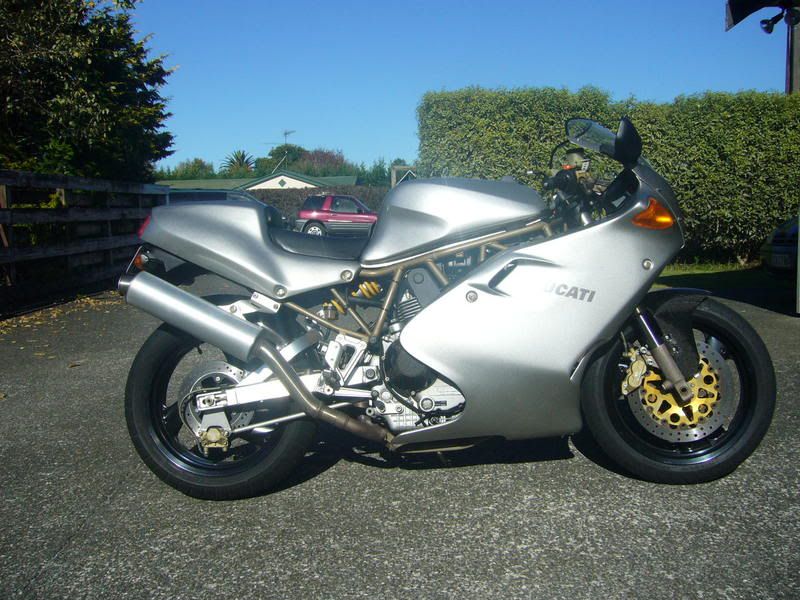 ---
Ducati 900ss FE 1998
BMW R1100GS 1997
Kawasaki KDX200 2005
---
Last edited by xtc; Nov 3rd, 2008 at

5:45 pm

.
Junior Member
Join Date: Feb 2007
Location: Highlandville, Mo, usa
Posts: 16
Here is mine #193 10,800 miles, carbon cans, jetted, no lid, corban seat thats about it for now. I think it was in St Louis, than made it to Springfield Mo. A woman owned it for I think 4 years, and put only 800 miles on it in that time, and than traded for a new Harley when I bought it. What is the going price for a FE?
Member
Join Date: Aug 2008
Location: Coventry, CT, USA
Posts: 55
#181 in Connecticut, USA

I only bought mine last year... couldn't pass it up as it has been on my short list of favorite bikes for a long time (and the good deal didn't hurt either).

It has high compr. pistons, FCR's, Ferracci pipes, and I recently upgraded the brake lines, replaced the chain and shortened the gearing a bit. Great bike, great sound... just love it.
---
Scott
---------------
'98 Ducati 900 FE #181
formerly user: 'kearnejs'
Senior Member
Join Date: Feb 2008
Location: Houston, TX, USA
Posts: 748
I'd say the price range for a perfect low mileage (10k or less) bike that needs absolutely nothing cosmetically or mechancially is around $7-8k. A virtual museum quality FE with hardly any miles will be at the top of that range. At the other end of the spectrum I think a "rider" with some miles and average condition is around $5k. These bikes don't sell for a whole lot more than regular SS/SP's right now, especially for a "rider", where the premium is only around $500 over a late SS/SP. I think this is mainly because of the color, which admittedly isn't as sexy as red. Considering the rarity and the significance of these bikes as the last of a generation I think they're undervalued and one of those bikes that guys will look back on one day and say "I remember when I could have bought one for $5k...."
---
2016 Panigale 959
2009 BMW HP2 Sport
1998 900SS/FE #118
1981 BMW R100RS
Does anyone track their SS? I was thinking of getting one as a track bike.
---
Southern Oregon
P_R,

Before you buy an SS for the track, you have to be honest with yourself regarding what kind of riding are you really going to do. Put yourself into one of the following groups:

1: Want to race. (lots of cash needed to be competitive - SBK may be a better starting point)
2: Want to do trackdays, and be with the fast guys. (You can get there, yet will require more investment than just stripping down an ebay deal.)
3: Want a trackday toy, and am OK with not being the fastest guy around. (excellent. Especially if you have another SS as a street bike. NOTE: Get a track only bike.)

Overall, everything that makes the SS a great all round street bike still applies for making it a decent track tool. There are issues that have to be either accepted, or improved. If you cannot do either, then buy an SBK. There is always a high dollar solution to making an SS a great track tool, yet I'll assume you are a practical person. The things that are a must do (at the minimum) are:

Ground clearance - Those darn header pipes will drag. Once you start to really ride the thing you increase the chance you will lever your rear wheel off the ground. Solution - find a spagetti system, cut/reangle the headers, or get a rear shock that has adjustable ride height adjustment (fixes the poor rear shock issue).

Power - The midrange that makes the SS a great streetbike makes the bike a very easy bike to ride on the track. The overall lack of top end power will make you bait on any straight. Get used to passing folks in the mid-field only to have their bike out run you. Solution - must have at least hi-comp pistons and FCRs to get the best performance bang for the buck. it at least helps you keep all of those SV 650's honest. (I've seen some 90hp SVs. They'll become your riding buddys because there are rarely other SS out there.) NOTE: you'll become a better rider faster because you'll learn how to maximize cornering speed vs. knowing you have tons of topend to bail your sloppy ass out.

Handling - It's a tradeoff here. The SS is super stable, so fast sweepers etc ... are great, yet the tight stuff makes you work hard to keep up with anything else. You won't need a steering damper until youve lowered your front, and raised your rear. Soultion - wheels, suspension, and a yoga class. WOW! never thought that wheels would have made such an improvement!! Take a yoga class, you'll get flexible enough to really move around on the bike. (don't laugh. You'll probably lose a few pounds as well.)

After that, the sky is the limit. My track bike started out as a typical $3K used SS that I found locally. Many SS out ther already have some combination of the above done, so you can get a bike that easily fit's into the "trackday" category.

Sorry for the ramble.
---
'03 Moto Guzzi V11 Lemans
'98 900 FE (#46)
'97 750M (904cc)
'93 900SS (track bike)
Senior Member
Join Date: Aug 2007
Location: Scottsdale, AZ, USA
Posts: 168
Number 228:
#218, soon to be leaving Virginia for Canada.
#240 in Denver, Co area
---
I found this one in 2000 with just over 1K miles on it.
It now has almost 21K trouble-free though well cared-for miles on it!
It has seen a couple of track days, done a lot of Colorado mountain riding.
Has CF cans, JetKit and replaced the airbox with K&N "oil can" filters, ignition wire upgrade, and RT valves in the forks. Have Barnett clutch and Nichols flywheel to put in it sometime soon!
Here are a few pics:
One in front of the SuperTune Shop after a ride last Summer, another taken on G16 Carmel Vally Rd while at Laguna a year ago, and up in our "backyard" off Peak-to-Peak Hw. 119.

Cheers,
m
Posting Rules

You may not post new threads

You may not post replies

You may not post attachments

You may not edit your posts

---

HTML code is Off

---