'94 900SS custom rebuild
---
Well, my project is nearing completion, so I thought I should finally start a build thread. Ive been lurking on this forum for a while now getting ideas and seeing what is possible and how to get my bike running properly.
Here is a pic of it the day it was delivered to me:
After replacing the fuel pump, battery and spark plugs and cleaning the carbs I rode it for the summer just like that. Then winter came around and I bought my exhaust cans and fiberglass. I took inspiration from the Radical ducati 900TT and got a reproduction yamaha TZ250 seat and upper fairing, but I plan on keeping it a little less radical and a little more TT2 styled for the street. Here is a pic of the mockup, its not the best shot, but you get the idea: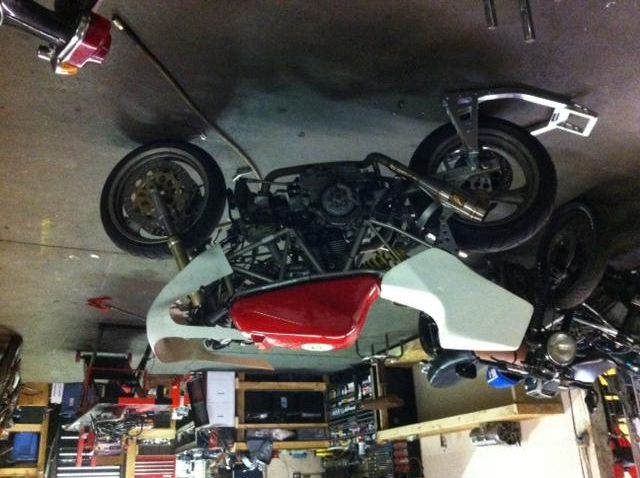 Now that I have made all the brackets to mount the seat, fairing, LED headlights and gauges, its time to break it down. My friend is going to help me with the paint. Its going to be based off the ducati pantah TT2 scheme: red with yellow number plates and stripes outlined in black. Should be sweet. Im also going to powder coat the frame red, and I got a fancy red barnett clutch to show off as well. Ill take more pictures as the bike breaks apart and comes back together.
Senior Member
Join Date: Apr 2013
Location: Joplin, MO,
Posts: 366
Hey Issac. I think this is gonna look sweet!! Been thinking, and actually inquiring on pricing, of a TTI or similar with a SS motor. Many things to sort out, but digging.
I may have some interesting light options together soon, depending on what your light plan is...
Cheers,
Tom
Sent from
Motorcycle.com App
---
'93 900SS
'75 860GT- it never runs.
'66 Monza, someday to be a race-replica
'76 Honda 400/4 resurrection of abandoned race bike project

'10 VW GTI 4 dr, well mod'd. This car will cause me to lose my license...
Senior Member
Join Date: Jun 2012
Posts: 804
I like. That TZ pieces is a brilliant idea and looks particularly good.
The exhaust is a modified stock header (I made my own spaghetti pipes...)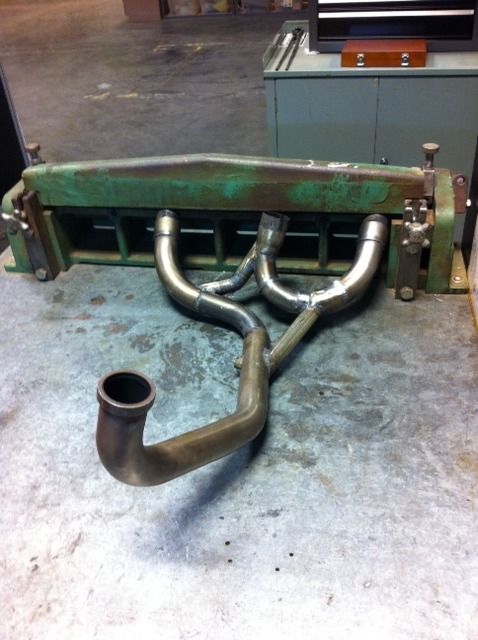 The cans are from Competition Werkes. Originally they were part of an undertail kit for a daytona 675, but I ordered them with straight sections at 1.75" coming into the muffler and cut them to fit. The sound is AWESOME! Its everything a ducati should be but in half the size of the usual cans.
Tom: Ive got 2 LED RGB headlights, one spot and one flood. One will be high beam, the other low, and I can have them set to whatever color I want! I think Im going to stick with yellow for more of an 80's endurance racer look. They are set up on top of eachother and offset to the left. I think it looks pretty awesome, Ill post a pic soon.
Senior Member
Join Date: May 2011
Location: tacoma, wa, usa
Posts: 395
Hot damn that looks cool !
I just recently installed a new red Barnett basket too.
hmmmmmmmn.
I like the retro "holey" look, too. I drilled the plastic chaingaurd on the Monster full of 5/8" holes. Looks great. Saved about 1/1000 of a gram of unsprung weight, too!
---
Mike in Tacoma
"an analog man in a digital world"

'96 900 SS/SP
'08 S2r 1000 Monster
'02 ST4s (gone bye-bye)
'08 DR650 (she gets lonely sitting in the corner)

IBA 38181
Average Weird Guy.
Join Date: Aug 2011
Location: The Frozen Wastelands, Wisconsin, USA
Posts: 1,099
Quote:
I don't know why but for some reason after looking at this pic I suddenly have a taste for a greasy bacon cheese burger with swiss cheese.
I like it,should look pretty cool with a Red clutch basket whizzing around in there.
---
'95 900SS CR affectionately known as "The Pizza Wagon"
Senior Member
Join Date: Dec 2008
Location: DePere, WI, USA
Posts: 1,923
Keep the pic's coming! I'm digging it!
I'm impressed how well that TZ tail matches the lines of the frame and tank. Excellent choice! I can't wait to see how the front TZ fairing lines up with the stock 900ss tank. This just might work!
---
-Kevin-
'72 RD 350 w/ DG heads/pipes
'92 900ss Black 1/2 fairing
'02 998 Carbon
'88 924s 3L 6sp
Posting Rules

You may not post new threads

You may not post replies

You may not post attachments

You may not edit your posts

---

HTML code is Off

---