Thought some people might be interested in the current ignition map that we are running in the Frankencati. Key mods on this bike that effect ignition timing are:

FBG Twin Spark Heads (stanard valve sizes but a little work done on inlets)
Twin output coils of course.
J.E. High compression 11.5:1 pistons
Free flow Spark Italia slip on and FBG headers.
Open air box
FCR 41 carburettors with 165 main jets.

The map is not perfect yet, but it is reasonably good. The mapping has been done with a SOTP (Seat Of The Pants) Dyno and a thumb operated switch on the handle bar that lets me retard all points on the map by 4 degrees to make comparisons while riding.

I haven't paid much attention to full over 60% throttle sites in the map below 5000 RPM and likewise I haven't paid muc attention to sites in the map below 40% thottle opening above 6000 RPM because on the road these are pretty much unused sites.

My suspicion is that with the high compression pistons their is not much room in the timing between maximum power point and detonation at several points in the map. At over 60% throttle opening and between 5000 and 6000 RPM any further advance in timing results in detonation.

Performance and manners are pretty good but there is room for improvement still.
---
Liam Venter,
FastBikeGear
---
Last edited by FastBikeGear; Apr 15th, 2014 at

7:25 pm

.
What do you think about this map. A little different. This map has some nice punch down low. Curious what you think.
Quote:
Originally Posted by
EIGHTfortyEIGHT
View Post
What do you think about this map. A little different. This map has some nice punch down low. Curious what you think.
First thing I notice is that first two sites in your map have less advance than your 6 degree base advance. This can confuse the Ignitech's and cause erratic timing at idle when viewed with a timing light. You should have no sites on the map with less than the base timing. Your flywheel should appear frozen rock still when viewed with a timing light.
Does your engine stumble a little when you rev it off idle in neutral?
The key sites in the map are those closest to a diagonal line running from the top left to the bottom right, the other sites such as full throttle at 3000 RPM are not often used. The sites in the upper right corner are also of less interest.
Your diagonal line looks reasonably similar to mine but has a wee bit less advance. It's not possible to make direct comparisons as we have different mods. I run FBG twin spark heads amongst other things. Have you tried increasing the advance in these sites...and if so what did you observe?
Can you show us your dwell settings (screen shot of Miscellaneous Tab page). It looks like we will shortly be adding advice on the dwell settings in the FastBikeGear Ignitech manual, following some experiments that I am currently trying.
Can you also show us a screen shot with the engine running so we can see the monitoring functions?
What other mods have been done to this engine?
---
Liam Venter,
FastBikeGear
---
Last edited by FastBikeGear; Apr 15th, 2014 at

11:29 pm

.
I have been doing a bit of work on better understanding the dwell set up options within hte Ignitech units. As a result I have rewritten that section of the manual and added a bit more stuff in. Including a new appendix on dwell.

You don't have to undersatnd this stuff...you can just use the default settings...but it's kind of fun to get your head around and my testing has shown that setting up the dwell to match the ignition coils can be an extremely good way to improve ignition (and hence performance) at low RPMs (when there is poor fuel mixing) and also at high RPM and high load conditions (when it's much tougher to get a good spark.)

The following is the appendix on dwell that I have added to the FastBikeGear Ignitech manual.

Appendix B
Some other things to keep in mind before we commence this discussion:

It is harder to set fire to poorly mixed fuel and air. Fuel air mixing is typically worse at lower engine revs.

It is harder for the spark to jump across the spark plug gap when your engine is under higher loads. Typically the greater the throttle opening the higher the load.

Your engine is under greater load with a throttle opening of 80% at 5000 RPM than it is with a throttle opening of 30% at 5000 RPM.

Dwell settings – set the excitation time of ignition coils

Setting the Dwell correctly for your bike can have a big effect on performance, we highly recommend you tune these settings as described below to give your bike the best possible performance.

Each Ignition coil has both a primary and secondary coil of wire. During the periods between firing the spark plugs a current is fed through the primary coil in your ignition coils. The current traveling through the primary coils creates a magnetic field around both the primary and secondary coil in each ignition coil. The larger the current the larger the magnetic field. When the Ignitech wants to fire your plugs it cuts off the current to the primary coil and the magenetic field collapses. The collapsing magenetic field and induces a higher voltage in both coils. Because the secondary coil typically has a much higher number of turns than the primary coil many times more voltage is induced in the secondary coils than the primary coils. This voltage is typically in the range of 20,000 to 40,000 volts.

Due to the inductive-reactance of the primary coil thecurrent takes some time to build from zero to full current. (The time the Ignitech allows for the current to build in the primary coils is called the dwell time.)

The better the design of the coil the higher the potential secondary voltage.

The larger the spark plug gap the larger the secondary voltage will build to before it jumps the spark plug gap. Once the gap has been jumped the secondary voltage does not increase.

The higher the turns ratio the greater the secondary voltage.

The higher the current in the primary coil the bigger the magnetic field is.

The bigger the magnetic field that is collapsed the higher the secondary voltage.

The longer the dwell time is, the more chance that current in the primary coil will have reached it's maximum value. Note however that the longer the dwell time used the hotter your coils will run and the the hotter the run the shorter the life of your coils is likely to be. We believe this is possibly one of the reasons that Ducati moved the ignition coils into the air stream (on the sides of the frame) on the later model Ducati 900SS ie bikes.

The lower the resistence of the primary coil, the faster the current will reach it's maximum value. Ducatis that were fitted with the Kukusan ignition systems used high resistance coils. (3.8 to 5.2 ohms). If you want to retain the ability to put your Kukusan ignition system back in your bike you will need to stick with high resistance coils. But there might be a performance gain by switching to coils with lower primary coil resistance.

There is only a limited amount of time between spark plug firings for the current in the primary coil to reach it's maximum value. If you are using a flywheel trigger as opposed to a cam shaft trigger, you will be firing the spark plug on both the compression stroke and the exhaust stroke. Which means you are firing each spark plug once per every revolution of the engine. At 9000 revs per minute you are firing the spark plugs 150 times per second! Firing at 150 times per second only gives us a very short time available for the current in the primary coil to have reach it's maximum value. Firing on the exhaust stroke is known as a wasted spark as it achieves nothing, but does mean you have even less time available between spark plug firings for the primary coil current to reach it's maximum value. If we triggered the firing of the spark plugs from a cam sensor as most modern engines do would only have to fire the plugs on the compression stroke which would give us twice as much time for the current in the primary coil to have reach it's maximum value.

The the chart below shows the the time taken for a single engine revolution at different revs.

1000 rpm 60,000 Micro Seconds
2000 rpm 30,000 Micro Seconds
3000 rpm 20,000 Micro Seconds
4000 rpm 15,000 Micro Seconds
5000 rpm 12,000 Micro Seconds
6000 rpm 10,000 Micro Seconds
7000 rpm 8,571 Micro Seconds
8000 rpm 7,500 Micro Seconds
9000 rpm 6,666 Micro Seconds

So at 9000 RPM you have 6,666 micro seconds of time taken for each engine revolution. But the spark discharge also has a duration that we need to take into account. Typical values for spark discharge is between 1000 micro seconds and 2,000 micro seconds. The spark discharge time this must be subtracted from the time available. So if we deduct 2,000 micro seconds from each of the times above, we end up with time available at each RPM as per the chart below for the current in the primary coil to reach it's maximum value.

1000 rpm 58,000 micro seconds
2000 rpm 28,000 micro seconds
3000 rpm 18,000 micro seconds
4000 rpm 13,000 micro seconds
5000 rpm 10,000 micro seconds
6000 rpm 8,000 micro seconds
7000 rpm 6,571 micro seconds
8000 rpm 5,500 micro seconds
9000 rpm 4,666 micro seconds

If the current doesn't build to it's maximum value you will not get the maximum spark potential available and may experience a loss of performance or even a total loss of spark. Hence why there may be a gain in performance on some bikes by using coils with lower resistance primary coils.
---
Liam Venter,
FastBikeGear
Senior Member
Join Date: Jan 2014
Location: Denver, CO,
Posts: 820
I finished my Ignitech install this weekend. Overall, the install went smoothly. I ran the bike's pick-up wires to the right side and up into the battery box. I've got a Shorai, so there's lot's of room in the box. The new Ignitechs come standard with longer wiring, so I mounted mine with Velcro under the seat. I ran the wires along the upper frame rail and into the battery box. Next time I have the air box out, I'll drill a hole in the side and run the wires into it directly rather than over the top (see the pics). My hope is that keeping all of this wiring away from the plug leads will result in minimal interference.
I should note that Liam's Ignitech manual has been very, very helpful. It's $10nz very well spent! I've read it 10+ times now, and continue to learn more with each reading. I can't imagine installing one of these without it. Thanks Liam!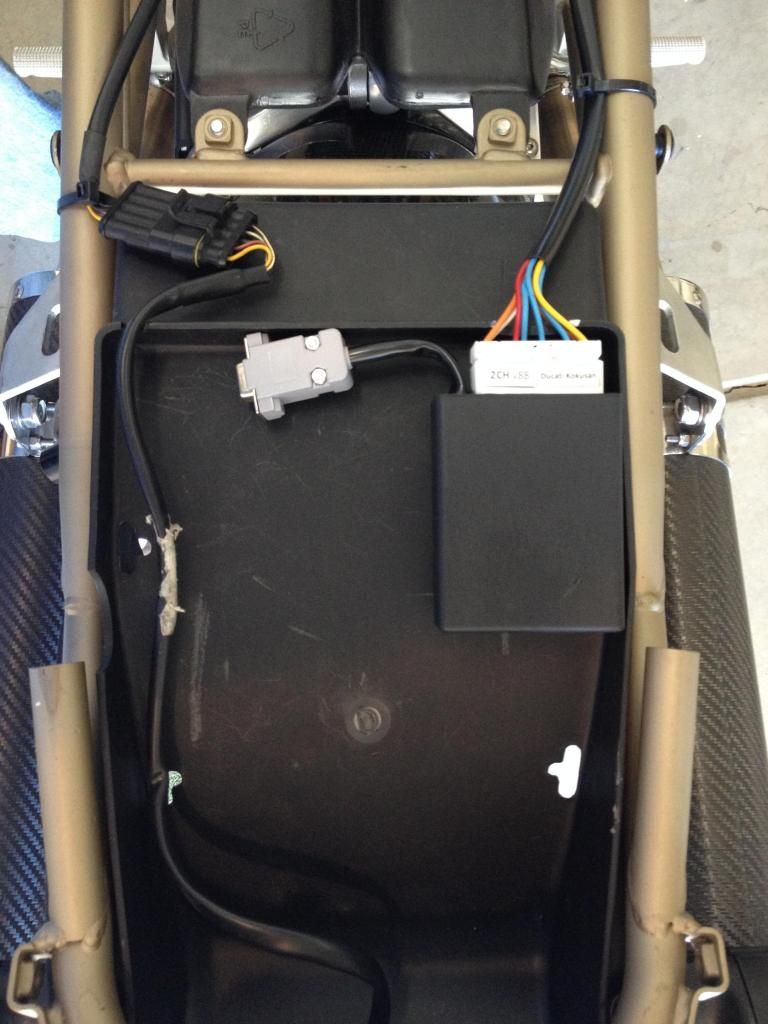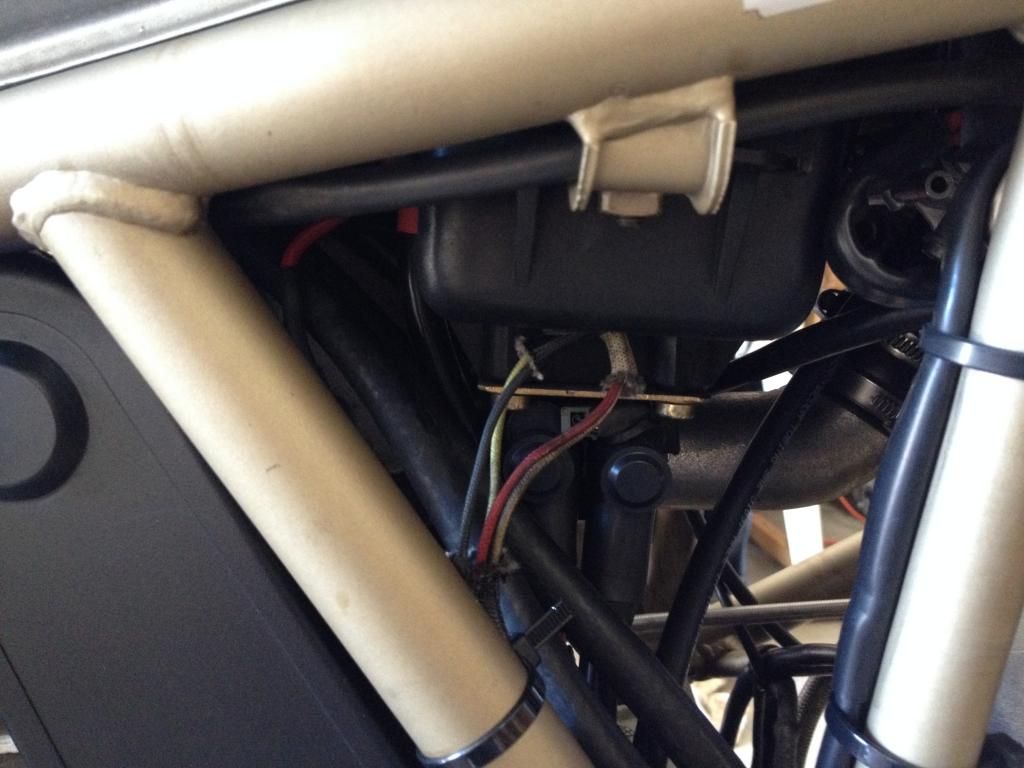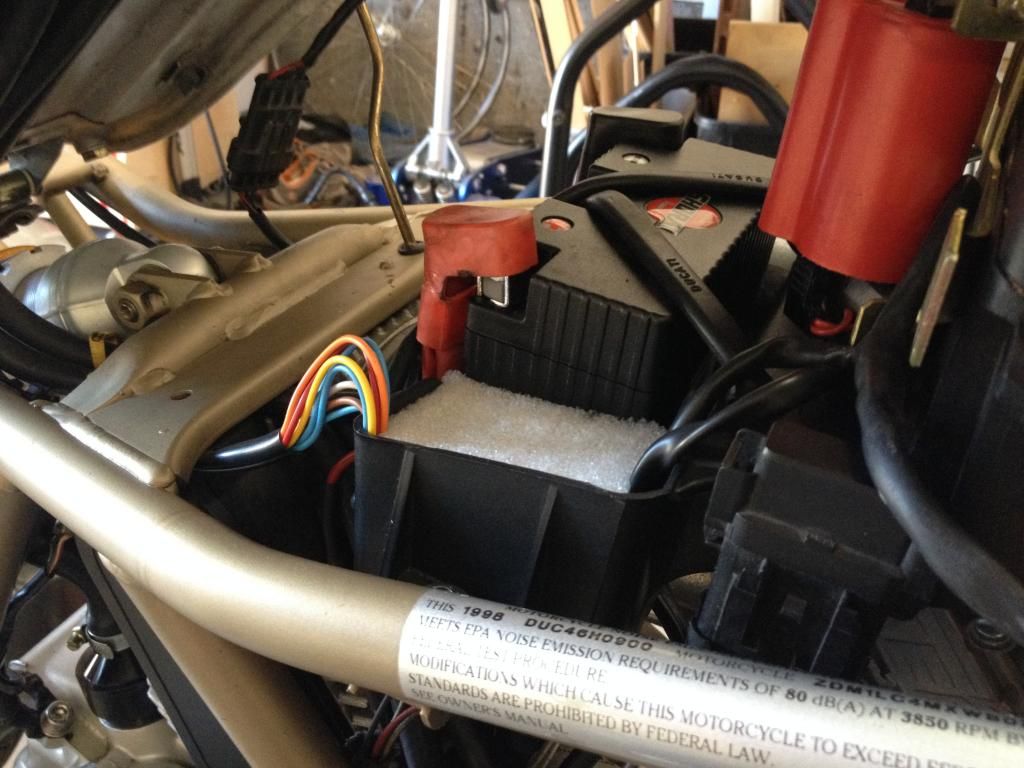 This is the initial advance curve I'm using...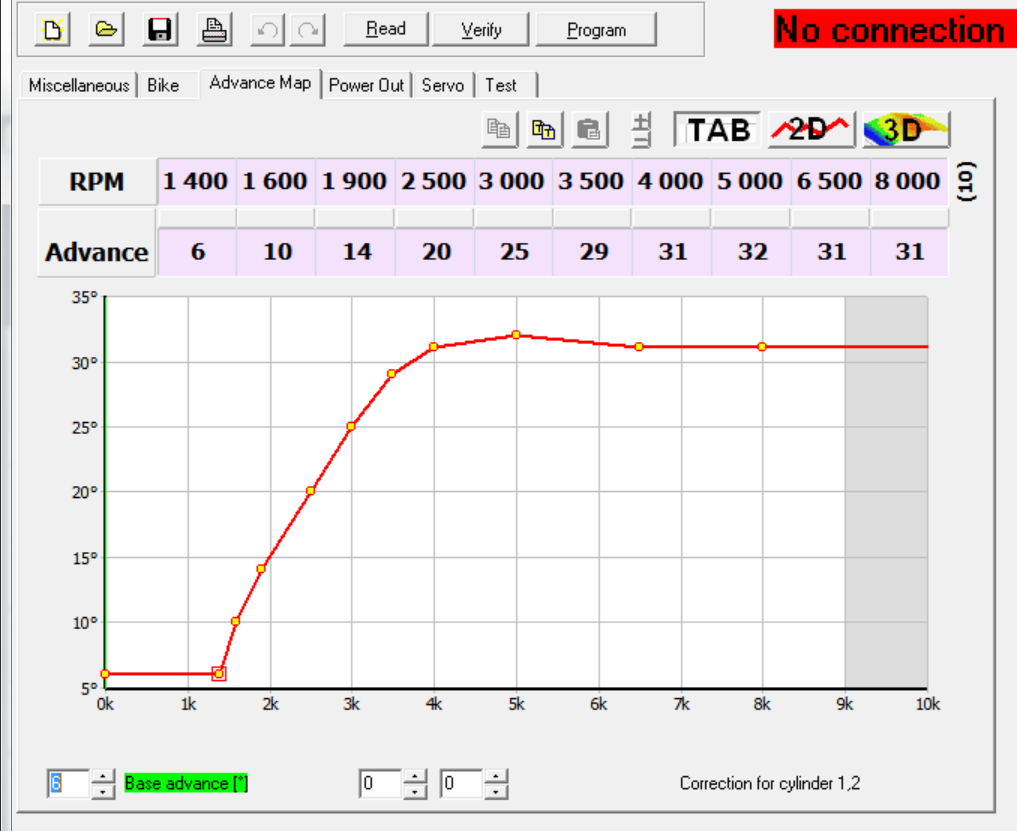 My initial impressions are that off-idle roll-on is much smoother and that the motor is more willing to rev. That said, I've recently added FCRs and separating FCR tuning issues from Ignitech tuning issues should be fun
. My plan is to work with a local Duc tech to tune the FCRs on a dyno.
Fyi, motor mods include racked FCRs with CA Cycleworks standard set-up, Giacomoto slip ons, open air box, CA Cycleworks coils and leads, new DCPR8E plugs. I've got a Mofset r/r that I haven't installed yet.
I'm going to start my Ignitech tuning with the base advance. Oddly, in checking base adv with a timing light before and after the install, base adv looks to be about 10* ?!? Next time I change the oil I'll check the position of the pick ups and position them closer as Liam advises. The base advance when viewed with a timing light also seems to be jumping around. I need to investigate this.
Any suggestions or advice is appreciated!
---
1998 SS FE #194
2005 749R #362
2006 999 S
Guys just a word of caution.
It seems that Ignitech might be in the process of closing up shop. They are no longer providing warranty support or any response on techincal issues.
We supplied an Ignitech unit to a customer a few months back that had a hardware fault. Confirmed by back to back testing with a known good one with the same configuration on the same bike. Eventually after absolutely no response to our emails askig for a replacement, we just sent the faulty one back. Then after several weeks they sent us a second hand replacement (to replace the faulty brand new one). The second hand one proved to have a different hardware fault - it was no doubt returned bay another customer (I wonder if they in turn got the faulty one we sent back). Since then we have sent several further emails requesting a new replacement and have not received a single response or acknowledgement of any sort. We have of course refunded our customer the purchase price of the unit but are out of pocket from Ignitech.
We have sold quite a few Ignitechs over the last couple of years and have found the units to be fantastic in operation and they have been pretty reliable but technical support was been both slow and at the lower end of acceptable. The manuals suffered from poor translation and a lack of technical information and were never updated to cover some of the features that were subsequently added to the units via later firmware and hardware updates.
To cover the short falls in the manual I wrote our extended manual to help customers around the world who needed assistance setting up the units.
It seems that the slow support response has now turned into a nil support response and we caution customers that it appears that Ignitech is shutting up shop. We suspect (but can not confirm) that they may have lost their key technical staff. Even if you can still get hold of a unit you probably will not be able to receive any warranty support.
Very frustrating because for the most part we have had terrific success with these units.
if we become aware of any change in their operational status we will let you know.
Liam Venter
www.FastBikeGear.co.nz
---
Liam Venter,
FastBikeGear
---
Last edited by FastBikeGear; Sep 29th, 2014 at

10:12 pm

.
Senior Member
Join Date: Jun 2012
Posts: 774
Does anyone else produce a similar product?
Thanks for the heads up Liam. Damn - and I had one of their systems in my wish-list too. Oh well - no money anyway.
---
'95 900 Superlight IV #064

Mods are: K&N filter, airbox lid on with rubber trumpets removed, MBP collets, full SMI (SilMoto Italia) spaghetti exhaust with 'open' carbon cans, 41mm FCR's - #182 mains!, Barnett alloy clutch basket, Oberon slave cylinder, Ohlins fork springs, Ohlins rear shock, Verlicchi swingarm.
Quote:
Guys just a word of caution.

It seems that Ignitech might be in the process of closing up shop. They are no longer providing warranty support or any response on techincal issues.

Thanks for letting us know Liam, a shame if so because it's a good product at a fair price.
Luckily I bought a spare and have had no problems thus far so should be OK.
---
916, M900 & Guzzi LeMans II
They have been replying to my technical questions as recent as this morning. Took about 3 days to get back to me for the first reply then only 1 day for follow up. Maybe I got lucky. The reply came from Jiri