Wow after looking at the beautiful 900SS/SP black/red bike with the ProItalia book thrown at it I think I'm going to just make mine a track beater. Ha! Wow that bike is nice. Well done!
---
'94 900SS/CR 944
'07 Gas Gas 300 Raga
'80 Yamaha SR500 brat/bobber thing
Quote:
Cool! I've got the el cheapo CR version of the same... project has just begun it will either erode into a track bike with no concern for cosmetics or a bike night masterpiece. Not sure yet. But it'll be at the track this weekend.
Someday I'll break down and take some more sweet camera photos of the thing.
Very nice. My 900SP is not a track bike and never will be. I have other machines I used for track both 4 and 2 wheeled ones. I'm in the minority in this forum because a majority of the members are track rats (no offense intended) or purist. I enjoy customizing my Ducati and enjoy riding on the street and share my enthusiasm w/ other "Starbucks riders." I have over 50K miles on her now, 30K of them I put on myself. I get a lot of compliments because the bike is in show condition but is also ridden regularly.
---
Euro spec 88 BMW Dinan M5
2013 Mini Cooper - Bayswater Edition
95 900 SP - # 619 (custom red frame & black body work)
Quote:
where did you get that seat?
Ebay came with a different mount for the tail light since the grab bar is in the way. Got a corbin seat from the same guy, thought it would work but that has been a challenge in itself.
Quote:
Found these billet Proitalia levers used to compliment my Proitalia muffler hangers and rear sets this week. I think I have every custom part for my bike by Proitalia now. I bought my bike at Proitalia over 2 years ago and hoping to win some points w/ their custom parts (NLA) at Cafe Desmo show Oct 9th..
How much did you get the muffler hangers for and would they fit a 99+ 900?
---
Last edited by scarface055; Sep 27th, 2011 at

11:34 pm

. Reason: Cut off code
Quote:
Hi, season is almost over here in Helsinki, Finland - but here are a few recent photos of my ride, model year 2000 SS900 i.e. Equipped with DP cans, DP ECU, open airbox + PiperCross, and few DIY mods such as the licence plate holder and turning signals. First Ducati for me, no regrets!
Been looking for better turn signals but still undecided on Rizoma mainly the price. What kind do you have they look pretty cool small but not too small?
Something got delivered to the office today...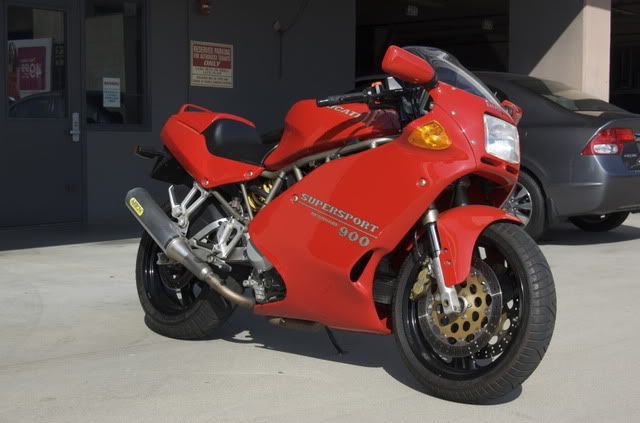 ---
1993 888 SPO
1993 900 SS
Quote:

Something got delivered to the office today...

I'm obviously working at the wrong office
!
Looks mighty fine, GD! Have fun with it.
Bryan
---
--
1999 900 Supersport
1984 Moto Guzzi V65 SP
2004 KTM 625 SMC
Senior Member
Join Date: Jul 2007
Location: Wilson, WY, USA
Posts: 2,434
Fe # 299
---
Here are some pics of my new FE. It took a month to get it shipped from Long Island, NY to Wyoming, but it's finally here.
My '98 900SSCR...a working man's sport bike.
---
Harrison,
A&S BMW, DUCATI & TRIUMPH
"I am here to tell you that fast is better. I've always believed this, in spite of the trouble it's caused me."
H.S. Thompson
Senior Member
Join Date: Dec 2009
Location: My house, , New Zealand
Posts: 354
Quote:
Here are some pics of my new FE. It took a month to get it shipped from Long Island, NY to Wyoming, but it's finally here.
Very nice Joe-B. I've got the same cans but alloy instead of carbon. You don't see these Gia-Ca-Moto cans very often at all.
Andrew.
---
1992 Ducati 900 SS