Senior Member
Join Date: Apr 2008
Location: Haywards Heath, Sussex, Uk
Posts: 137
how I see it we all ride Ducs so we can prove are individuality. and not be another honda, suzuki etc etc etc

so as individualists, I applaud this chap for his individuality.
---
first time Ducati Owner. O yeah I am an addict now.
2002 900 fully faired Sport, kn crankcase breather, Kn with snorkels removed
Magnecor leads, Standard Copper Plugs (moved off the iriduim ones upon advice), Gillies Variobar clip ons
Carbon Clutch Cover (soon to be replaced with custom alloy one so many to chose from), Uprated stainless springs and alloy pressure plate.
Battery tender (a must), 14-bs battery, gearing is now 14t to 40t all alloy renthal
Projects in the pipe lines
Too many to mention
Senior Member
Join Date: May 2007
Location: Regina, Sask., Canada
Posts: 923
Quote:
Custom paint, custom exhaust. Whole frame Chromed. Custom tail piece and front and rear markers. Basically completely custom bike. Painted after Underworld: Evolution
where is my vomit in terror emoticon.
---
2004 Ducati 999 mono.

-Full Termi System
-Tons of CF
-Frightens me

1993 Kawasaki KLR650

-Long hauler/commuter


1974 XS650 resto mod.
"You basically drop your pants and say "what do you think". I too do not share the same vision and appreciation for it as the bike's owner does"

If you like your bike thats all that matters.......
Here's a pic that was taken for the SA Ducati calendar, pity about the ugly guy (me) on the bike....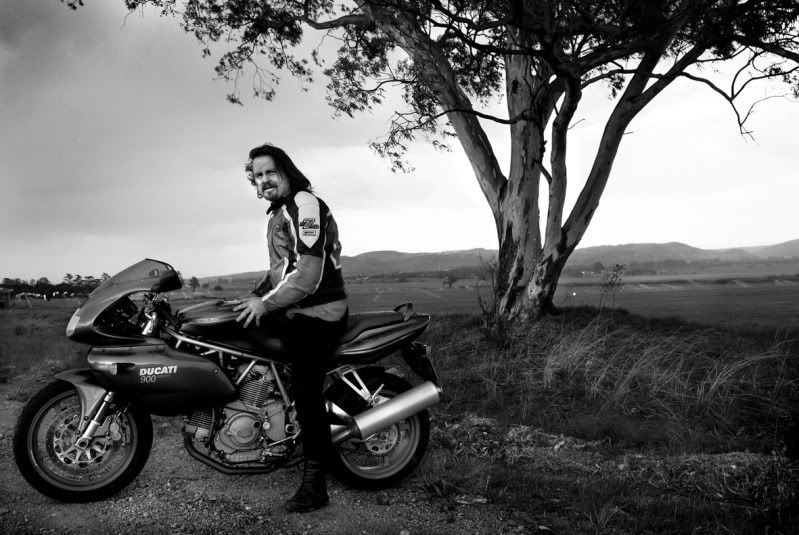 ---
'02 900SS "Senna"
'00 750SS
'97 TL1000S
'81 RD350LC
'00 Alfa 156
Banned
Join Date: Aug 2008
Location: land of torture and facism, , Germany
Posts: 2,952
---
nice pic, bike looks pretty sharp in black and white.
Senior Member
Join Date: Dec 2008
Posts: 297
Ha
---
Richardtl, isn't that your face custom painted on the Underworld bike? You need to get some royalty payments for that.
Banned
Join Date: Nov 2009
Location: bakersfield, ca, usa
Posts: 30
---
Last edited by turbos1w; Nov 15th, 2009 at

6:24 pm

.
Lifetime Premium
Join Date: Apr 2006
Location: Primavera, TX, USA
Posts: 2,019
You almost got it right; replace all the url's in your post by img's and voila
RonB
Banned
Join Date: Nov 2009
Location: bakersfield, ca, usa
Posts: 30
I'll try it, thanks.
Banned
Join Date: Nov 2009
Location: bakersfield, ca, usa
Posts: 30