some of my-new-to-me
---
day 1-ish
after a quick wash
---
2002 748 & 2005 ZRX1200R
Member
Join Date: Jan 2009
Location: Omaha, Nebraska, USA
Posts: 80
Just need to throw the fairings on and she'll be done!
---
1995 Ducati 900 SS CR
My first Ducati, a 1993 750SS
Realy love the ride, just have to keep it above 3k RPM
all beautiful bikes...don't see too many 750's either....like the red fenders.
---
2012 Vespa 300 Super
past: Ducatis, BMWs, Aprilias, Moto Guzzis, a Husky, KTM 1290 SDR, and a Thruxton R
as taken on a recent ride into country towns around Perth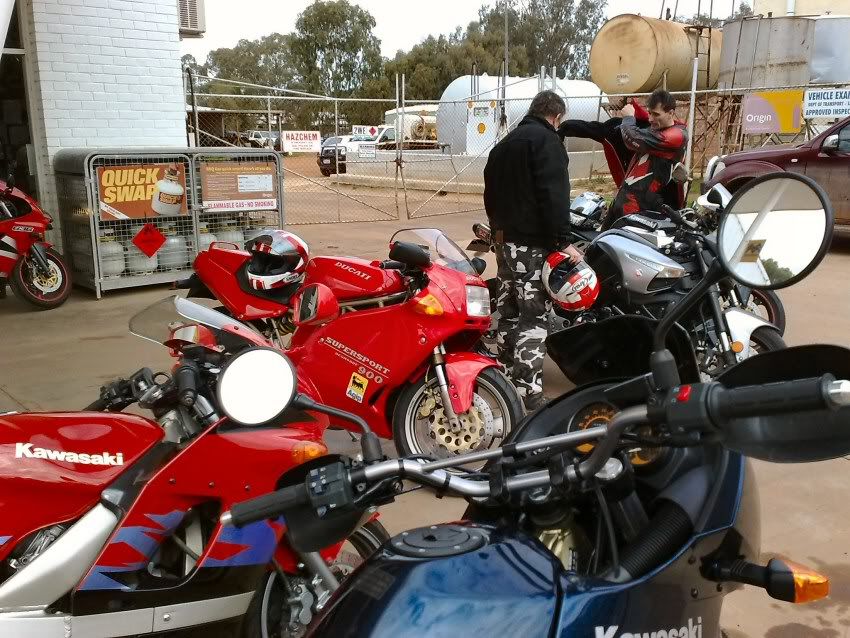 ---
2002 748 & 2005 ZRX1200R
Member
Join Date: May 2009
Posts: 87
Just got it back together after transplanting engine and some other bits into my 1996 900SS/SP in time for the Indy MotoGP.

While watching qualifying, my bike actually got picked to be in the "Ducati Showdown" on raceday. Didn't win, but as they say, "it was an honor to be a part of it!" An immaculate 750 Paso won the air-cooled division.

Very few Supersports were seen the whole race weekend. I guess they are getting somewhat rare, amid all the 1098s, 848s, HMs, etc.

Here are a couple of pics of the bike in the show area at Ducati Island.

Current mods:
944cc 11:1 Pistons
39mm FCRs
Giocamoto 45mm Full Exhaust System with CF cans
Dyna Coils
Aluminum Clutch Basket
Red Anodized DP Clutch Pressure Plate
Speedymoto Frame Sliders
Solo Seat
Woodcraft Rearsets
CRG Levers
Ohlins Rear Shock
Ohlins Steering Damper
Reworked Forks w/ Gold Valves
Nichols Engine Mount Bolts
Nichols Crankcase Breather
other stuff I'm not remembering . . .

Some day:
magnesium wheels
full race bodywork for trackdays
CF bits
---
1996 Ducati 916
1996 BMW R1100RS
Senior Member
Join Date: Aug 2009
Location: Kirkland, WA, USA
Posts: 591
Amazing transformation!! Beautiful.
Quote:
I've had the bike one year, and thought i'd update from page 24 with new pics to show off the new paint, refinished wheels, brushed aluminum tidbits, and the hi-mount Termis as the most recent upgrade.
Before (purchase day)...
And now...
I think i'm done for a while...
---
Obsessed Collector of sorts
Man, thats one sweet bike.

I'm currently gathering fairings and other bits to do mine up in black, whilst still retaining the red bits for originality when a change is wanted.
---
04 Ducati 1000SS/DS
10 Triumph Daytona 675
80 Honda CB900 Bol'd'or
I want some more spare fairings as well...

Almost finished my race bike. Just waiting on tank to get painted and for the fairings to turn up and get painted...

I was going to paint the wheels as well, but now i have them mounted in black.. they kinda look good against the red frame. Happy with how its turning out...
Senior Member
Join Date: Aug 2009
Location: Kirkland, WA, USA
Posts: 591
1995 900ss
---
more detailed pics in the garage
---
Obsessed Collector of sorts