There is two fairing mounting ponits behind that, which would prevent total removal of that particular bit.
Senior Member
Join Date: Dec 2006
Location: Madrid, Spain, ,
Posts: 665
Quote:
I found these bumper strips down at my local auto parts store. Do these look ok or should I peel them back off ? They affix via two sided tape and are a simple fitment.
they are alright but I believe it would look far better with this fairing from "Ducati Kaemna":
http://www.kaemna.de/cms_en/katalog....l&artikel=2105
Not sure if this kit is included or if you have to buy it too:
http://www.kaemna.de/cms_en/katalog....kel&artikel=38
---
2005 red SS 1000ds
That Kamna kit does look nice.
OTOH, looks like some folks just trim away the unecessary parts of the lower faring. Look at the faring in this thread:
https://www.ducati.ms/forums/showthread.php?t=42279
I suppose that using the Kamna faring would more easily allow one to return it to the stock look, if you thought you might ever want to do that (resale). Then there's the issue of no headlight on the Kamna.
Senior Member
Quote:
That's great! No wonder i like your bike so much!
I had seriously considered taking my bike back to that semi-naked look on a periodic basis, but after
ian996
posted pics of his awesome bike on page 94 of this thread, I'm actually wanting to build a similar semi-naked pre-'99 bike (as a 3rd bike for me). I really like the look of the carbie tank combined with the 748/998 upper 1pc fairing and race tail.
Chuck
Check out the 996 Corsa Style Race Seat from QB Carbon. Its got the rounded top and IMHO goes better with the 91-98 SS tank. I have it on my bike.
http://www.worldofqbcarbon.com/produ...916/748916.htm
Senior Member
Join Date: Sep 2008
Location: Lawrence/KC, KS/MO, USA
Posts: 391
Quote:
Thanks mate, Don`t know of too many Tricolore supersports around so I went that way.
AWESOME SS!!
---
1999 750 SS.
Open airbox mod W K&N airfilter
PCIII
Pazzo Levers
Mirrors W integrated turn signals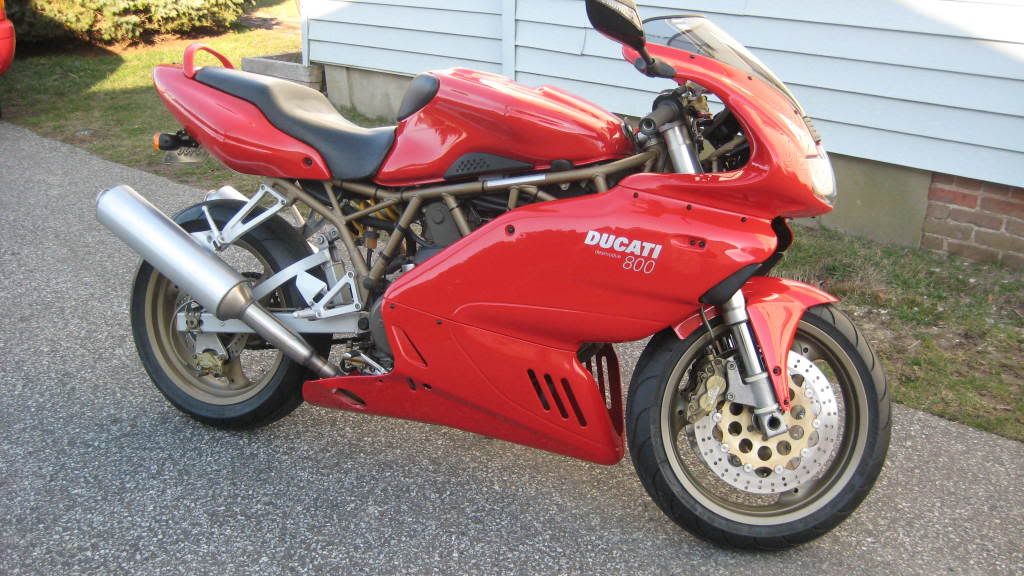 ---
99 750ss
Hi all from beautiful New Zealand. Heres my 1997 400 SS SH (thats right your not seeing things its a 400ss) on my favourite race track, the Rimutaka Hill Rd on a grey day after a great thrash on some twisty bits.
---
Italian bikes rule, PERIOD!
Senior Member
Join Date: Aug 2005
Posts: 321
Not mine but a very nice picture...
Pierobon F042 at Assen during Dutch Ducati Clubrace 2008.
Junior Member
Join Date: Jan 2009
Location: Arnhem, , Holland
Posts: 11
made the first ride of the year on my new bike this weekend.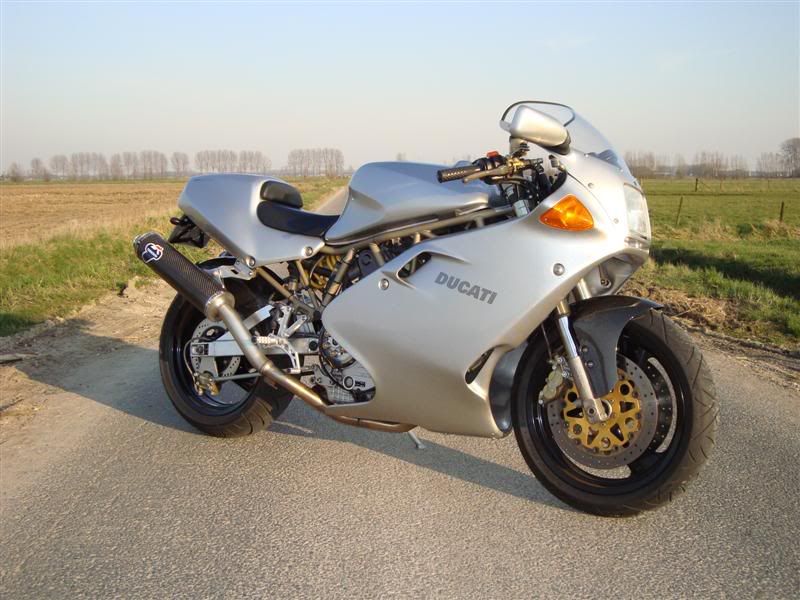 A couple of new pics of my 900SSie.
Recent changes/additions are the Ducati Kamna passenger seat cover, relocated rear brake caliper, new flush mount front turn signals, and new brushed aluminum bar ends. I also removed the molding from the back edge of the windshield and sanded and polished that back edge for a nicer finished look.
More pics of the bike are on my website.
---
Chuck Brazeau
www.BrazeauRacing.com
1995 BMW M3 | 2003 BMW 330i ZHP | 2006 Cadillac Escalade
2008 Ducati 1098 | 2002 Ducati 748s | 2001 Ducati 900SSie | 2008 Honda CBR600RR | 2002 Yamaha Roadstar Warrior