$2000 MOD money!!!
---
I have a CLEAN 95 SS/SP. Runs like a champ with the old Mikuni carbs.
Had a recent 12K service by a great tech, so that's up to date with a new Battery.

Where should the 2k go?

I'm thinking FCR41s/944 Kit sometime this winter. I know it's pricey and I'll get the crank lightnened and balanced while I'm in there. Maybe basic head work.

Should I save up for the FCRs/944 (is it THAT big a difference??)?

OR improve some little things here and there.....

Such as:
-CRG lanesplitters (can't see!) 185
-Stainless steel braided brake and clutch lines (safety) 270
-Rearsets (lighter/look better) 350
-Sargent seat (my rear will thank me) 340

That puts me at about 1200....


Thoughts?
Paint is already great, and original.
Just want to improve on an already awesome road bike, and suspension suits me fine for now.

Let me know what YOU would do to a clean and STOCK SS/SP
Thanks!
---
Last edited by Spitfire; Oct 6th, 2011 at

7:00 pm

.
Prolific Poster Award
Join Date: Jan 2005
Location: Liberty Hill (Lebanon), CT, USA
Posts: 8,545
I've done much of what you suggest and for $2K I think I'd try a pair of CF wheels. Especially if the bike is running well as is.
---
bruce19
'01 Monster S4
Quote:
I've done much of what you suggest and for $2K I think I'd try a pair of CF wheels. Especially if the bike is running well as is.
If I could find period-correct Marvic two-piece wheels from a Superlight....I'd be on it. I'm trying to keep the mid-90s look but all while updating little bits and pieces.
I hear lighter wheels are a MAJOR improvement
Senior Member
Join Date: Jan 2008
Location: Portland, OR, US and A
Posts: 1,310
Prolific Poster Award
Join Date: May 2004
Location: Rancho Cordova, CA, USA
Posts: 16,910
I like light weight wheels on my bikes.
I'm using OZ wheels on a lot of my personal project bikes now: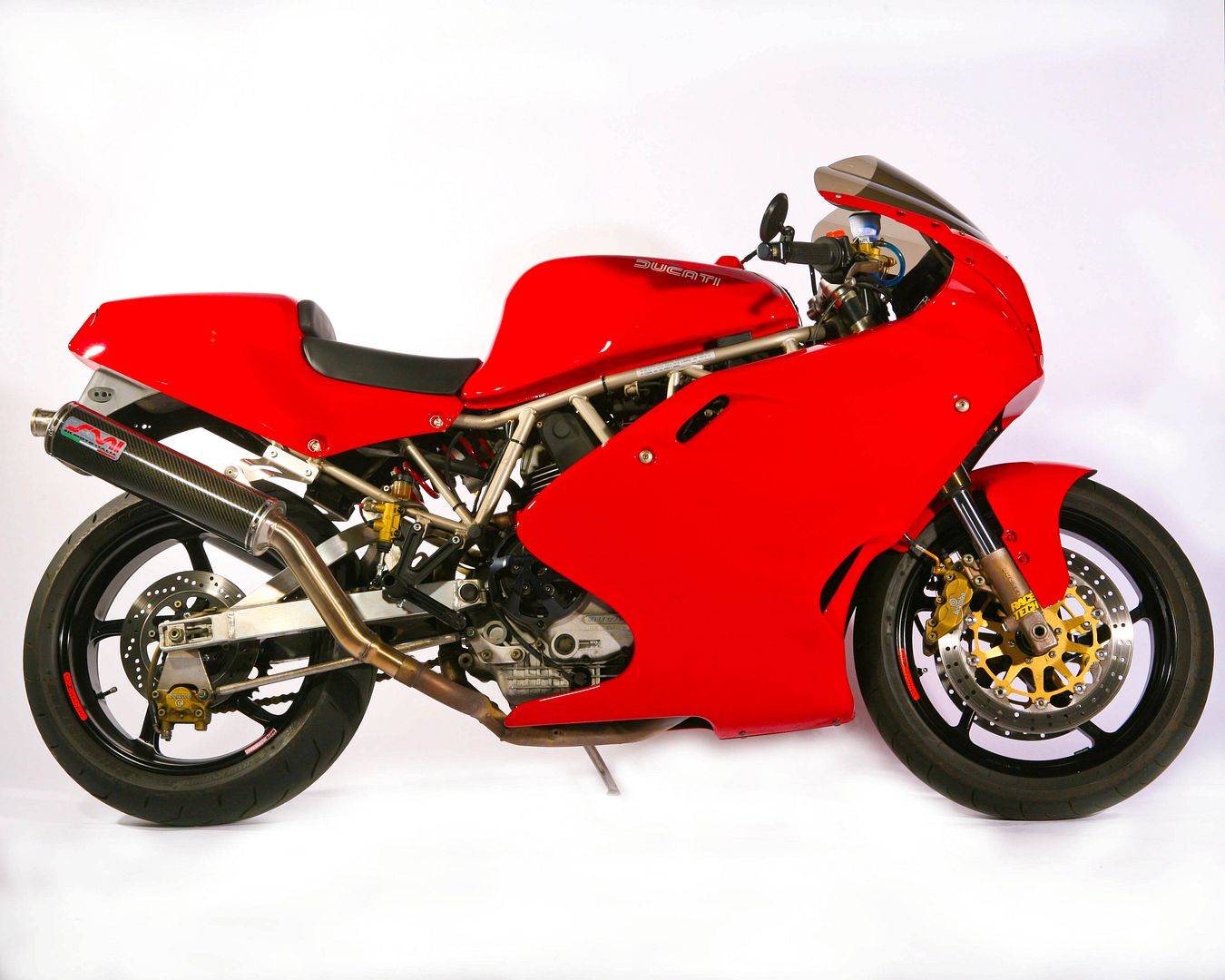 OZ Motorbike Forged Alum Wheelset: 900SS 93-98, 851-888, Mon -01
These weigh about what the old 5 spoke magnesium wheels used to weigh. They are a lot stronger and corrosion resistant than the mag wheels.
They are on sale right now and currently under your $2000 budget. They will transform your bikes overall performance as well as looks.
Senior Member
Join Date: Jul 2007
Location: Wilson, WY, USA
Posts: 2,434
I'd do suspension, then wheels, then maybe motor last.
Senior Member
Join Date: Mar 2011
Location: New York, NY, USA
Posts: 1,269
I think the wheels are great, but you can also fiddle with the suspension. It is said that you will think that your suspension is just fine until you make a positive change. Then you will realize that you were riding on poo-poo all these years. I'm assuming that you've at least done the sag settings, but I'm sure those forks and shock can use a freshening up after all these years. If it's not set up for your bodyweight, then a stiffer/lighter set of springs can also go a long way. Contact Rick at Cogent.

I think that gearing is also another huge upgrade that you will notice.
---
(current) 2010 Ducati Streetfighter S
(previous) 2007 Aprilia RSV 1000 R <-- 2002 900SS
1. Suspension
2. Saddle, windscreen, heated grips
3. Exhaust
4. Wheels
5. Brakes/Brake lines, clip ons, masters (depending on model and needs)
5. Engine

not a hardened order, just some guidance based upon needs and experiences
---
2018 Supersport S
---
Last edited by rummaggio; Oct 7th, 2011 at

5:58 pm

. Reason: more thoughts....
Wheels and suspension would be at the top of my list also.
---
01 S4 Monster
00 996 Track Rat
93 900SS
Posting Rules

You may not post new threads

You may not post replies

You may not post attachments

You may not edit your posts

---

HTML code is Off

---