999 flywheel removal tool
---
So my gearbox broke on my 2006 999 about 4 years ago and at that time I bought a bunch of tools off various sites and my plan was to rebuild it.

I ended up with a flywheel holding tool that was supposed to be for all superbikes as well as others. Itís a golden colour

Fast forward to last week and I went to remove the flywheel and there is no way in hell this tool is for the 999.

My question is this: do the 749/999 require a different flywheel holding tool than the other superbikes???

The 749/999 has always been an odd ball of sorts. I know the kickstand wonít match up to the old or new superbikes and since the tool hooks up to the kickstand mounts it would make sense itís different.

Thanks for the help guys!
Prolific Poster Award
Join Date: Dec 2006
Location: melbourne, victoria, australia
Posts: 4,477
pickies please of the tool.
---
Last edited by xracer; Aug 17th, 2019 at

3:59 am

.
Senior Member
Join Date: Feb 2009
Location: NOLA, LA, USA
Posts: 249
The tool for all 3phase flywheels is the same. 996-1198 should all be the same.


Sent from my iPhone using Tapatalk
Quote:
pickies please of the tool.
Exactly like this pic.
I know all the superbikes are the same when it comes to the kickstand 916,996,1098 etc but the 749/999 is definitely different so I think this tool gets sold as all superbikes but itís not going to work for my 999.
Any 999 owners ever come across this issue. Really sucks having an odd ball bike.
here you go ducati fitted 3 different sizes of flywheel from 1999 3 phase after the older 1 phase 2 wire then 3 phase 3 wire type called spoke wheel tool
mike st
superfly999
if the tool fits the flywheel ok can you re drill the hole or holes to the pitch you req for your engine?
https://rover.ebay.com/rover/0/0/0?m...2F264407038392
I couldnít even get the tool to attach to the flywheel as it hit the engine case. It just totally didnít work. Not sure why the 999 was so different but like I said it was completely a wrong fit. Not even close.
Hi
Can you tell me the outside diameter of your flywheel
Mike st
Senior Member
Join Date: May 2015
Location: Oakdale, CA,
Posts: 858
I used this tool when I needed to remove the flywheel on my Hyper 1100
worked great some people use a penny instead.
---
2008 Hypermotard 1100S.
Mine didn't exactly fit on an m821 but it worked...pretty wild angle and only one contact point...hardly a correct fit but it got it done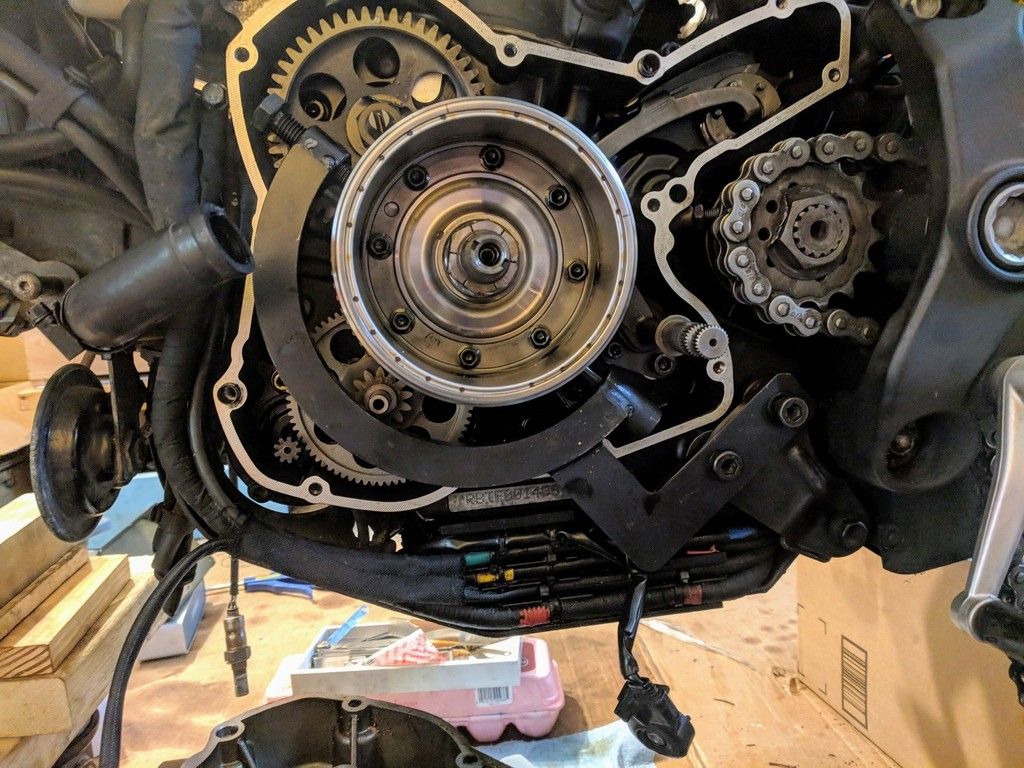 Sent from my Pixel XL using Tapatalk
Hi
Just checked my notes the lock tool you have must be for a 2010 engine and the same size was for all 2010 + trellis engine that's why it is to small by at least 9/11mm on out side diameter of flywheel is the two location drilled holes same hole pitch as on your engine
Mike st