Considering a GPS ?
---
Let's face it, the days of "stand alone" GPS are nearing the end of their useful life.
I'm only using them because I have them. So many if fact, I may as well call it a collection.
Two- 3590LMT (cars)
Two- 3490LMT (bikes)
Two- GPSMAP 76CSx marine handheld with bluecharts (Seadoos)
Two- 2597LMT (originally for the kids cars which they don't even use)
One- built-in Garmin in our Jeep Wrangler

With the exception of the handhelds, all of these are now expendable.
Consequently, I would not go out and buy one today.
If it wasn't for those, my Smart Phone would already be cradled in the Navihalter bracket in lieu of a single purpose GPS.

About value if you're sill looking for a dedicated GPS:

IMHO, I think the Garmin Zumo GPS offers very little value for the price. It's basically a Nuvi that's waterproof. Seldom do you need your GPS in a downpour and if you do, cheap waterproof transparent pouches are available on ebay. My personal favorite is a zip-lock sandwich bag in my pocket.

Notwithstanding, if you really really want a waterproof Garmin, do look at the feature rich Montana line that's in the same price range. You can install all kinds of maps in those that you can use off-the-bike such Bluecharts for your boat, Topo, cycling trails, hiking with endless custom waypoints available on the net etc.
---
2018 Multistrada 1260 Pikes Peak
All purpose fun
2016 Monster 1200 R
Rambunctious fun
It's nice to have a glove friendly device. Also, the phone doesnt do me any good when out of service since the maps typically arent stored on the phone. I agree the prices are stupid high, but they have a captive audience.
---
Thomas Williams
2018 Multistrada PP, 2012 Hypermotard 1100 Evo SP, 1995 900SS/SP
Member
Join Date: Oct 2018
Location: Carmel, IN, United States
Posts: 46
On the phone, Google Maps works well and you can download areas of the world map to your phone prior to your trip and then you don't need cell access. I recently did this in Ireland. I wish that Waze had the same ability to download and store map segments so that you weren't reliant on cell coverage. I do like that Waze reports your current speed and compares it to the posted speed. The really good thing about Waze is the reporting of road and traffic conditions. Of course, cell connection is necessary for that capability.

I have an older Garmin Nuvo that still works well, but using it in full sun is impossible. I suppose I should craft some sort of shade housing for it. The same thing applies to my phone...really need a shade for it in order to be able to see it on the bike.
---
M. Brungard Carmel, IN
2016 Multistrada 1200, 2005 Kaw 636 Trackbike
Senior Member
Join Date: May 2018
Posts: 189
When I really need a GPS, I need something that just works, not a multi-purpose device that can and does fail at being a GPS for a variety of reasons. The interface is clunky, they are indeed way to expensive, but for that once or twice a year when I need reliable navigation outside cellular data ranges, I turn to the purpose built system....and take a paper map as backup. All other times, it stays in it's case and the smartphone does the work.
The new GARMIN OVERLANDER might be a good choice was released just last week.
Need someone to make a cradle as the stock magnetic mount on a bike is a bit scary.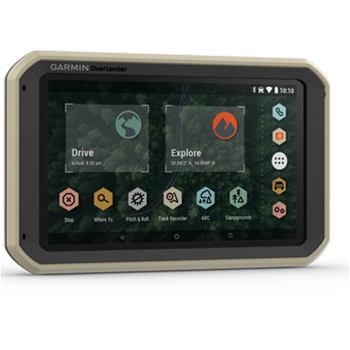 Senior Member
Join Date: May 2015
Location: in the Finger Lakes, NY, USA
Posts: 3,273
Motorcycle GPS's are overpriced crap. Pay twice as much and all you really get is waterproof car gps's. The interface is still designed for "take me to xxx" point and shoot, have poor route planning tools, very poor full sun visibility, and poor user interfaces compared to free services like google maps. Some have modest bike features like "twisty road" - that do occasionally work well but often mistake stop signs and right hand turns for twists.

Someone needs to do a 'Bluetooth phone touchscreen' that gives you a high visibility waterproof touchscreen display - then the pricing for standalone motorcycle GPS's would drop by about 90% overnight.
---
15 Multistrada S Touring/Urban/Enduro, 04 Tiger 955i, 86 MaximX 750 (son), 13 Ural (wife)

"Go soothingly on the grease mud, for there lurks the skid demon"
Member
Join Date: Jul 2010
Location: Cambridge, MA, United States
Posts: 97
Senior Member
Join Date: May 2018
Posts: 189
A motorcycle GPS is more resistant to shock, and has a power connector that was rated for use in an outdoor vehicle mounted environment, on top of being waterproof and having an anti-glare screen, (at least the decent ones do). There is more to it than the admittedly crappy UI and features, you're paying for the engineering that went in to a purpose built product with a very small target market. Garmin hasn't released a new model since the 595LM four years ago, Tomtom is down to one model. Between smartphones and integrated GPS systems, the market is vanishing, so there isn't much reason to invest in improving the tech.

The privacy aspect is compelling to me, as well. Google is not our friend, and it's a small victory any time I can revoke their ability to monitor everything I do, same would go for Apple.
Senior Member
Join Date: Oct 2016
Location: Ottawa, , Canada
Posts: 106
Garmin is making the GPSMAP 276 again. Best gps ever, with real buttons
Senior Member
Join Date: Mar 2008
Location: Orono, MN, USA
Posts: 884
Depends on where and how you ride in my experience.

After trying all sorts of GPS units, years ago I bit the bullet and bought a Zumo 660. The majority of miles I ride are on multi day trips in unfamiliar areas where cell phone coverage is spotty at best. Routes for these rides are pre-planned and 300+ miles/day with a different over night stop every day. While not perfect, the Zumo is the most fool proof solution I've found. Don't have to dick with it if it starts raining, doesn't matter what gloves I'm wearing and will accept any route I've loaded to it no matter how many waypoints are in the route and reproduce the route most accurately since most routes tend to be created for use on Garmins. I've found it worth every penny particularly considering how the over a decade of use I've gotten from it and the hundreds of days of riding I've used it on. Having spent too much time dicking around with a GPS preparing for or while on trips, makes minimizing this activity well worth the price.

I recently bought a Garmin Inreach Explorer as I've started to do some moderately challenging (pretty much impossible for a GS or MS to handle) solo off road riding in areas with no cellphone coverage. A Montana would be great, but the 2 way satellite communication capability of the Inreach is essential and I prefer to minimize the number of devices I carry since I carry very little riding these areas. Sometimes I don't carry a cellphone riding these areas, because without coverage a cellphone is worthless.