early on while i was thinking about how I wanted the bike to look, I had a vision of a bit "Old Skhool" and decided I wanted a round headlight, and a seat hump like the old cafe racers, I know it wont be to everyone's taste, but what the hell, this build is for me so I wont sell it on…. here is the seat construction beginning… I have made a few like this in the past… I start with a sheet of insulation, where I peel the foil off to make it easier to work with. I glue the blocks together with contact adhesive, and then shape it roughly with a bread knife. then with a block and some 40 grit sand paper, I sanded it to shape. the whole thing took around an hour to do, it sands VERY easily. Next stage is to skim it with bodyfiller, and then cover it with fibre glass. some people go straight on with the glass, but I prefer a final finish with the filler. its a method I have used before to good effect. In fact I did conciser making a tank as I have done before, but its a complex shape underneath. here is a few pictures of my last effort using this method of construction...
Member
Join Date: Apr 2009
Location: Normal, IL, USA
Posts: 38
Wow. You have mad fabrication skills!
---
2012 Ducati MTS Pikes Peak - 2012 Yamaha Super Tenere - 2008 Yamaha WR250R
Senior Member
Join Date: Feb 2014
Posts: 270
+1 on the Hodaka Smashed Nads Syndrome, back in the early 70s...

I read an interview with Mick Doohan once where he referred to nearly high-siding, getting kicked out of the seat and mashing his "wedding tackle" in the process. Interesting turn of phrase, and it stuck with me. He's a better man than I...he saved it at 100 mph+ and continued racing.

My Hodaka instance occurred at maybe 20 mph...I did not crash instantly, but came quickly to a controlled stop, then keeled over clutching me nads... and lying on the ground for a while...
---
2012 Multistrada S
1999 Cagiva Gran Canyon (stolen January 2019)
a little bit more progress, been away a few days so not too much! the seat is more or less finished and is placed on the bike. I turned my attention to the exhaust. I initially mocked up and under seat one, but I didn't like it, so in the end went for a nice and simple reverse cone mega... old school.
I wanted to mount the front mudguard and bought some tube to make the stays... but forming the ends in the vice didn't look good, so I made a couple of tools to form rounded ends on. it worked rather well!
there has been a bit more progress over the last few days...I have mounted the battery under the tank, and put the coils and solenoid on the battery box, which is rubber mounted on four grommets to insulate it from vibration. I have finished off the mudguard mountings, and also the mounting to support the exhaust.
the silencer has been a pain.. I bought it off Ebay new, the seller described it as stainless steel. when it came, it looked good, so I stripped it apart and chucked the cone into some thinners... this stripped all the paint off. a this point I suspected it was mild steel, turns out it is! so for now, I have painted it with silver VHT paint and it looks OK. I may decide to have it chrome, or even black. the seller was very understanding and refunded my £21! thought it was cheap!
I was going to mount the fuel tap which I have bought (its fitted to a Suzuki 1000 Bandit) nut there is not enough room for it, so I will have to think again... I want a tap with a reserve if I can...
I have now started mounting the electrical components and will soon start the the wiring, a job which I quite enjoy. just got to mount the headlight first...
been busy the last few days making the speedo housing and mounting the headlight. I am using one of the digital rev counter and speedo's. this single unit contains all the functions I need and is fully configurable too... and quite cheap at £25. it didn't look that good though, so I made a housing to fit it in and keep the wires tidy.
to make the housing I rolled some sheet alloy (couldn't get the right size tube...) and welded the joint. I then spun an end in the lathe using the same material. this is an interesting process (and old as the hills!) where you form the metal by spinning it and applying force as its turning. I used an old bearing on a tube to save marking the alloy. it came out rather well.
I really am loving my new welder!
jobs for today has been to put the seat foam on the aluminium tray and sand it to shape before sending it off to the trimmer. I was able to sit on the bike and get it to the shape that suits me, which is nice. the trimmer will add 15mm of soft foam on top and contour it in, before trimming it in black.
Best laid plans with the fuel tap… it was going to go in the plate that fills the hole where the fuel pump fits, but there is not enough clearance so I resorted to remote mounting it. its actually better as I can get to turn it on and off easier. the two inlets are so I can come off two pipes in the tank to give me a reserve facility.the tap is off a Suzuki Bandit 1000.
on projects in the past I have always soldered the connections, but this time I have gone for crimped joints, they look neater, and also as my mate always says you never see a soldered joint on aircraft wiring!
been a little while as I am having to take a break to do some house DIY… but I managed to sneak in the garage and make a cover for the front of the tank. It took a while to plannish it out of some 2 mm alloy as its a complex compound curve, but i got there.
I was going to use keyless ignition as I have used on the last few builds, they are cheap and work well… however the brief on this build was as simple as I can make it, and it does not come more simple than a key operated switch! when I put it in the cover it didn't look right, so I made a tool to emboss around the switch, which worked quite well…
Senior Member
Join Date: Oct 2011
Location: Victoria BC, , Canada
Posts: 387
This is my favorite build thread, you can put a bike together for me anytime!
---
2010 Hypermotard 1100 EVO SP.
Supermoderator - I´m special!
It looks real nice, and your workmanship is very good!
Still something bothering me about the look.. Not sure what it is.
Either the tank is too big and angular for a caferacer/oldschool bike (maybe the old Monster or Sport Classic tank?)
or its the handlebars that are too wide (Maybe look at dropping the forks through and mount clipons on top of the yoke, like the 1999-2003 SS? Then drop the rear rideheight about the same, the susension travel is pretty extensive on the old mts if I remember correctly)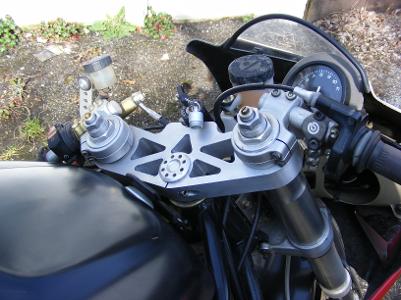 Regardless, it looks very nice, and it could all be angles.
---
2010 Multistrada 1200s - engine mapped by tomtom, Öhlins mechatronics SCU and alot of mods to make up for poor skills