monster 821 clutch issue? - should I be thinking of replacing the plates?
---
hi there,

I was riding the other day and twisted the throttle a bit (like one often does..) and i felt a delay in acceleration. After a second it accelerated fine but there was obvious delay. Now I know that my chain and sprockets need replacement so this might have something to do with it but I would not guess that it would result in such a delay all of the sudden.

So before I go to the garage to change my chain and sprockets I thought maybe someone here had similar experience and can share some thoughts. I hope its just the chain impacting the clutch which in turn is not being fully disengaged somehow but my mechanical knowledge is similar to that of a 2 y.o. so any input is highly appreciated.

some additional info: the bike has about 26k miles and just had a small service (oil, brake fluid etc) I also changed the rear tire to a 190/55 (instead of 180/60 - no issues with the DTC which is set to "1").

thanks in advance
---
Ride Safe
Where is the clutch bite point...adjust it using the wheel on the lever ...mileage and clutch wear aren't necessarily tied together...I have 58k miles and I still haven't worn any away on the plates...wrong engine oil will make it slip...loose chain will be jerky too...worn cush drives can too...try touring mode...but likely just needs a turn at the lever
thanks for the info buhgaboo,
there is about 2mm free play at the clutch lever I will see if some additional adjustment will help although I noticed when I increase the free play (quarter turn on the lever) the neutral is getting impossible to find.

I think that for now i will just keep an eye on it, try a few minor adjustments on the lever as you suggested (tighter or looser). I will change the chain and sprockets soon maybe this will improve things.
---
Ride Safe
I probably have triple that in free play...but I keep my bight point close the grip...stubby fingers...maybe a bit of clarification, pull the lever all the way in and put it in first...let it out just enough to feel it grabbing...take note on that distance then fully engaged it and pull it in just until it starts to slip... provided some lever movement has occurred it's technically within spec ..the knob will move this range within the lever travel to whatever feels comfortable...if however as soon as you touch the lever it begins to slip your too far or if you can't ever seem to shift cleanly it's too close to the grip...also you didn't specify which year...I'm on a 2015 but I thought I saw a throttle Freeplay issue 2017 and up? I can't be for sure.
I have the 2015 model too.
the 2mm (maybe 3mm max) I mentioned refer to the point that it starts to slip when in gear, so as I ride I pull the clutch lever inwards and there is about 2-3mm of travel before it starts to slip.
I am not sure when the gear grips though, i have the feeling that this happens almost immediately as the clutch moves away from the grip (i will check tomorrow).
thanks for the help man, highly appreciated
Just for reference...this is how much slack I have before there is any tension on the cable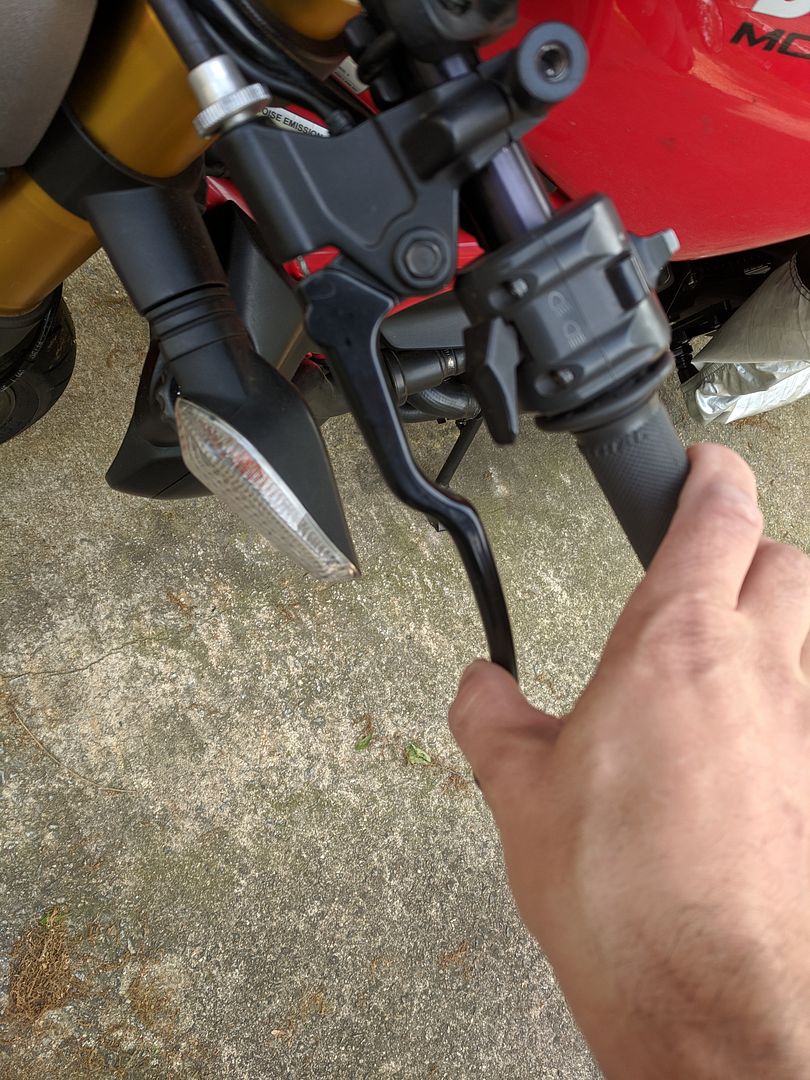 just for future reference,
checked the biting point of the clutch which was actually a bit further from the handle bar than I thought originally ±2mm
and another ±2mm of free play when pulling the lever till the clutch would slip.
So as suggested:
First I loosened the cable (1/2 turn) this increased the "free play" more or less to the same as Buhgaboo shows in the picture posted above. Didn't feel nice for me though so I adjusted it again by tightening 1/4 of a turn. This felt better so i left it there.
went for a ride for about 1-1,5 hours, did some slow parts with traffic, some country roads and a bit of highway. I did not notice any hesitation when trying to accelerate fast like the other time, there was a bit of delay when twisting the throttle suddenly and a lot but that could also be the tdc doing its work and it was neglectable.
The only negative thing that I noticed was shifting to 5th was not so smooth. Its not always the same but about 70% of the time its there. Will wait till the chain and sprockets are changed.

Thanks for your help Buhgaboo
Posting Rules

You may not post new threads

You may not post replies

You may not post attachments

You may not edit your posts

---

HTML code is Off

---