Mine is also the Ducati Designs mount. I have an aqua box (weatherproof but not submersible) for my iPhone 5. Direct power in via Powerlet harness. Well worth the cost of mount, box, and harness!
---
Last edited by Joe's '05 ST3; May 29th, 2014 at

7:05 am

.
Junior Member
Join Date: Jul 2013
Location: Deeping St James, Peterborough, , UK
Posts: 25
Quote:
I'm with you, Bill. Paul's a genius in terms of design / functionality and he supports the greater Ducati community.

Jet057,

I guess you would throw Paul and LT (owners of Ducati Designs & Desmo Times respectively) into the same camp of thieves? Now let me get this straight... they invest their time and effort into putting forth products that many of us find extremely useful with respect to the modification and upkeep of these bikes but, somehow, they are ripping us off when they charge a slight premium for the products they offer-up? Makes absolutely no sense to me but I guess if you want to go the ebay route and buy some highjacked idea which is ultimately produced in a low cost labor market, that's your prerogative.
Perhaps i was a bit harsh / preemptive in my earlier comment, i only had a quick look at the mount earlier. i've had chance to have a proper look and It does actually look like a well thought out and put together bit of kit, all stainless construction, powder coated and vibration damping. Yes i could make one that was nearly identical but I'd be very hard pressed to make that to the same specification for the same money, not to mention time. If i was going to put a smartphone or something on the mount then I'd buy it. However my satnav is a old 2610 that spent most of it's life on a 650 single, think it'll handle the duke without the vibration dampers
Senior Member
Join Date: Nov 2010
Location: Noda, Chiba, Japan
Posts: 2,349
That is kind of a nice way of apologizing to Bill. Probably also a nice way to boost the rep of Paul and his products. Haven't used any, but I think the same way about Desmo Times and try to support them when the need arises.
---
1968 Kawasaki A1SS
1970 Kawasaki A7
1971 Kawasaki A1 (basket case)
1988 Gilera Saturno 500 x 2
2004 ST4s ABS (yeller)
Ducati Designs
Join Date: Jan 2004
Location: Beaverton, Oregon, USA
Posts: 1,122
OK, you can live.
pg
DD
Quote:
Perhaps i was a bit harsh / preemptive in my earlier comment...
On the DD Imo comment i did not meant it to be rude at all,as a matter of fact i think it's a piece of art and quality.I would not hesitate to buy it.I do stand w/ what i said but not using that bad word mini- me ripoff.Now let's move on..
Member
Join Date: Jun 2008
Location: Palm Harbor, FL, USA
Posts: 32
I also use the Desmo Times Steering Head Ram Mount ball with a waterproof box which works great. Looking to install another Ram ball somewhere for the radar detector.
---
Lance, '06 ST3s
GPR Exhaust, Rexxer ECU Remap, Helibars, Throttlemeister, CRG levers, Evoluzione clutch slave, Big Fan kit, Fender eliminator, etc...
Member
Join Date: May 2014
Location: Sydney, New South Wales, Australia
Posts: 52
I'm Also using the DD mount, was using a standard type gps until recently when I modified it to suit a quad lock mount and my iPhone. Nice and neat and have acc socket tucked inside faring on left side for charging.
---
Last edited by IM-805; Jun 1st, 2014 at

5:44 pm

.
I made a similar mount like strikeF1 did, I don't have any pics but it really looks very similar.

i can post a drawing is interested but the main thing is that by placing it this way you are 1) very versatile by what you mount. the location is perfect, not in the way of anything. It doesn't rotate around when steering (not that that is a big issue but still) and the angle at which you want to place things is easily adjusted to your preferred angle) and it really only took me an hour to make so... i really wouldn't think of buying one. let me know if you want a scetch with measurements

Grtz Matthieu
---
Ducati - ST3 - 2005: The red lady Current
BMW - RS1100S - 2005: The beast Wrecked
Ducati - ST4 - 2000: Lady ducati RIP
Yamaha - XJ600 - 1997: My first Sold
Looks like there are a lot of ways to skin this cat. Here's mine.
I went with a RAM ball attached to one of the Heli riser bolts and a RAM X mount thingy. If the budget was unlimited, I probably would have gone with the Desmo Times stem mount.
What I like about this is how clean it looks when I'm not running with the phone (which is most of the time). No offense to the DD guys, but that's not very attractive when nothing is in it.
I think that powering it is more interesting. I went with a USB extension cable running on the right side back to under the seat. Removed the stock european adapter socket and repurposed those wires to supply power to waterproof 9002 headlight sockets. There are two back there. One is powered all the time, the other has a relay off the taillight to power only when the key is on. When I need to charge the helmet bluetooth, I hook into the powered all the time one and leave it under the seat.
To convert 12v to 5v, I modified a slim car cigarette adapter. Just cut the extension's wires and soldered them to the appropriate part on the adapter. Made two so I can carry a spare. The pictures tell it better.
Rob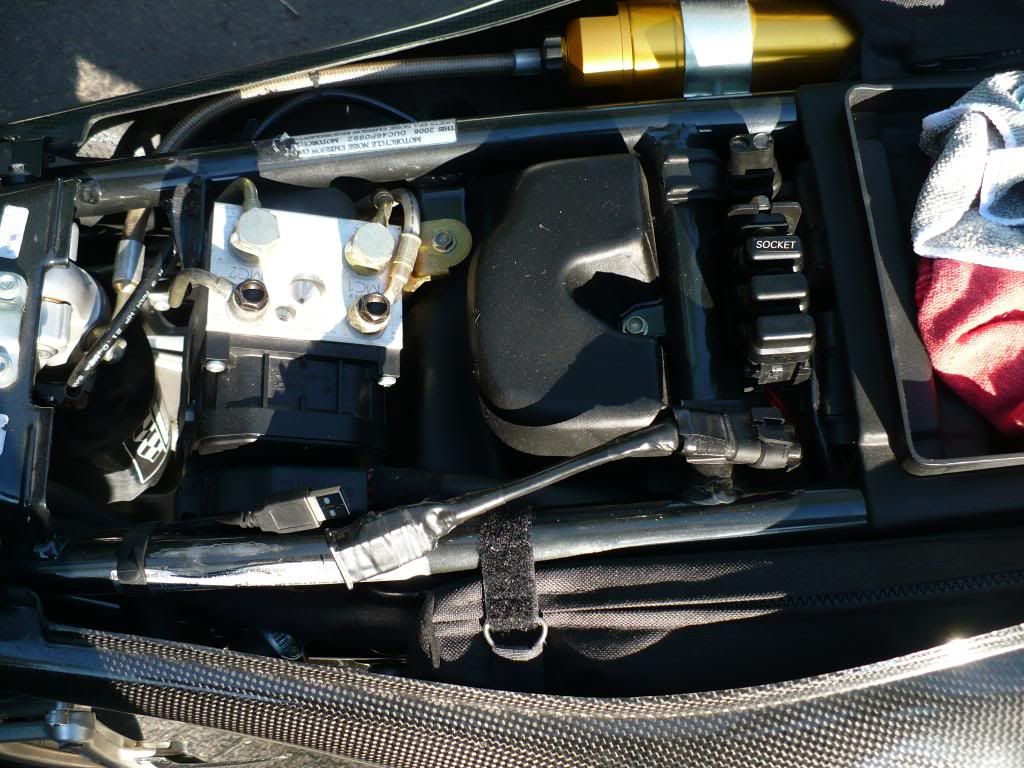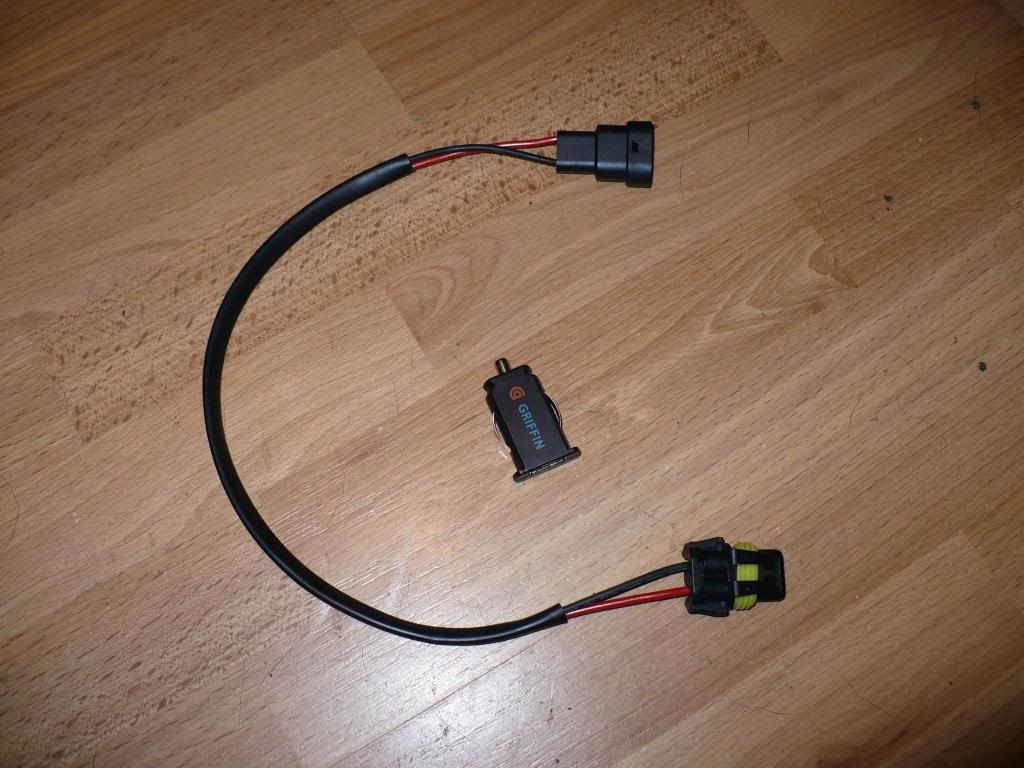 ---
'06 ST3s-ABS
as promised before,
here some pics... and a drawing
at least i hope it works with the attachments option.
Anyway, it all connects into u 12v sigaret lighter with an usb connetor in it that is directly connected to the battery.
the plate itself is just a sheet of but you can take any material basically that is bendable. (you have to bend it straight behind the two 'rings') just fiddle with that a little so you can adjust it to the correct angle of view. i personally like it rather flat. but you need a little of bend so it doesn't touch your stear.
took me no more than an hour to but it together, best spent hour ever
grtz Matthieu
ps: and yeah, i know it rather has the appearence of a important part of our genitalia... but that's just the way a turned out. and it has an additional benefit. this way you can flip of the cops at all time without getting arrested for it
---
Ducati - ST3 - 2005: The red lady Current
BMW - RS1100S - 2005: The beast Wrecked
Ducati - ST4 - 2000: Lady ducati RIP
Yamaha - XJ600 - 1997: My first Sold
Similar Threads
Thread
Thread Starter
Forum
Replies
Last Post
GPS mounts?

DAllisonfan

HyperMotard

7

Jul 19th, 2012

9:24 pm

Pic request

bryce86

StreetFighter

0

Jun 9th, 2011

5:02 pm

Pic request

bryce86

StreetFighter

0

Jun 6th, 2011

5:18 pm

gps mounts;

tricky_dickey

Sport Touring

5

Apr 26th, 2007

7:37 pm

GPS Mounts.

z24b

Sport Touring

2

Apr 22nd, 2007

11:25 am
Posting Rules

You may not post new threads

You may not post replies

You may not post attachments

You may not edit your posts

---

HTML code is Off

---