Senior Member
Join Date: May 2006
Location: San Tan Valley, AZ, USA
Posts: 403
Quote:
Originally Posted by Mike
I'm wondering if there is a secret setting that prevents the pics from being re-sized or if you are just not as critical as I am?
The latter...those pictures look great as-is to me. I'm sure that the auto-resizing has something to do with what you're seeing and I'm not sure if there's a way around that.
---
____________________________
Robert
San Tan Valley, AZ
2010 Triumph Tiger 1050
E. Tennessee/W. North Carolina
---
Took these Sat. 10/28/06 on the Cherohala Skyway. Did a couple hundred miles in Tn. today but too cold to stop for any pics.
Someone needs to teach me how to insert pictures directly into post. At this point it is beyond my computer skills!

Ride safe, Gregg
---
'16 Motus MST-R /'04 ST4s/ '95 916 / '93 888SPO (Sold&#128557
'92 900SS / '01 HD FLHRi / '11 Multi S- Touring (Sold)
Still needs a life.
Join Date: Mar 2004
Location: Edmonds (near Seattle), WA, USA
Posts: 12,378
Quote:
Originally Posted by Mike
Yes he is. And if you are very observant on the last photo you may have noticed your hand and water bottle sticking out from behind Steve's arm. It looks like your face was in the picture until Steve decided to give the "hi mom" wave.
That photo is one of my favorite from the first WCM and I have it stored on my home computer. I seem to recall a photo or video of you taken at an earlier stop which for decency's sake has never appeared in public.
Here is a photo your chipmunk took of the two of us with my first Ducati.
---
Bill Anderson & Darkwing Duc (06-ST3s, black) Edmonds, WA. USA
Whoops!
---
Try again
---
'16 Motus MST-R /'04 ST4s/ '95 916 / '93 888SPO (Sold&#128557
'92 900SS / '01 HD FLHRi / '11 Multi S- Touring (Sold)
Somewhere on the Devils hwy., New Mexico....
---
Don-I'd rather be riding...Wisconsinite, now in AZ
'03 BMW Dakar, '04 Ducati ST3, '05 Kaw KLX 300R
no scenery, but here's mine.......
---
Notice the sun is shining and the garage is empty. I work instead of ride.....
-Bob
---
http://www.cadre-club.org
2003 ST4s
Mike, thought you went to Pilot Powers. All your pictures are old if so.
I just went to Powers too.
...and our bikes are twins with the exception of my zeroG windscreen and CRG levers in gold. Oh, and just minor change of pace on the clutch...I'll post pics soon. Nice bike!
---
'08 ZX14 and '02 ZRX1200R
...previous Ducatis now sold... '05 999 and '02 ST4S
Senior Member
Join Date: Mar 2005
Location: Castlebar, , Ireland
Posts: 325
Angelina
---
Here she is at the Tetons.
---
2002 ST2 - Angelina
Senior Member
Join Date: Mar 2006
Location: Meriden, CT, USA
Posts: 628
here are a few of my 2005 ST3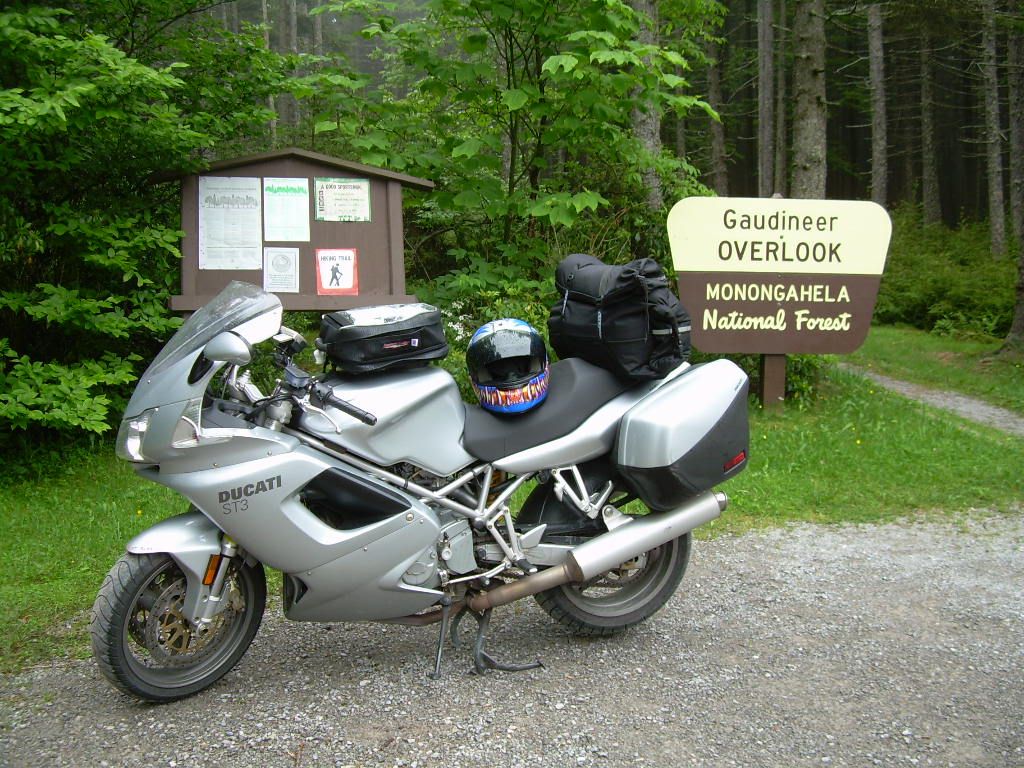 ---
Mark Flanagan
2005 Ducati ST3
Senior Member
Join Date: Sep 2005
Location: Vancouver, WA, USA
Posts: 215
Club ride in Oregon
---
Here are a couple of shots from a club ride this summer in Central Oregon.

Lot's of ST's!

Don
---
DucatiDon
2005 ST3
2005 MTS 1000 S DS
Posting Rules

You may not post new threads

You may not post replies

You may not post attachments

You may not edit your posts

---

HTML code is Off

---