Join Date: Oct 2005
Posts: 114
2007 Ducati Trackfest and Rally
---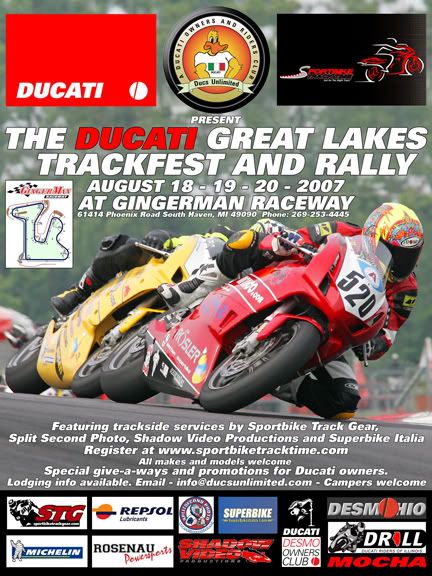 What: 1st Annual Ducati Great Lakes Trackfest and Rally
When: August 18-20th
Where: Gingerman Raceway, South Haven Michigan
Fellow Ducatisti,
Our club has undertaken a plan to start the next Midwest Ducati rally and have chosen this already existing and very successful weekend that we have been co-hosting with Sportbike Track Time (STT) for going on 4 years now.
We have enlisted the aid of our fellow D.O.C. clubs including Desmohio, Hoosier Hooligans, Ducati Rocks, Mocha and Drill in the Chicagoland area to help us promote and put on what we hope will be a great Ducati rally and one of the best in the country.
We have also invited regional dealers to come out and show their wares and hope to have a number of title sponsors on board such as Red Bull, Repsol and others.
Several companies are on board as sponsors or participants with more coming and hope to have a carnival atmosphere with special giveaways, merchant area, great food and live entertainment throughout the weekend. As always STT will provide the top-notch on track experience we have all come to expect from them.
The Orbitsuns
will be playing live on Saturday night so come out and check out one of the hottest bands in Detroit!
This event will be held the weekend of August 18, 19th and 20th at Gingerman Raceway in South Haven, Michigan. If you have never been to Gingerman we think you will be impressed with the level of the facilities and the challenging track that the owner has built there.
We hope to see you all out at the track and look forward what will be a great event for all participants.
We will be having special event t-shirts made for sale prior to and at the event. More info on pricing and ordering will be posted soon.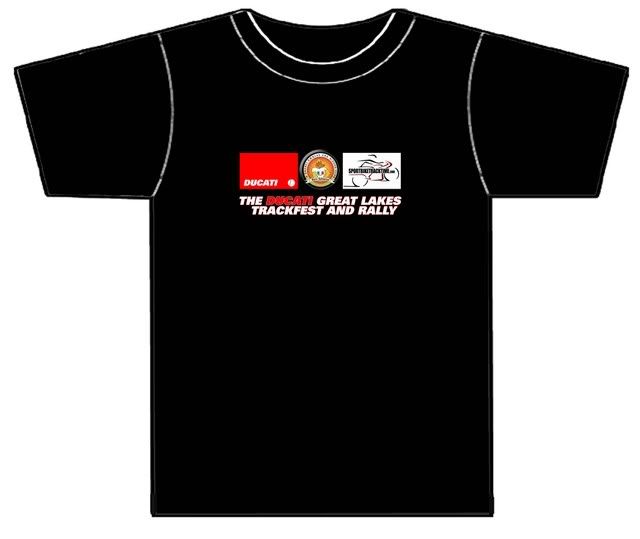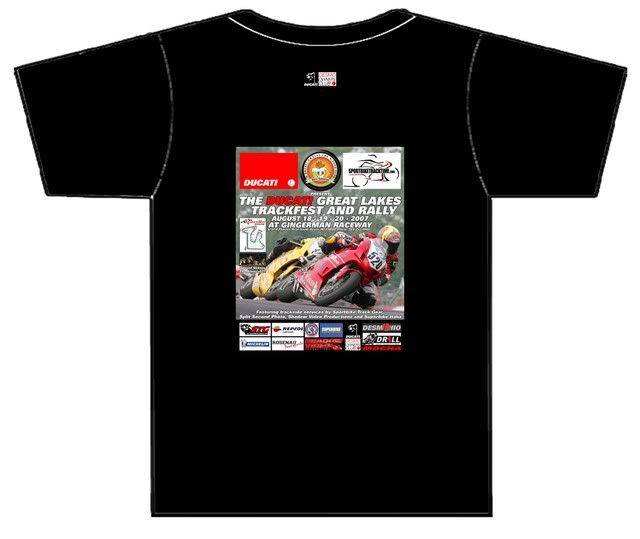 Don't forget all makes and models welcome!!
For more info you can contact us at
[email protected]
or you can register and sign up at
www.sportbiketracktime.com
.
So the event is coming up; who all is coming / registered to run on the track?
I'm in the novice group
as this is my first track day. I'm really excited and honestly don't know what to expect (aside from an ass load of fun). Post up if you're coming.
ps I'll be riding in to town Friday night from Chicago area. Anyone want to meet up to ride in to St. Joe PM me.
---
2006 SS1000DS
2008 1098s
Join Date: Oct 2005
Posts: 114
Below is a note from our club president. As always, contact us at [email protected] for more info on this event:
Quote:
Just a note to everyone, Ducati demo rides will be every hour on the hour throughout the weekend and you must sign a waiver to participate. They will be starting at 9am and running until 5 pm.
The Vendor Area and Dyno will run the same hours as well. Please support the vendors that come to the event as without their participation the event would not be what it is.
We will be having seperate raffles each day at the event. There will be a grand prize given each day. Each Ducati owner or trackday participant will get one free raffle ticket, additional tickets can be purchased for $ 2 each. We will announce the location of the raffle drawing each day and where more tickets can be purchased. You need not be present to win.
We will have an Info Booth setup with the weekend schedule, area guides from local chambers of commerce and visitor centers, track and paddock maps, lists of local hotels and more.
We have compiled our list of raffle items.
A special thanks to all the vendors that have donated items for the weekend for raffle.
Grand Prize - Saturday
Ducati Daytona Riding Jacket - Courtesy of Ducati North America
Grand Prize - Sunday
1 Free 1 Day RV Rental - Courtesy of Walt Michal RV Superstore
Other raffle prizes:
2 - Sets of Michelin Pilot Power 2CT - Courtesy of Sportbike Track Time and Michelin
2 - $ 50.00 gift certificates - Courtesy of Motowheels
2 - $ 50.00 gift certificates - Courtesy of Speedymoto
Assorted club t-shirts - Courtesy of Ducs Unlimited, DesmOhio, D-Roc and others.
Assorted Ducati merchandise - Courtesy of Ducati North America
Assorted Repsol merchandise - Courtesy of Repsol, Sportbike Track Gear
1 Motowheels t-shirt - Courtesy of Motowheels
1 Book of Superbikes - Courtesy of Motowheels
and much, much more..........
As mentioned all proceeds from the raffle go to cover the cost of putting on the event.
Sorry for the lack of information up until now but we have been putting in tons of effort and time to work out the details of all this stuff. There are a lot of participants and much to cover. Looking forward to an exciting weekend.
Join Date: Oct 2005
Posts: 114