Senior Member
Join Date: Nov 2011
Location: Neverland, ,
Posts: 1,099
Around the World with an Italian Supermodel
---
My journey first started two years ago with "Coast to Coast with an Italian Supermodel." I never really recovered from that trip. I tried to adapt to a 'normal' life, but I couldn't shake the restless need to keep moving. So I left, and left, and left again. To continue my C2C trip in Europe was my goal, but it would have meant quitting my job. No income while traveling around the world could very easily mean I end up homeless in Poland for the winter. And then I had a hypothesis: what if I just abandoned everything to do what I love? If there's one thing my trip around North America taught me it was the stupid things we do that end up being the decisions we regret the least. But could it work? I have no clue, but I'm going to find out. We shall see if my passions (writing, riding, painting, exploration) are enough to get me around the world.
In any case, ď'Round the World with an Italian SupermodelĒ officially begins.
Senior Member
Join Date: Nov 2011
Location: Neverland, ,
Posts: 1,099
Here's a little prologue for anyone who missed the first two episodes (Coast to Coast with an Italian Supermodel and PacNW with an Italian Supermodel - both links in my signature below):
In 2012 I hit the starter button on my Panigale and the reset button on my life.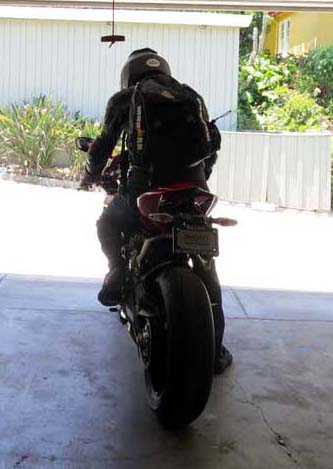 I wanted to test a hypothesis. Rather it was a 'null hypothesis' - I set out to find evidence contrary to what I believed in to test my assumptions about the world. No one likes to be told what to do, where to go, who to like, what to avoid, what to eat, what to laugh at or what to oppose. And definitely no one likes to be told who they are or what they are or are not capable of. Yet every minute of every day we blindly obey the tyrant narrator in our head who dictates the kind of rules and restrictions that limit every aspect of our life. I intended to demolish that voice, to rediscover both the world and myself. So I left. And pretty much did everything that voice said not to do.
At the time I noted it was a suicide of sorts, but in reality it was more of an extermination of the self-imposed restrictions Iíd accrued over time. 6 months and 16,000 miles later my life had radically changed. So much so that I simply could not adapt to a Ďnormalí life. So I left again, and again, and again, satisfied only on those days when I didnít know where Iíd be sleeping that night. And one day, during a particularly memorable internal dialogue regarding what I was going to do with my life it hit me: do what I love. So fucking simple! Ride, write, paint and travel. How would I make it work? No idea. I quit my job and, well, here I am, writing today from Rome. This will either be the best decision Iíve ever made or one of the worst.
But, as the past increases and the future recedes, I can honestly say that itís the reckless and stupid decisions Iíve made that I remember the most. Routine leads to regret, habit leads to unhappiness. Certainty leads to boredom. And fear? Fear kills more dreams than failure. Passion. Passion is the only force that leads to destiny. To live the life weíve always dreamed of and to become who it is we know we truly are requires acting on desire, taking risks and ferociously (or foolishly) pursuing whatever it is that we love.
To reckless adventures and fearless success.
Senior Member
Join Date: Nov 2011
Location: Neverland, ,
Posts: 1,099
I have difficulty when trying to answer the question about when this ride report began. Only because from my perspective it really began the first time I threw a leg over a Suzuki RM80 as a kid. It's convenient to begin with the first day of the journey. But I have bad news for anyone who's not gone big with a long, extended road trip: shit begins way, way before the key goes into the ignition.
Anyone reading this--or any other ride report does themselves a great disservice to think that what someone taking off on an open-ended trip is the result of luck or fortune. When you see the first pic of 'setting off', you're seeing the end result of what could have been years of construction and planning. I don't meant the kind of planning that begins with google maps or Trip Advisor or NatGeo Travel magazines. I mean sorting your life out so it can happen. Before C2C, I spent years detaching myself from anything and everything. So that when the final detach happened, I was ready to roll.
This trip was not so easy. Though I'd made the decision to fly the bike to Europe to continue my ride, my ride did not cooperate. A perplexing high-idle issue that reset itself every time I went into the dealer couldn't be fixed. Before anyone goes nuts and starts firing arrows at Ducati, keep in mind that my bike was the highest mileage Panigale in existence. It also saw 10 hard track days, monsoon rains, sand, dirt roads. She slept in 30 degree weather, endured Hurricane Sandy and not once ever failed to start. In an effort to identify what was causing the high Idle, Ducati replaced all the major components. The good news--nothing was wrong with any of 'em after all my abuse. The bad news: the issue was still there. I was running out of time. I had two choices: wait for a fix or get a new bike.
I went with the latter, which also gave me a worldwide (and unlimited mileage) warranty. Ducati Newport Beach, whom I purchased my original bike back off of, gave me a great deal (Thanks, Aaron, Chris, Mark, Brandon, Adrian and all the rest of the staff who had a part of helping get me on my way!).
Though I made it to Milan just fine, a US Customs Delay meant I'd be showing up to World Ducati Week at Misano in a rented Audi. Can't really complain--World Ducati Week is kind of like holy week for Ducatisti.
With that said, a few pics are below.
Full album is here:
World Ducati Week - antihero
Senior Member
Join Date: Nov 2011
Location: Neverland, ,
Posts: 1,099
This was pretty funny. I took a pic of this guy on a Hyper that was set up to drift and not fall over and instagrammed it with the caption, "Looks like he's having trouble keeping it up." Within just a few minutes someone who knew the guy instagrammed it TO the guy in the photo. Comedy ensued. Small world.
I also got a ride around the track in a Huracan:
Got to meet this legendary Ducati rider:
Oh and this guy, too:
Never know who you'll run into at WDW!
Or what:
More Photos Here:
World Ducati Week - antihero
Senior Member
Join Date: Nov 2011
Location: Neverland, ,
Posts: 1,099
For some more Italian porn--some pics from the Ducati Museum in Bologna:
Senior Member
Join Date: Mar 2008
Location: Orono, MN, USA
Posts: 880
Senior Member
Join Date: Nov 2011
Location: Neverland, ,
Posts: 1,099
Hey Ray! Hope all is well my man!
Oh yes--on the last day of Ducati Week I got to see the Scrambler, too:
It was hidden in the bottom storage container. Ducati was taking people through 8 at a time after confiscating phones and cameras, but the head of US Marketing sneaked us in through the back in-between visits. I have to say that I wanted one just looking at it. It fills a spot in a virtually non-existent niche. Something that's fun, doesn't take itself too seriously, and something that's versatile. Ah yes--and cool, too. Adolescent without being unrefined I think hits the nail on the head. A swiss army knife. We shall see....but when I saw it visions of South America and Kazakstan flickered through my head.
I got a picture of it (with permission, but only with the cover on).
A few days later a picture leaked to Asphalt and Rubber. And no it wasn't me. Still pre-production, so the details were rather unfinished, but overall, a pretty cool concept that's going into production.
When it comes out, though, I'm guessing I'll do a cost comparison of Scrambler vs. building a TerraCorsa....
Senior Member
Join Date: Nov 2011
Location: Neverland, ,
Posts: 1,099
Since I was in the area and had some free time, I drove out to San Marino, which is, according to Apple GPS, a completely separate country. According to Wiki, it's also the oldest surviving sovereign state and constitutional republic in the world. Not that you'd know unless you were reading Wikipedia, as it has the same not-quite-first-world way of doing things that don't appear any different than Italy's way of doing things.
But it has a cool fortress that made me wished I brought a crossbow.
This is the stuff of visions of Italy. Real-life Robin Hood shit. As a kid I just wanted to merely put my hand on such a structure to verify that it--and the past history of damsels in distress, poisoned kings and noble battles were, in fact, real. But to actually visit a structure was more akin to traveling 1000 years back in time. It's the kind of experience that makes me want to scrape my knuckles across the surface just to remind myself how real it is.
I stood in the top of that tower, alone, peering for miles over the valleys and ridges and fields and trees imagining all the hundreds and thousands of people who had done the same before me for ten centuries. Ten centuries! And I was there, as last witness standing atop the castle. I'll never forget it. There are rare moments in life when we experience something that expands consciousness into regions we've only previously imagined. This was one of them.
Stunning, just stunning.
Yeah man...goosebumps. "Subscribed" is all I can do.

Ride on...and on!


Question: Do you ever long for a more "Adventure" type bike?
---
2011 KTM 990 SMT
2012 KTM 350 XCF-W
Senior Member
Join Date: Nov 2011
Location: Neverland, ,
Posts: 1,099
Quote:
Question: Do you ever long for a more "Adventure" type bike?
Nope. Never. I would like a dirtbike for tearing up trails and a box of unlimited storage that didn't take up any space on the back of the bike, but for me the sun rises and sets on the 1199. Every time I turn the key, twist the throttle, snikt into the next gear or push into a sweeper I'm rewarded with the otherworldly responses from the right bike for
this
adventure. Absolutely love it.
Posting Rules

You may not post new threads

You may not post replies

You may not post attachments

You may not edit your posts

---

HTML code is Off

---