Senior Member
Join Date: Jun 2004
Location: Golden, CO, USA
Posts: 584
MotoGP vs Superbikes @ Laguna Seca
---
Got to wondering how Superbikes would compare with MotoGP bikes on the same track/same day. So I looked at the best lap times for each at the recent Laguna Seca race. The track was apparently torn up a bit before the Superbikes ran so they had a bit of a disadvantage but I was surprised that there was only about 3 seconds difference:

Superbike - Tommy Hayden 1:26.100
MotoGP - Dani Pedrosa 1:23.158

Given all the cost and technology in the MotoGP bikes I was expecting a bigger difference.

Any thoughts?
Laguna's actually pretty tight for MotoGP bikes...I'm suprised there's that much of a difference to be honest. I wish WSBK would run there still...I'd love to see a comparison of those lap times.
---
KTM950SMR
I've got a couple observations:

As Chuck said, Laguna is relatively tight for GP bikes...but the funny thing is, 20 yrs ago they "tightened" Laguna's original layout for the GP series to run there!...talk about irony!

This year Bostrom got a ride on the back of Mamola's GP 2 seater...his quoted observation was that (and I'll paraphrase) "the GP bikes keep pulling down the front straight...the AMA Superbikes run start to run out of steam about 1/2 way" (as near as I can remember his words).

The pole positions for both Series was Spies with a 1:24.9 and Vermeulen with a 1:23.1. I think those were both set on Saturday.

Relatively close times...not only considering the technology, but the weight differences too. Still, that's a friggin' fast lap at that track.
---
Bimota Bruce
1995 916
Quattro Bimotas
Member
Join Date: Apr 2005
Posts: 74
Mid corner speed is about the same, but the up hill drags really hurt the superbikes, I think if laguna was a lot flatter the differance would be minimal.
Remember both the gp bike and superbike have the same displacement, both use high dollar wheels, suspension and the latest in tire technology. Don't kid yourself, superbikes are not low budget machines. I recall that Colin Edwards RC51 superbike cost $750K. In GP's 1 second usually covers the top ten spots. The difference between the GP bikes and superbikes is nearly 2 seconds (based on the qualifying times posted) which is a huge gap.
Member
Join Date: Dec 2005
Location: Chico, CA, USA
Posts: 74
Kind of off subject but I was watching the Monterey Historic Races on Speed and they ran a current day F1 car at Laguna Seca to see if they could break the lap record. It ran a 1:06.6. Now obviously they have much more grip and stopping power but that is a big difference. Bikes still rule though.
In 2002 Eddie Lawson set a fast lap of 1:24.5 in a 250 superkart. Not bad for a vehicle with 1/4 the displacement.
Junior Member
Join Date: Apr 2006
Location: Soquel, CA,
Posts: 20
Senior Member
Join Date: Feb 2006
Location: Wollongong, NSW, Australia
Posts: 226
I've compared the times at a few of the tracks, and the Superbikes usually lap at about the same times as the 250 GP bikes, which is typically about 3 seconds a lap slower than the MotoGP bikes.
---
ST3s 2006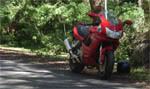 a superbike is about 50k to 80k EUR. A gp bike goes up to 500k. For what? 2 seconds? it's a matter of business - publicity sponsorhips and stuff like that these days.
---
2003 kawasaki ZX-6R 636 Ninja - dirty little btch
Posting Rules

You may not post new threads

You may not post replies

You may not post attachments

You may not edit your posts

---

HTML code is Off

---