Red's Rescue 748/853 Build
---
After looking at a poor, fairing-less 748/853 on Craigslist for almost a year now, I decided to reach out to the seller. Most Ducatisti are terrified of Ducs without fairings, but cosmetics are replaceable, it's the mechanics that count. As it turned out, the bike had extensive records for every service dating back to new, a recent tune up, and claims of excellent mechanicals, so I figured "ah, what the heck". Surprisingly, the seller was one of the nicest, most straight forward, downright good people I've ever met. The bike ran well, rode well, and, checking all the usual suspects, had no glaring engine problems, sounds or leaks. I struck a deal with the seller and before I knew it it was in my trailer heading home.
Here it is, first pulled up to the house (and it's ok if you're jealous of my tow vehicle):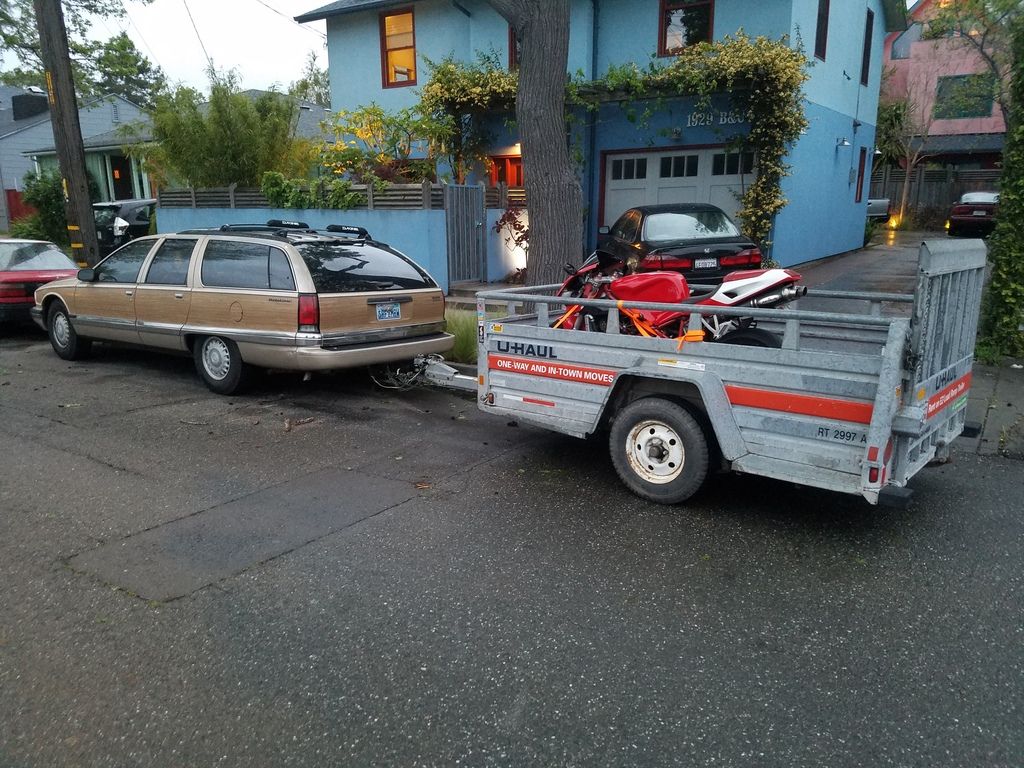 The poor thing has had a hard life. A lowslide crash resulted in the 748 engine getting an 853 kit and frame powder coating during repairs. The red frame doesn't quite match Ducati red, but I think it will look good when I'm done.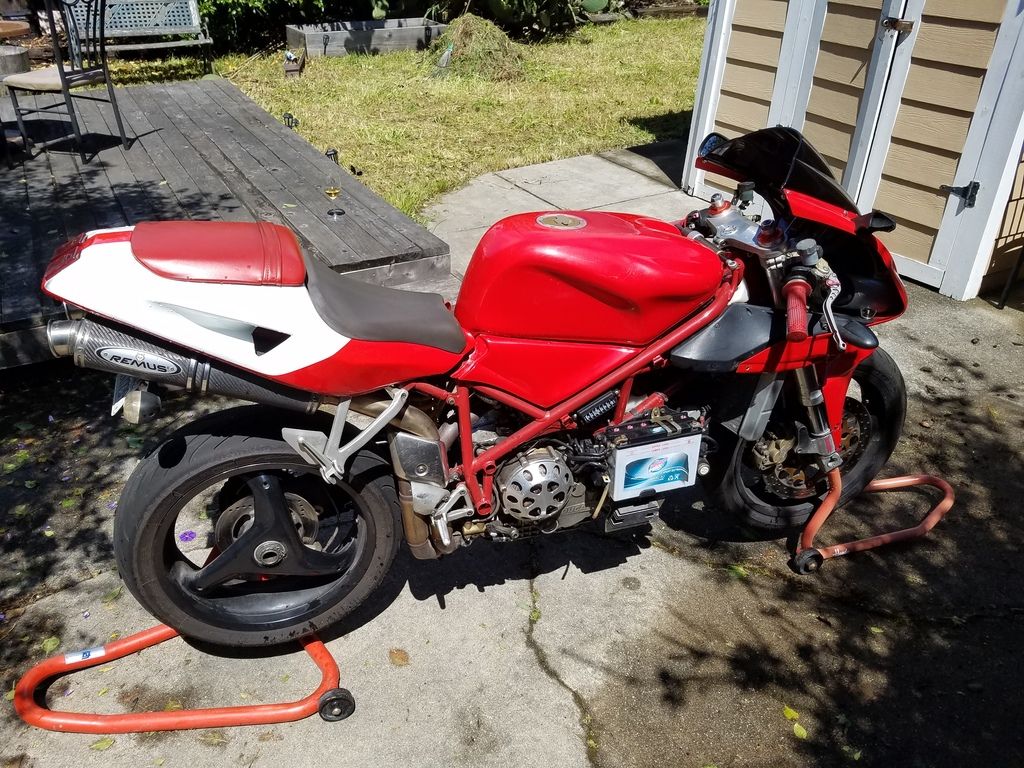 After initial repairs, the bike was ridden by the second owner (the seller) and several of his friends on occasion. Friends don't care about your bike like you do, and as a result, though well maintained mechanically, this thing is in rough shape. Here's a few gore shots (if you're squeamish you might want to skip these):
A garage door was dropped on the mirror and amazingly cracked only the mirror, not the support stay:
Worst grips I've ever seen on a Duc
How does a heel guard get ground into the exhaust cover like this?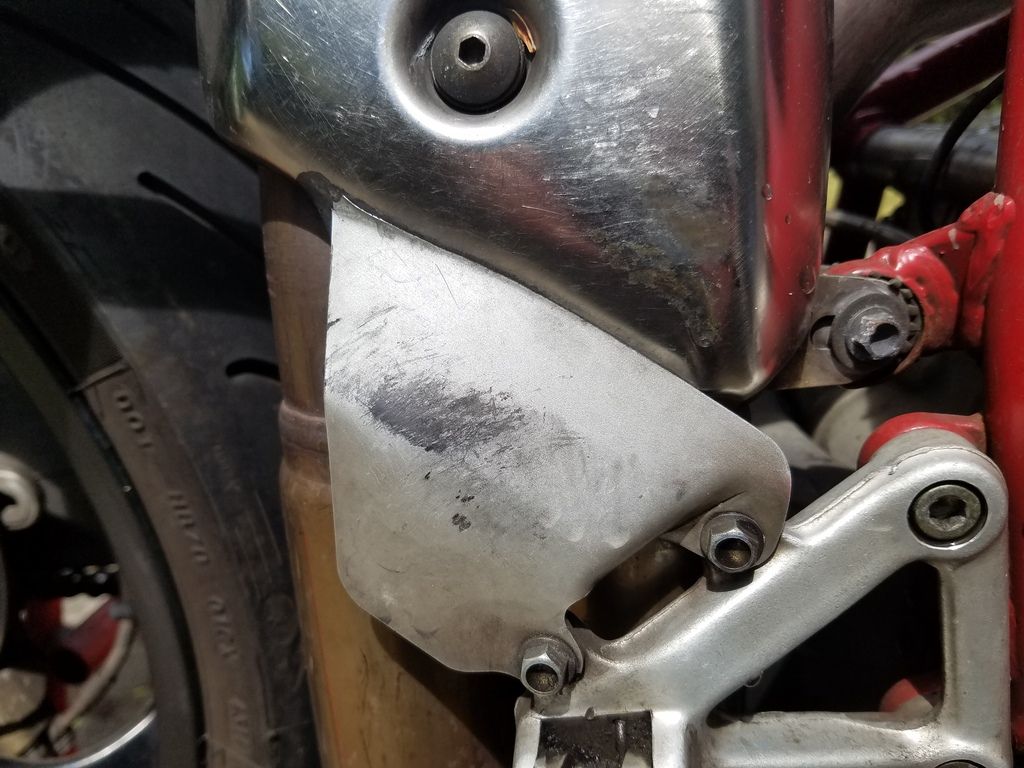 I'm assembling the comprehensive list of parts needed to get her back in good shape aesthetically, and it's getting pretty long as you can imagine (and yes, chinese fairings are on the list
). The most fun part is ordering all the goodies you want knowing you'll end up with a bike built exactly how you like it without breaking the bank.
This build thread won't be anywhere near as awesome as that Red Bull 996 build from a few years back, but it'll warm your heart to see such a sad, abused bike get the love and care that it commands.
---
2000 748/853
2008 Hyper 1100S
It is a noble and beautiful thing you are doing. Please post some updates as you go along.
---
HM1100S, 998Bip
Member
Join Date: Mar 2017
Location: Miami, FL, USA
Posts: 33
Nice! I'm doing the same thing to mine, almost ready with all of the repairs!
Wow what is that spaceship towing the trailer?!?!

Sent from my STV100-1 using Tapatalk
---
***
Rod
***
999R 03 #0069
Italjet Dragster 180
Kaw ZX9R C2 fixxerupperer for fun aka The Ginger Ninja
In for this one.
---
2001 Ducati 748/916 Frankentstein S
2013 MotoGuzzi Stelvio NTX
2017 Stealth black GrOm
2006 DRZ400s(m)
Senior Member
Join Date: Nov 2015
Location: Portland, OR, USA
Posts: 361
You could make your own National Lampoon Vacation movie although I think an Oldsmobile Vista Cruiser has it beat for star gazing.
---
I try to be thorough. I rarely return to a thread. If you have a question for me, PM me.
2001 Monster S4
Senior Member
Join Date: Jan 2014
Location: Denver, CO,
Posts: 647
That battery strapped to the side is the same size as the dorm fridge I had in college!

Best of luck with the build. I'm looking forward to your updates.
---
1998 SS FE #194
2005 749R #362
2006 999 S
Senior Member
Join Date: Mar 2016
Posts: 179
This is my favorite kind of bike build. I love rescues and it sounds like you're building it to actually use in a reasonable way, vs trying for a picture-perfect trailer queen.
The worst part is the frame. If they hadn't butchered that, you could gather parts and then have this thing immaculate in a weekend.
---
'01 996R, 851 Adamo/Leoni racebike, '97 900 SS CR, '91 ZX-7R K1 homologation, '93 CBR 900 RR, '89 NSR250 MC18r5k, '01 Derbi GPR50/75,
Senior Member
Join Date: Mar 2011
Location: Mystic, CT, United States
Posts: 4,145
Subscribed... looking forward to this.
---
ProphetPVD
'02 748R, #0954
Similar Threads
Thread
Thread Starter
Forum
Replies
Last Post
ST4 Cafe Build

Stick

Sport Touring

3

Mar 19th, 2017

11:32 am
Posting Rules

You may not post new threads

You may not post replies

You may not post attachments

You may not edit your posts

---

HTML code is Off

---