1098s Budget Track Bike Build
---
So i have done a few track days and coaching days on my 2007 1098s Tricolore and have really enjoyed them...other than the thought of dropping and wrecking it.
I figured it was time to look into a track only bike, so i started scouring the auctions for an economic write off to transform into a track day special and possibly eventually get into some club racing. After a few months of looking and unsuccessful bidding i came across this beauty at an auction local to me and ended up winning it for $3881.11 (AUD) including fee's.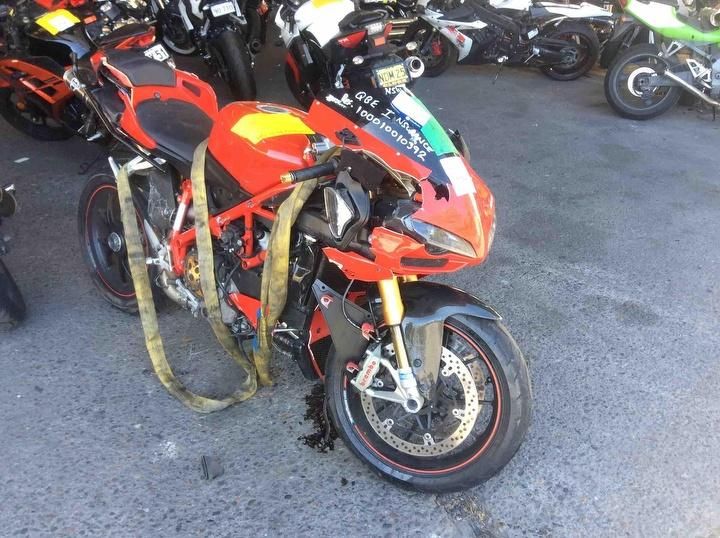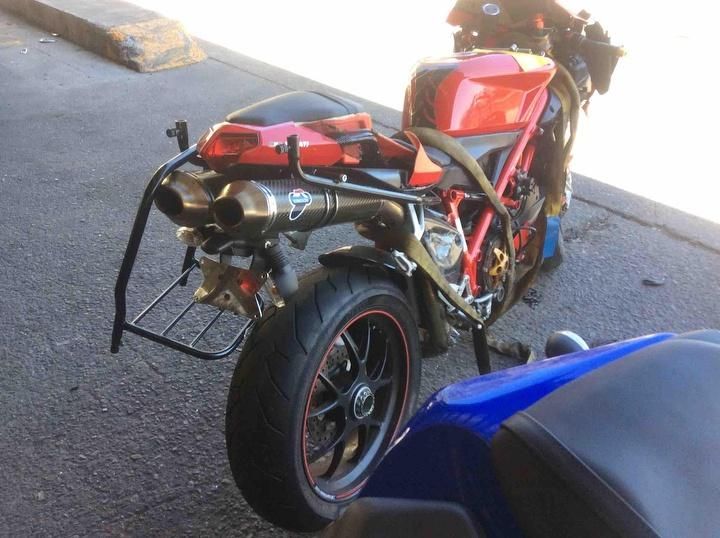 Got her home and proceeded to tear her down to see how bad the damage was. I was pleasantly surprised that it was mostly superficial. The only downside to the bike was that it was missing the key. So along comes facebook to the rescue, i posted in the couple of Ducati clubs i am in about the bike and its previous rego hoping the previous owner could be located and either had the key or a spare. He came forward and offered me the key for nothing, although i have him a bottle of scotch for it.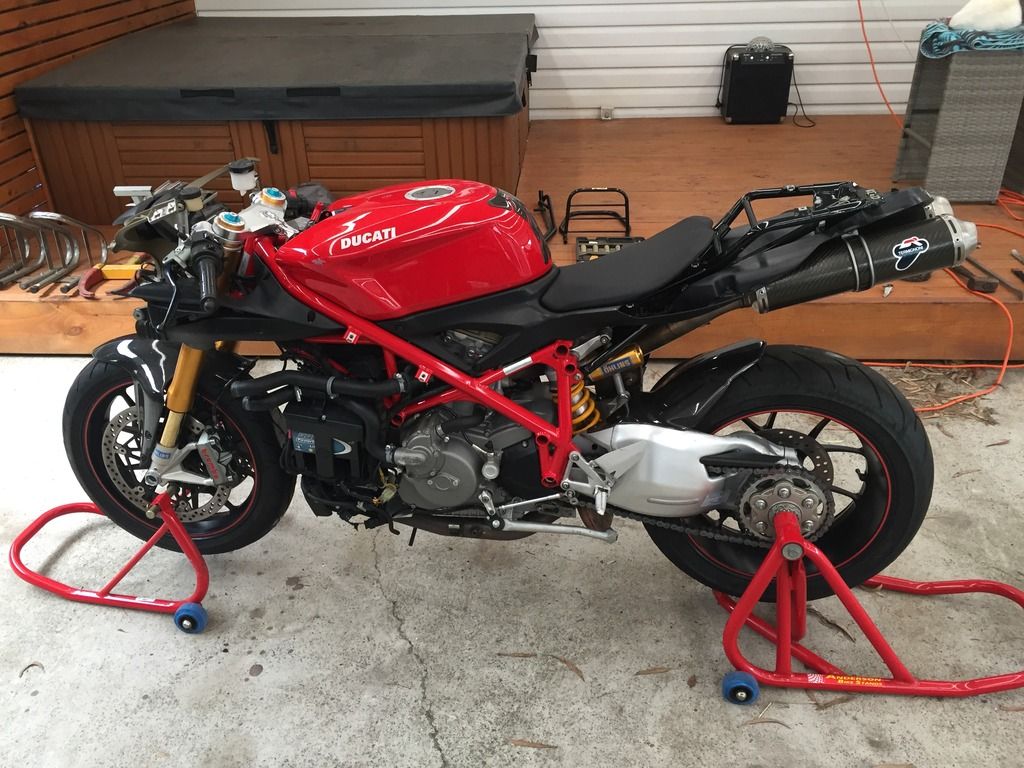 Once i had the key, she fired straight up...fantastic! I then formed a list of parts i needed:
Radiator
Water Pump Cover
Clutch hub (broken lugs)
Tyres
Gear Lever
Race Glass
Levers
Once again i reached out to my local clubs and workshops for their unwanted parts in return for beer money and other than the gear lever managed to get everything used at great prices. Some other parts like the exhaust mid section i was able to use some of the stock parts i had removed off my Tri.
She is booked in to the workshop next Monday for a peace of mind belt service and to have the shift fork looked at (trouble shifting back down gears).
Total spend so far including items bought plus some of the parts i was able to save and sell on eBay is $4835.61 (AUD)
Here she is: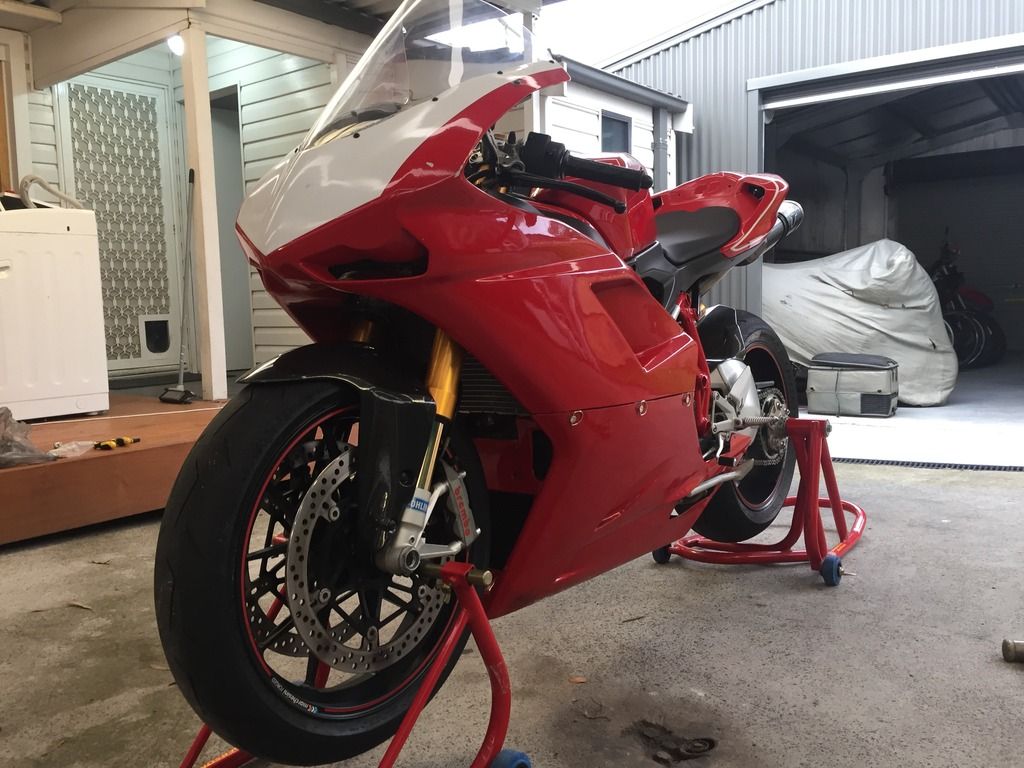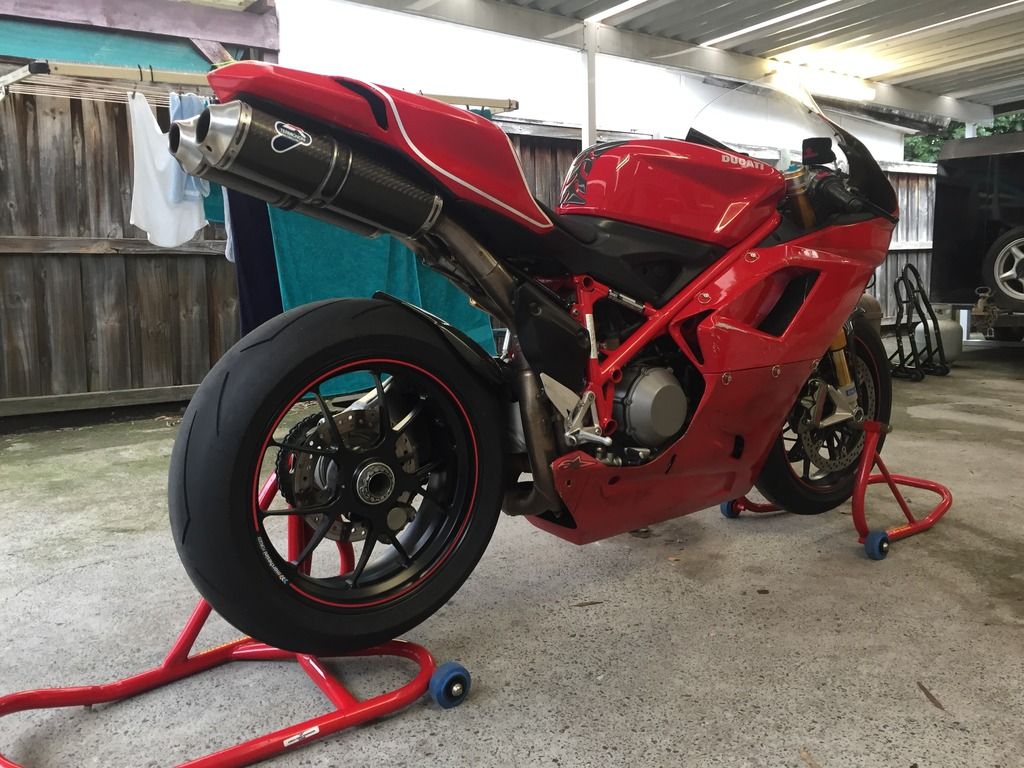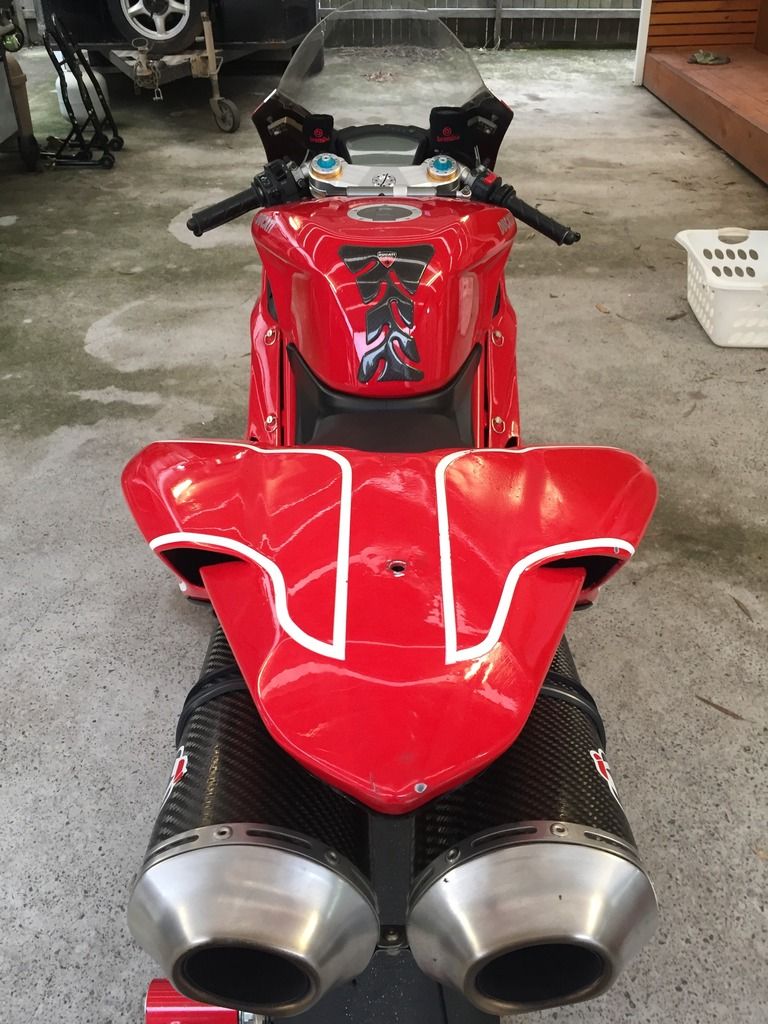 ---
2008 1098S - Track Bike, 2007 1098S - Tricolore, 2005 ST3 - Black
---
Last edited by IM-805; Mar 20th, 2017 at

6:47 pm

.
Senior Member
Join Date: Aug 2012
Location: San Marcos (San Diego), CA, USA
Posts: 959
Looking good, and good find.
I use the Woodcraft wiring harness to eliminate the ignition. You take the antennae for the immobilizer and zip tie the one key you have to it in two places good and tight. Then tuck it under the bike somewhere. Simply control the on-off on the bike with the right red button. I also added a lanyard so that if I crash, it kills the engine. Cheap things, both for like $60 OTD.
---
2007 Ducati 1098S (Track Only)
2006 Ducati Sport Classic 1000 (Sold)
2005 Honda CRF450R


Finally got her out on track at Sydney Motorsport Park, felt amazing so have now booked in to do Phillip Island in 2 weeks!

Had the suspension dialed in by my local shop and it made a massive difference over my street bike.

Also had once little moment....

---
2008 1098S - Track Bike, 2007 1098S - Tricolore, 2005 ST3 - Black
Looks nice.

You raised that front end up quite a bit from the setup in the first post. How is it?
---
97 916/996 "The Time Machine"
Yeah the guys at DMoto recommended it for stability? Im no suspension guru or expert track rider but it did feel great.
---
2008 1098S - Track Bike, 2007 1098S - Tricolore, 2005 ST3 - Black
Awesome find. Isn't it great when things come good?
Be sure to post some pics when she's all buttoned up and ready to race.
Took her to Phillip Island last week, what a buzz.

Video below:


---
2008 1098S - Track Bike, 2007 1098S - Tricolore, 2005 ST3 - Black
Member
Join Date: Mar 2017
Posts: 46
Would love to ride at that track! Too bad its on the other side of the world haha
Lifetime Premium
Join Date: Jun 2007
Location: Overland Park, Kansas, USA
Posts: 282
out of curiosity what are you using for the telemetry overlay?
---
2010 White Ducati 1198s
2010 Carbon/Red Hypermotard Evo SP -parted out
1999 Red Ducati 996 mono -Sold
1999 Yellow Ducati 996 bip -Sold
---
2008 1098S - Track Bike, 2007 1098S - Tricolore, 2005 ST3 - Black
Posting Rules

You may not post new threads

You may not post replies

You may not post attachments

You may not edit your posts

---

HTML code is Off

---