Banned
Join Date: Dec 2006
Location: The lovely Van Nuys, California, USA
Posts: 11,256
Yep I sure know that feeling!
Moderator
Join Date: Dec 2007
Location: Melbourne, , Australia
Posts: 1,146
Yes I do too.....and I like to tweek them a bit on the mac also.
Senior Member
Join Date: Mar 2011
Location: North Canton, OH, USA
Posts: 144
My wife makes fun of me when I pose my bikes and take pictures of them.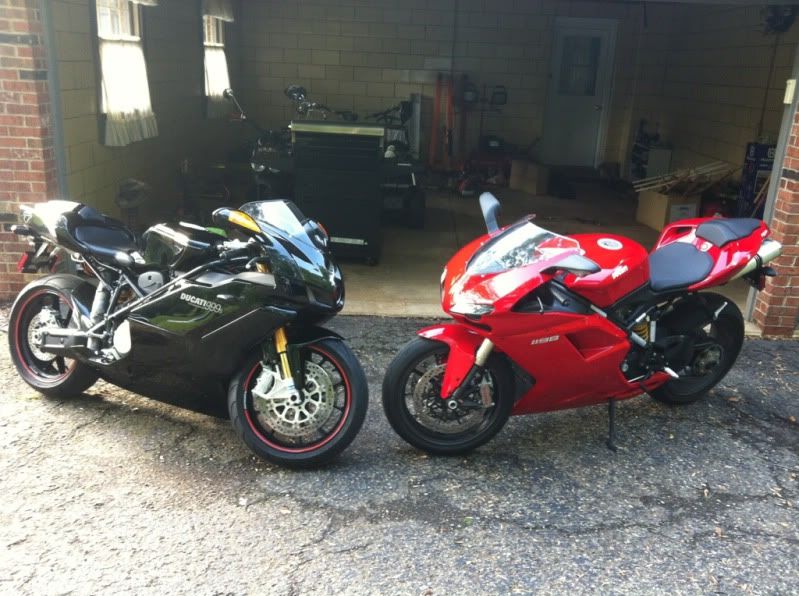 ---
2006 999S, 2004 RM250, 1973 CB350
Junior Member
Join Date: May 2011
Location: Owasso, "Charming" Oklahoma, United States
Posts: 12
I'm not sure if my eyes are just playing tricks on me but is that 999s GREEN??
i'll be here till my 85!
Join Date: Oct 2010
Location: antwerp, , belgium
Posts: 1,102
oh yes!
---
weahter hasn't been good here... wettest greyest summer since 1860!
so no good for pics nor riding...
but today was great... bike still at the shop so not for riding.. but for pics..
(see thread on 999 project)
grtz
Koen
---
--------------
1199R - track bike project on it's way!
999R (05 # 204) - diva project
MS 1200 Sport (2011) - rolling rolling rolling - my beloved hidalgo

ST4S abs (2003 ) - sold
916 SP - 94 - sold
851 Strada - 92 - sold
husky 510 - 90 sold
husky 610 - 91 sold
Senior Member
Join Date: Jun 2011
Location: Central, WA, USA
Posts: 128
All the time....hard not to look at it ...even when pulled over by police
---
"As a member of 12 plus forums, I have found the 3 motorcycle forums I visit contain the most pretentious bunch.. because image is everything for most."
---
Last edited by Patman; Sep 3rd, 2011 at

6:11 pm

.
shot this last night before i went out for a ride.

droid 3 takes decent pix.
---
Last edited by Chuckracer; Apr 26th, 2013 at

6:06 pm

.
Senior Member
Join Date: Jan 2007
Location: City of Serial Killers, south australia, australia
Posts: 862
My Desmosedici.
---
Last edited by Chuckracer; Apr 26th, 2013 at

6:06 pm

.
Hannagen Meadow Ride 9,123' - Labor Day 2011
---
From the house, 90 miles down the top of the Coronado Trail (Hwy 191) to Hannagen Meadow Lodge at 9,123'. Pretty cool we are so close to such great roads and scenery (most people wouldn't know AZ has this type of terrain or moto-bahn).

This area experienced a big wild fire this year (Wallow Fire), but after summer monsoon rains, most areas along the road were untouched and are green...very scenic. Watch out for the mule deer.
---
"If you ain't first your last" - Ricky Bobby

2005 Ducati 999
2002 Ducati ST4s
---
Last edited by Chuckracer; Apr 26th, 2013 at

6:06 pm

.
Posting Rules

You may not post new threads

You may not post replies

You may not post attachments

You may not edit your posts

---

HTML code is Off

---