Member
Join Date: Jun 2016
Posts: 62
Enduro Owners what's up?
---
How are you guys liking your Enduro's?
I just got my out from a winters slumber. I hit the road, ripped a 2nd gear wheelie and was smiling ear to ear. I forgot what a beast this bike is. I only got 1000 miles on her from last year. Can't wait to pile on some m
ore.
Sent from my SM-G920V using Tapatalk
Member
Join Date: Jul 2012
Location: Scottsdale, AZ, US
Posts: 96
Just got home from a 2 day, 400 mile camping trip. Rode north to Grand Falls, AZ and camped at the falls.. pretty sweet! Then took the long way home and rode to Long Lake and a good portion (the rock garden portion!) of the AZ trail. Rocky, nasty mess!

I'm absolutely blown away at how amazing the Enduro tackles off roading. I would have struggled with my CRF on the long rock garden sections and the Enduro did a fantastic job at plowing through it all! I need a new skid plate and the rear wheels have some serious scuff marks but the bike chugged along like a tractor. VERY amazed!

Broken parts tally: Broke the key off of the key fob. These things are FRAGILE! Skid plate and some scuff marks on the rear wheel!

Oh, got one flat leaving the Grand Falls. Plugged it and rode the rest of the way home with zero issues!

Just over 9000 miles total in a little over 6 months. I DIG this bike!
Member
Join Date: Jun 2016
Posts: 62
What an amazing trip!!! I seriously need to plan a trip like that.

Sent from my SM-G920V using Tapatalk
She's running like a dream
just clocked 12,500m in 9 months and nothing to report other than awesomeness.
Well apart from the factory screen being a POS and for it taking me three vendors to find a good one (ended up with the TT one).
Oh...the silk white was absorbing my pant color but some knee pads fixed that...so meh!
Getting right around 265 once the amber comes on but that's riding it like i stole it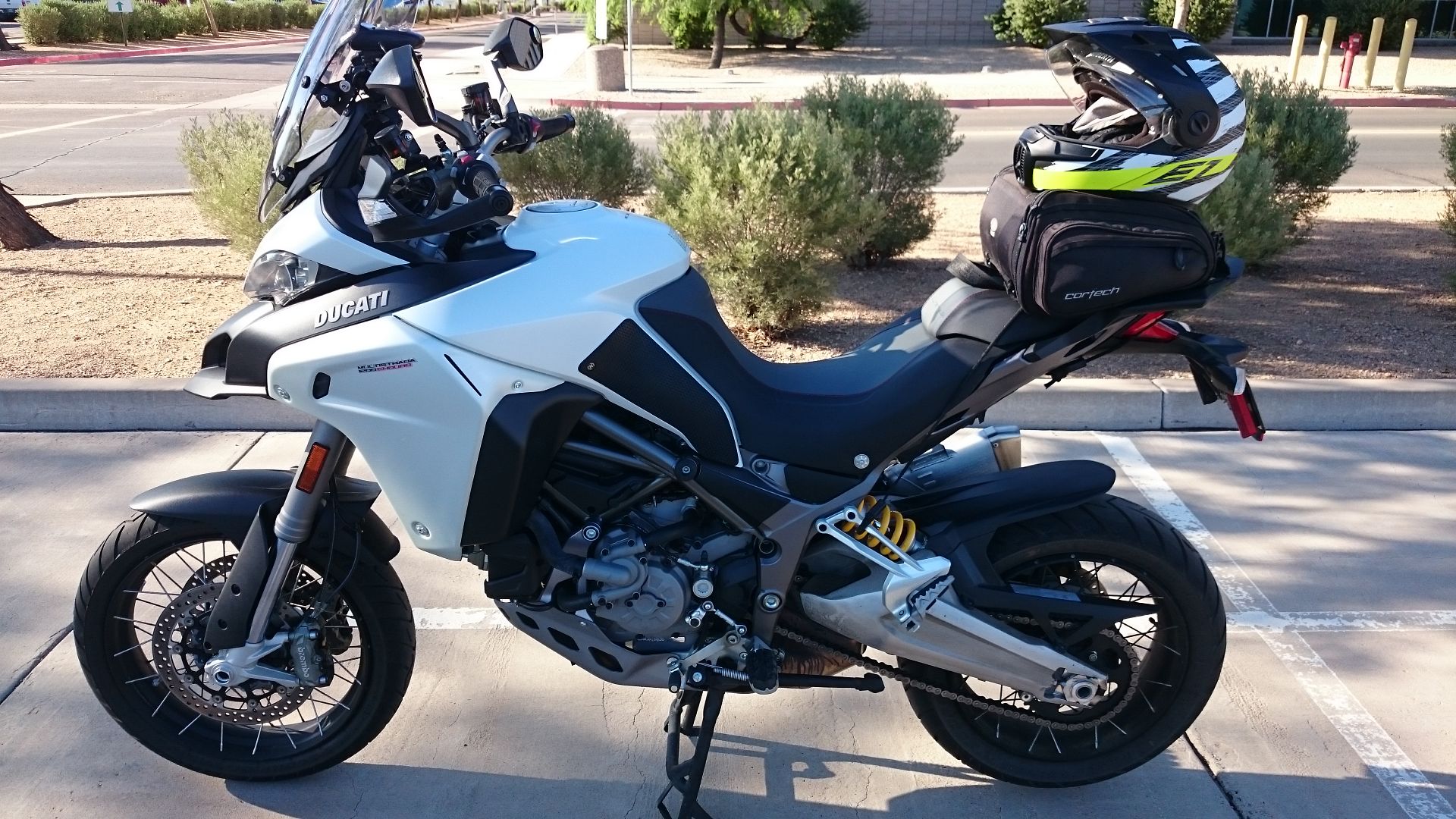 Lookin forward to the rumored 2018 DVT changes making to the 2018?-2019 Enduro, it will then truely be perfection out the box!!!
Junior Member
Join Date: Nov 2011
Location: Pensacola, FL, United States
Posts: 26
I love my 2017 touring. Not many miles yet. It's tall. DVT didn't live up to expectations but it is still amazing. The extra weight with tank full is unnerving sometimes since I'm 5' 10". Others taller probably not. Shoots down the highway much better than my 2012 PP. not talking speed but comfort and stability.
Posting Rules

You may not post new threads

You may not post replies

You may not post attachments

You may not edit your posts

---

HTML code is Off

---