Sight Unseen Buying and Texas Tripping
---
Been going to COTA MotoGP and combining it with a few days of riding the Texas hill Country to shake off the Minnesota winters. Usually I throw a bike in the back of the truck and head down, but this year at the end of March a 1098R showed up on Ebay out of Austin. Been looking for one of these for a few years, but unlike most buyers who want pristine gem like bikes, I tend to prefer ones a bit moist around the edges. I collect bikes, but have no interest in garage queen static displaying the bikes I own. I try to put at least 300 miles a year on everything I own so I try to avoid ultra low mile bikes. I also like my bikes to work properly which means unless a seller can give me proof of service and tuning by a shop that I'm familiar with, I'm going to do a full service and have Lofgren tune it, so a recent service can be a negative. Got a magical painter so the need for a bit of paint work doesn't bother me either. The 1098R on Ebay fits the bill well. 12K miles some slight tip over damage, "ready to ride" and the seller will hold the bike till I get to Austin. No shipping costs! Winner, winner chicken dinner. I drive down to Austin empty, planning to ride the 1098R when I get to Texas.
In the flesh, no big surprises. The good, the bike has some nice aftermarket riser bars on it and comes with current TX tag. The bad, about a half dozen fairing screws missing, rear tire is plugged and it won't start! Cranks over fine, but won't fire, the seller is getting nervous swearing that it started and ran fine and has been sitting on a battery tender up until I showed up. After cranking it for a while, we decide to put it on a charger to make sure it isn't somehow a weak battery. Nope, that isn't it. It takes 3 things for a bike to run, air, spark and gas. Open the fuel cap up. No gas. Put some gas in it and we're good to go.
First stop, Alpine to ride Big Bend NP the next day. On the way I go through some torrential downpour with hail. Never thought I'd be thankful that a 1098R has a plastic tank. Off loading the bike in Alpine, I set about making sure it is ready to ride. Fill the tank with gas, mount a ring for a tank bag on the tank, wire power to the tank bag, check the tire pressures, adjust the chain, put a Sargent seat on it that I already had. Hmmm, one of the bolts that hold the seat down isn't screwed in at all! I give a much closer look over, but everything looks good.I ride it around the block and it seems fine. We'll see for sure the next day.
Beautiful morning out on the road on the way to Big Bend. After a dozen or so miles of normal speeds, everything seems good. The road stretches to the horizon and I progressively open it up. It is 80 miles from Alpine to Big Bend, Suspension needs to be adjusted to my weight, but otherwise everything works I get to Big Bend in less than an hour. Guess everything is mechanically fine.

At the end of my visit, the current TX tag comes in handy. A park ranger catches me at 70+, the limit in the park is 45. I not only have a current TX tag, but also have a MN temp registration and current proof of insurance for the bike with me. He lets me go, but declines to let me take a picture of the pull over. He's the first park ranger I've ever seen wearing a bullet proof vest. The west is clearly still wild in certain parts. To celebrate I hit a higher top speed on the way back to Alpine. Yep everything is mechanically fine. 365 miles for the day.
Next stop Kerrville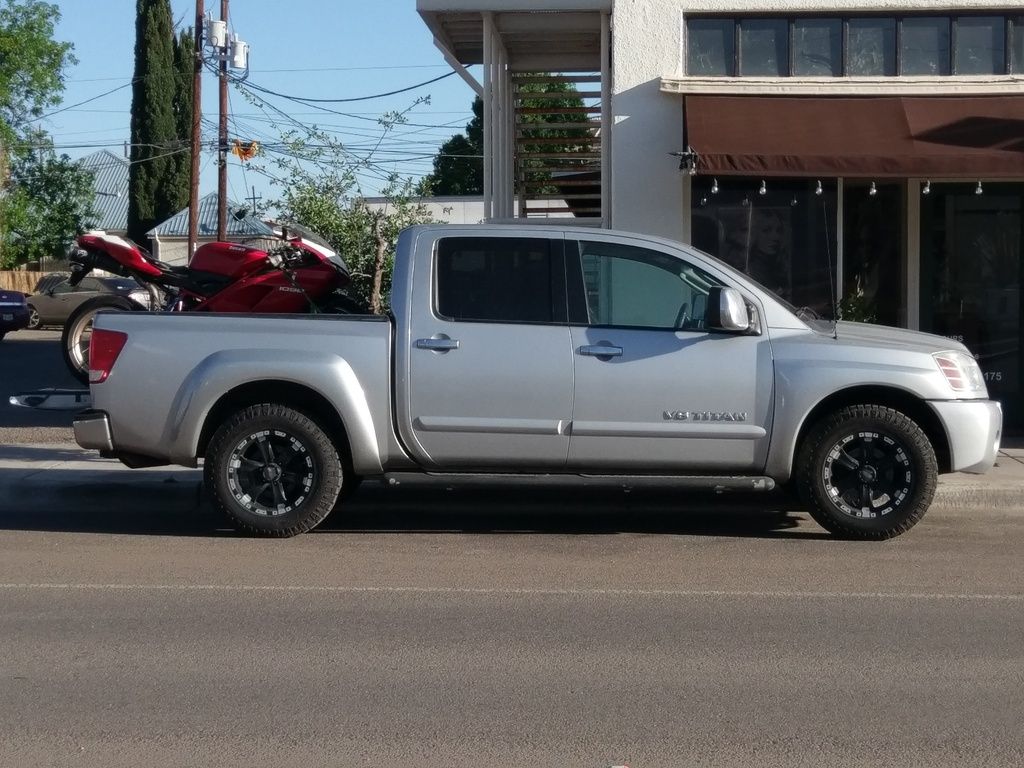 ---
Last edited by ray916mn; Apr 18th, 2017 at

2:03 pm

.
great story, ill be down at COTA on thursday
Still my favorite Ducati of all time - wish I still had mine!!!
---
Link to all of my bikes and builds:
*Click!*
On the scenic way to Kerrville some things I've been noticing come together at a stop in Sanderson. Built up late model Vettes in Alpine, a Ferrari F430 in Marathon, a number of LEOs running radar in remote areas, the Big Bend Open Road Race is running this weekend. The road between Sanderson and Ft. Stockton is closed. The race sees guys averaging as high as 160+ for the roughly 60 mile distance with the fastest cars hitting 200+ along the route. Along with the Silver State Classic Challenge, I guess this makes the west America's equivalent of the Isle of Mann.
I stop in Langtry at the Roy Bean saloon/courthouse site.
Visiting the museum, you have to wonder whether it is time for the saloon courthouse with a judge who pockets the fines is coming back. Independent justice defined. I run into a rider from Nova Scotia. He sees the story of Judge Bean as emblematic of America.
Down the road a bit is an overlook of the Pecos River and the U.S./Mexico border. Here's the shot from my 2016 trip.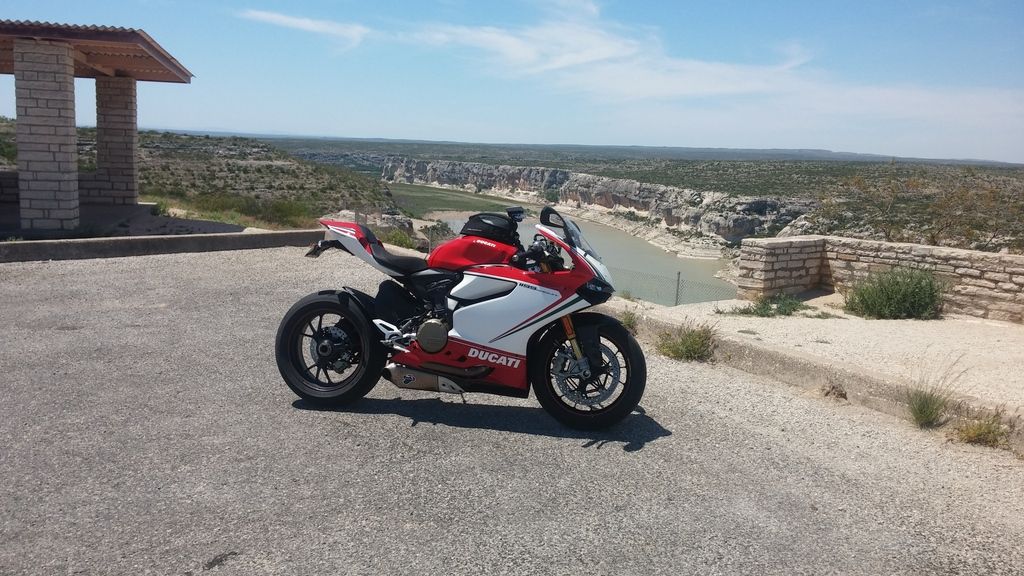 The shot from yesterday

Hard to imagine a wall stretching across the landscape here.
Over lunch in Del Rio, I speak with some local Hispanics about going over to Acuna (Mexico). Their comment is they do it all the time, just got to watch out for traffic coming back into the U.S. Sometimes the border crossing backs up for an hour or two. Earlier in the day I spoke with some local gringos in Sanderson about going over to Acuna. Their reply was to talk about how the chief of police had been beheaded by the cartel and his head placed in the town plaza a while back. What the heck is the truth?
Day ends in Kerrvile. Back in a relatively large town, $10 worth of metric screws and some washers and all the missing screws are temporarily replaced. Have to wonder, who loses this many bodywork screws on their bike? It will be interesting to see swhat I find when I take the bodywork off when I get home.
Time to go ride the Twisted Sisters.
I just missed you, I did all of that route just last week. Including the Judge Roy Bean stop. Did the Twisted Sisters, then Del Rio, Alpine, Terlingua, Presidio, etc.
Oh and yes, when I had a 1098 I lost bodywork screws all the friggin time. Mostly from the bellypan.
---
Current: 2016 Multistrada 1200, 2014 Monster 1200 S
Previous:Multistrada 1200, 1098, Streetfighter 1098, 1098, Monster 900ie
Hello

Your truck looks extremely fast with that payload.
---
guido in Houston

'03 sT4s ABS (sport TOUR)
'02 St4s (SPORT tour) w/ MBP Testarosso heads, DucShop Crank w/ Carrillo Rods, Pistal Pistons
'05 S4R - #2Son is Wheeliein'
'07 S4RS - Work in Progress
'03 ST4S-RS Moving past conceptualization......
'80 BMW R1050S Hybrid Cafe (gotta get back together soon...)

"It ain't really "yours" until you've MODIFIED it!"
Quote:
Still my favorite Ducati of all time - wish I still had mine!!!
Really is a pretty special Ducati. Seemingly the end of an era.
Quote:
Originally Posted by
LessPeople_MoreRobots
View Post
I just missed you, I did all of that route just last week. Including the Judge Roy Bean stop. Did the Twisted Sisters, then Del Rio, Alpine, Terlingua, Presidio, etc.
....
Was the Lajitas to Presidio ride worthwhile? I skipped it as afternoon storms were coming in and I was unimpressed by the Terlingua to Lajitas segment.
Ahhh the Twisted Sisters today. Now we get to turns. Man, am I rusty. The bike doesn't help either. Too entertaining to lunge out of the turns, but definitely not smooth, so not fast.
After some twisties my route takes me to the Lone Star Motorcycle Museum which of course is closed. Not a reason to ride the Twisted Sisters but after going past the museum maybe half a dozen times over the years, sooner or later I going to get to see it. Today was not the day as it was closed.
Down the road we go. I always forget how twisty the road really is. The warning sign on 337 says 13 motorcylists killed since 2006. The sign on 336 says 8 killed.
Didn't notice a sign on 335. I wonder if the signs have had their intended effect. At least no change since last year on 336.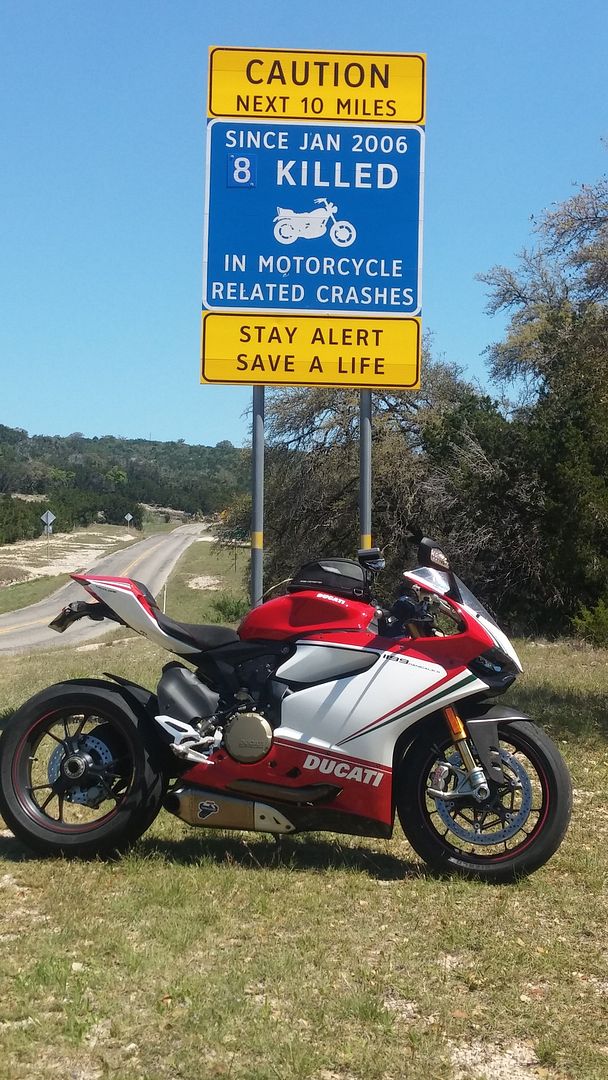 About 255 miles today. Bringing my total on the bike to 620. After tomorrow, the total should be about 900 miles added to a bike with 12K gets me to around 13K. No big deal. Just don't get the obsession with buying low mileage mint bikes. A riding experience on a great bike or a jewel sitting in your garage, the choice is obvious to me.
Quote:
Was the Lajitas to Presidio ride worthwhile? I skipped it as afternoon storms were coming in and I was unimpressed by the Terlingua to Lajitas segment.
Absolutely that section is worth it. I rode out a few yrs ago and that road was a hoot. Twisty, scenic and with camel humps that take some serious balls to not lift off the gas. I had so much fun that I turned around and did it twice, camped out along the river (pic) and went back to Presidio for the most awesome Mexican breakfast. Seriously, that road rivals the best of what we have here in CA.
On my way back to LA, I ended up taking 118 to see what it was like. It pales in comparison, I regretted my decision.
---
When in doubt, lean more...
02 SS750 Lovely first bike
Red (sold)
02 St4s Rip 11/18/11 -- running now Matte Grey (sold)
03 St4s Restored from salvage Senna (sold)
10 Multi S 3yr and 55k mi
Black
12 RSV4 F 15k mi
Posting Rules

You may not post new threads

You may not post replies

You may not post attachments

You may not edit your posts

---

HTML code is Off

---